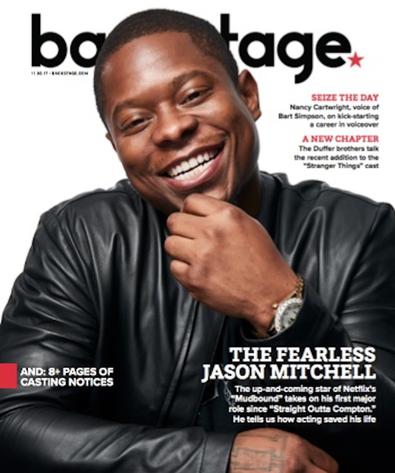 Jason Mitchell wants to make movies that reflect the world back to itself. "It's some actor-activist type shit," he says—and with a trio of films that in various ways tackle the United States' relationship with race ("Straight Outta Compton," "Detroit," and now "Mudbound"—plus Lena Waithe's upcoming "The Chi" on Showtime), the shoe fits.
"I love the fact that I can be a visual textbook, because a lot of these things that we're putting out there, people didn't know," he says. "Mudbound" co-star Carey Mulligan, for one, didn't know that black Americans fought in World War II, as Mitchell's character, Ronsel Jackson, does in the film. "That's a big deal! So to be able to drop these gems from American history with these beautiful films that people can look back on years and years later... The weight of these projects definitely attracted me to them."
If Mitchell's 2015 performance as Eazy-E in "Straight Outta Compton" marked the arrival of a major new screen talent, "Mudbound" is the project that shows it wasn't beginner's luck. Directed by Dee Rees ("Pariah") and adapted alongside co-screenwriter Virgil Williams from Hillary Jordan's 2008 novel, the Netflix release is the story of two families, the McAllans and the Jacksons, who, living up to the film's namesake, are tied together by a fledgling cotton farm in 1946 Mississippi. It is land that the McAllans, who are white, own, and that the Jacksons, who are black, work. Mitchell's Ronsel holds the sprawling family drama together as the Jacksons' eldest son. He's a veteran who, after finding unprejudiced comfort and love abroad, is forced to move home, where racism hangs as thick in the air as the wet ground beneath his feet.
"History is history, and it has to be told," Mitchell says, "and with 'Mudbound,' it's beautiful because you get to sit with both sides—the white and the black—and see where we meet each other at the end of the day and see where we tear each other apart. There's a dialogue to be had, and I think people are ready to talk about it."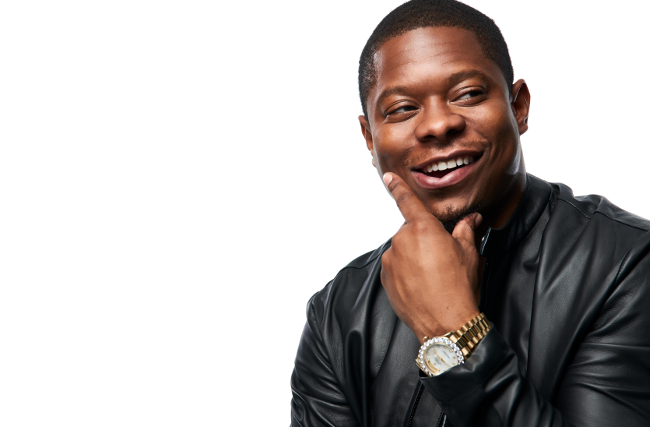 Rees tells us by phone that due to Ronsel's circumstance, she needed the right actor to have "this pain just simmering underneath that he has to basically not express. [Someone] who has the power to do something but then doesn't," which is what made Mitchell "amazing." He was the first actor she cast for the project with an offer and script, sans audition. "He really just has that vulnerability and that kind of awareness, that kind of strength."
It was one of many offers coming the 30-year-old actor's way after "Compton," but with Rees, a filmmaker whom Mitchell describes as "the most sure black woman I've ever met in my life" at the helm, he knew he was "down" before even reading the script. He felt the same when Kathryn Bigelow dialed him one night to ask if he'd be in her yet-to-be-titled feature about Detroit's 1967 race riots. "I call her the big cat because she just has no fear," Mitchell says of the Oscar-winning auteur. "She doesn't find the need to fill the air with words and gestures. Her presence is just very chill."
These boundary-pushing directors count as just two Hollywood figures within the varied and esteemed company Mitchell keeps of late. Our 90-minute lunch at Pier 59 Studios in Manhattan is sprinkled with anecdotes of work and play with Samuel L. Jackson, Paul Giamatti, Mark Wahlberg, James Franco, and others, but he speaks more like an admiring peer than a starry-eyed newbie with a penchant for name-dropping. Just seven years after his first formal acting class, Mitchell's skills onscreen are fast approaching those of these talents. He regards his "Contraband" co-star Wahlberg with particular reverence, noting that the Oscar nominee's troubled, impoverished youth in Boston mirrors his own in New Orleans.
"[We] had very similar lives, so he just kind of took to me," Mitchell says. It was Wahlberg who let him in on "the real secrets of the business"—first and foremost, the importance of gratitude and of being pleasant and approachable to everyone on set. That combination, he says, can take actors far.
Gratitude is especially on Mitchell's mind this late September afternoon. By sheer coincidence, we're shooting and dining at the same Pier 59 Studios where he and the rest of the "Straight Outta Compton" cast shot the film's promotional campaign. "It all started back then," he says of the full-circle moment. Like so many things in his life, Mitchell insists that period was "meant" thanks to some divine intervention. He took it as "a sign from God," for instance, when Jaqueline Fleming's traveling acting workshop visited his hometown and helped get his life on track at age 23. Acting, at the time, wasn't even on his radar as a plausible means of making a living, though he admits to doing "everything to try to get some money" before then. "My friends were dying and going to jail, and I was just like, 'What the fuck?' I needed some sort of release." Mitchell found and continues to find acting as a form of therapy.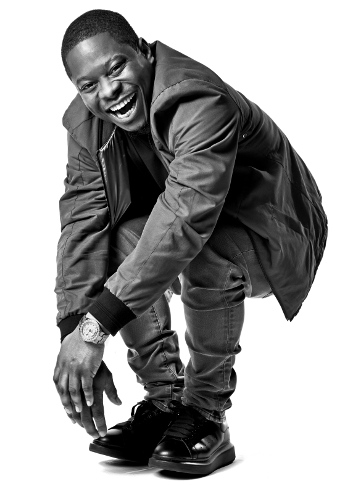 "I've lived so much life as a young man," he says. "New Orleans, we got terms, and one's like, 'He jumped off the porch early.' That's kind of what happened to me. I had to grow up really quick." He recounts how his father died by suicide when he was just 15 and how he and his siblings had to begin working to support their mother in his absence. It became difficult to "steer clear of the bullshit," he says. "There are so many times that I've asked myself, Why am I going through this? Why?" Before you get to feeling sorry for him, he adds almost cheerily: "I can cry on command now. There's a reason for everything."
In hindsight, Mitchell can chart how the trials of his earlier years—losing everything to Hurricane Katrina among them—shaped him; he often taps the dirt of his past to inform acting choices made in the present. Even before walking into Fleming's acting studio that first time, he had the soul of an artist.
"I just never really understood the reason I understood movies so well, and I didn't realize that me being such a people-watcher was even a gift at all," he says. "I've realized the person that I've always been and this gift that I've always had just had to be brought to light. It surprised me the most that being more who I am and not who I thought I had to be would make me successful." He pauses for a beat. "I've never said that out loud—that's crazy.... God's gotta be involved. This has to be his work."
Today, Mitchell relishes the opportunity to continue making work of his own, and, with films like "Mudbound," to create work that "instills something in you. It sends you home with something moral. It's really dope to be able to do that. The art is forever," he says. "Money and all that shit is great, fame and all that shit is nice, for people to recognize my work and all that, but…I'm just happy that I can be happy, my family can be proud. Honestly, I could die today and my name will be in history forever. Everybody can't say that. Shit happens so fast."
---
Parting Advice
When it comes to the craft of acting, natural, raw talent will only take you so far. You still have to be ready to put in the work. Mitchell says that his best piece of advice for any actor getting their start is to "just make strong decisions." Don't go for the obvious. A personal trick that works for him? He builds a backstory like you've never seen. "It was something that I just kind of started doing. I mean, they always teach you to make up a backstory, but I go deep so it's easy for me later.... I make up an opinion of how I feel my character should feel about life in general, all the way. Like, I might go all the way back to when I was 6 years old, and somebody smashed a cake in my face, and that's why I don't like birthdays. Stuff like that. So when you're 30 years old and you're like, 'I don't want to go to your birthday party,' it's not just a line for you. You have this reason that you feel like that."
Ready to take on Hollywood? Check out Backstage's film audition listings!
Joanna Pensinger-Ford for Exclusive Artists using SKII Skincare