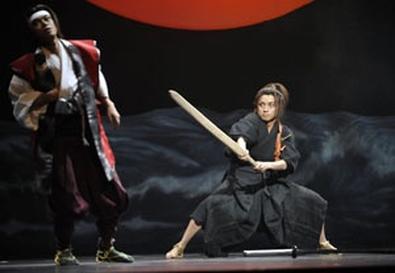 When two rival samurai, Musashi Miyamoto and Kojiro Sasaki, met on the shores of Funashima in the 17th century, their climactic duel became a touchstone of Japanese legend. In history, the former emerged victorious, but in "Musashi," an upbeat revision of this legend penned by Hisashi Inoue, the warrior-philosopher of the title summons a doctor to tend to the wounded Kojiro. The remainder of the recently deceased Inoue's narrative asks what might have happened if these two opponents ever crossed swords again.
Lushly staged by Yukio Ninagawa, the work reunites Musashi and the humiliated Kojiro at the Horenji Temple in Kamakura, where various abbots and patrons make a yeoman's effort to avert a do-over duel that Kojiro has solicited. The two bitter enemies briefly put aside their grudge to teach a joint course in swordsmanship, but they are soon flustered by the eerie and all-too-peaceful vibe in Kamakura. Ninagawa's crisp production often plays for broad laughs, as in a diverting Noh theater dance sequence built on samurai movements.
The keen timing of set designer Tsukasa Nakagoshi's ever-rustling bamboo forest, sound designer Masahiro Inoue's whispering wildlife noises, and lighting designer Jiro Katsushiba's vibrant moonlight spirit along an affecting revenge subplot in the show's first act, but these majestic atmospherics can hardly rescue the talky back half. In a long speech from the abbot Heishin, otherwise played with neurotic charm by Keita Oishi, "Musashi" is totally rerouted in favor of a thematically resonant but ultimately unrelated tale of a repentant murderer and his victims. The play is performed in Japanese, so the fact that most audience members are reading this endless scene in projected supertitles doesn't help.
Tatsuya Fujiwara (star of the Japanese films "Battle Royale" and "Death Note") expertly balances stillness with a kind of rumbling intensity as Musashi. Ryo Katsuji plays the shamed Kojiro with frequent petulance but also with a degree of poise, as observed in Masahiro Kunii's elegant swordfights. Kohtaloh Yoshida gets many well-deserved laughs as Munenori Yagyu, a sword master and Kamakura's resident Noh enthusiast.
Presented by Lincoln Center Festival 2010 in association with HoriPro and Gorgeous Entertainment at the David H. Koch Theater, 20 Lincoln Center Plaza, NYC. July 7–10. Wed.–Sat., 7:30 p.m. (212) 721-6500 or www.lincolncenter.org.