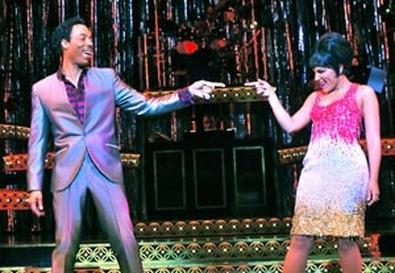 Kristen Blodgette
New York; Broadway: 'The Phantom of the Opera,' 'The Woman in White,' 'Chitty Chitty Bang Bang,' 'Evita' (upcoming); Off-Broadway: 'A Tree Grows in Brooklyn'; regional: 'Bounce'
There are a number of roles the musical director plays. One is the preparation that the musical director does with the actor in rehearsal, and another is the maintenance that the musical director tries to encourage through the run. Then there is the conducting of the actual performance. When I conduct a show, I try to generate a pace that's one that we rehearsed but that nevertheless sounds fresh every night.
When the musical director is in rehearsal, as a guide we try to establish parameters that are dictated by the composer and the lyricist. Next, we try to further the narrative through music and make the actor comfortable with these parameters. Then the actor has the freedom to express him- or herself. We are, in a way, a sounding board, saying "That works" or "Try a different sound" or "Try a different attack." We want to figure out what the trajectory of the musical phrase is and how that fits in the storytelling, which changes depending on what show you're doing.
I just finished "A Tree Grows in Brooklyn," which is a musical written in 1951. The way I approached that musical was substantially different from how I approach an Andrew Lloyd Webber score. I have to know what stylistic requirements the musical calls for and help the actors find those. My role is similar in both cases, but that information will be different.
For example, in a Webber score like "The Phantom of the Opera," I know Carlotta most likely isn't going to be using her chest voice. Webber's score dictates both musically and rhythmically how it should be sung. Some composers do that and others don't. How much guidance you can get from the music depends on the score. In Webber's score for "Phantom," you pretty much do what's written on the page.
In "A Tree Grows in Brooklyn," there's a certain color in the small numbers and the ensemble numbers that is period and appropriate. We didn't want to sing outside of that, because we weren't trying to reinvent the score. We were trying to stay within the conditions of what was happening in the period of time when the show was written.
One of the most important parts of our job, besides being the person who stirs everything, is finding ways to make actors feel comfortable with what they are doing. For each person, it's going to be a different way of working toward that. There are some people who really lean on a musical director a lot for guidance. Others don't. It's our responsibility to find a way to put actors and singers at ease with the material and with themselves and yet be as true to the role and to the composer as possible. We'll look at each performer individually and find a way to make them feel comfortable and be the best they can be with what they have. I try to figure out how each one learns. It's not formulaic.
Mary-Mitchell Campbell
New York; Broadway: 'The Addams Family,' 'Company'; Off-Broadway: 'Next to Normal,' 'Road Show'
Music directors assist singing actors in understanding how to vocally approach the material they are given. If it is a new show being created with the actor, there is a flexibility of keys and more possibility for mixing something instead of belting, for example. If it is not a new show, there are fewer options, but hopefully the actor is cast in a part that fits him or her vocally and it becomes more about finessing the material.
I spend a good bit of time promoting vocal health and encouraging my cast to take good care of themselves vocally. I suggest a good warm-up and, for some people, a warm-down. I also try to make sure vocal health stays a priority, especially when they are performing eight shows a week.
I try to work with each performer to understand what is happening in each musical moment from an acting perspective. The dynamics of the music need to match the acting choices they are making. Sometimes a musical phrase needs to speed up or slow down to support the scene. I work with the composer, director, and actor in the same room to be sure we are all working together toward the same vision. Then the actor and I can take that idea into more-specific rehearsals and fine-tune it.
Christy Crowl
Los Angeles; Pasadena Playhouse's 'Camelot,' Reprise's upcoming 'Cabaret,' assistant conductor for Julie Andrews' 'The Gift of Music' and the national tour of 'Wicked'
First and foremost, I look at music directing as a collaborative job. I collaborate with the director, the actors, the musicians, and ultimately the audience in bringing a show to life and (hopefully) touching a heart or two. I try to shape the performances on stage by drawing out the qualities and talents of the actors that the director and I saw in the audition—those natural qualities that made the actor perfect for the role.
Whether it is a new piece or an existing piece being produced, the director I'm working with has an intention for what he or she wants to see on stage. Sometimes it is specific to the scene, and sometimes it is a general term running through the piece. I listen in rehearsals to what the director is saying to describe the characters and scenes to the cast, as several terms or phrases usually come to light that convey the director's intention. For instance, the term could be "vulnerable" or the phrase could be "He's sure of himself." My job is then to translate those intentions into technical musical terms for the actor. Sometimes making a character sound more vulnerable means singing softer or holding something a moment longer, and being more assured means more diction.
It's different for each actor and for each performance. Sometimes an actor is spot-on for the character, and I just need to help the actor learn notes and negotiate hard vocal passages. When that's the case, it helps that I've had experience as a singer and can relate to them in that way, helping them "open up" their throat or giving them help on a vowel sound. Sometimes the ensemble as a whole needs help with harmonies or balance of parts. Then once it's all "perfect," it's my job to keep it there through the run of the show.
Theater is such an amazing process when you think about it—all the parts that need to happen not just in rehearsal but in production and in performance. It truly is a collaborative art. If you were taking a trip in a car, as music director, sometimes you are the driver, sometimes you are the passenger, and sometimes you are the wheels. Hopefully, the trip you take each night is to the heart and leaves your cast gleaming with pride and your audience on its feet. I know that's what we all strive for.