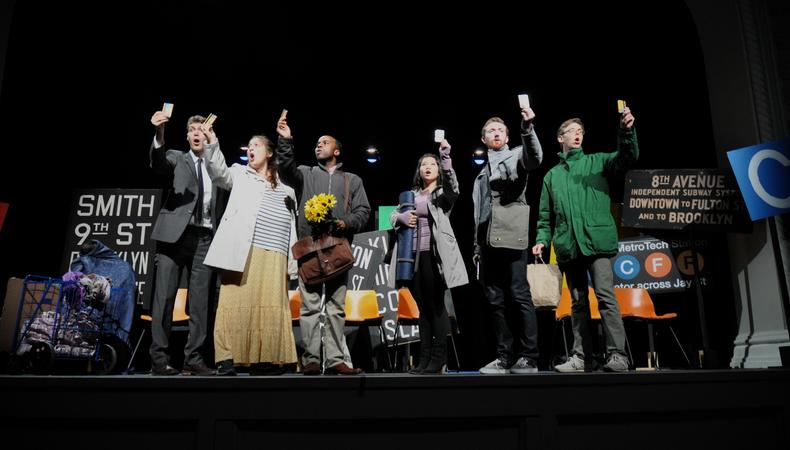 This year's New York Musical Theatre Festival, running July 7–27, features everything from rock operas to ass-kicking superheroes. Whether it's the epic or the intimate you're craving, these new productions will tickle your fancy, scratch your musical itch, and make your heart sing.
"Acappella," July 7–14
Blending romantic comedy and nostalgia—as well as the genres of a cappella, gospel, and pop—this new musical from Greg Cooper, Vynnie Meli, and The Acappella Company asks a timeless question: Can you ever really go home?
"Claudio Quest," July 7–14
Ever feel like musicals are sorely lacking in love-starved platypuses? Directed by "Avenue Q's" John Tartaglia, this musical comedy features a cast of superheroes facing killer eggplants and existential crises. It's going to be a butt-kicking blast.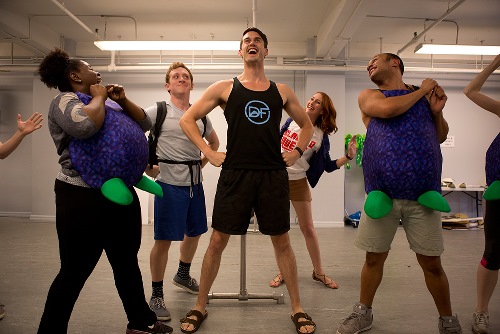 The cast of "Claudio Quest." Photo by Jeremy Daniel.
"Deep Love: A Ghostly Rock Opera," July 17–24
Funeral attire is recommended at this haunting rock 'n' roll musical, which features singer-songwriters from "American Idol" and "The Voice." Don't be afraid of the fabulously ghoulish makeup! "Deep Love" promises to entertain morbid audience members of all ages.
"Held Momentarily," July 20–27
Six strangers. Trapped on a subway car underground. And one of them just went into labor. This touching new musical about "making connections, living in the moment, and moving on in life" might make New Yorkers rethink their morning subway commute.
"Manuel Versus the Statue of Liberty," July 21–27
The winner of last year's NYMF Developmental Reading Series Award receives a full production to showcase its bold, often hilarious take on illegal immigration. Its Latin-infused music tells the true story of an undocumented Princeton student taking on immigration reform—and Lady Liberty, of course.
"Pope! An Epic Musical," July 15–21
The Catholic church finally gets the musical treatment it's been praying for. Centered on a rock star of a Pope and his nemesis the Archbishop, this rollicking musical comic book is full of epic struggle between good and evil and cheeky send-ups of religion.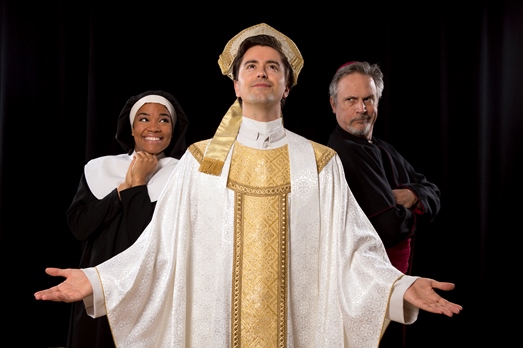 The cast of "Pope! An Epic Musical." Photo by Jeremy Daniel.
"Single Wide," July 17–25
This new musical from George D. Nelson and Jordan Kamalu follows a single mother determined to get her family out of their tiny trailer. Uplifting and poignant, "Single Wide" is a story for anyone who's ever lived in a small town with big dreams.
"Tonya & Nancy: The Rock Opera," July 9–16
Who could forget the biggest Olympic ice skating controversy of all time? This critically acclaimed musical from Elizabeth Searle and Michael Teoli takes on that epic scandal with a blend of dark comedy and surprising depth. Protect your knees!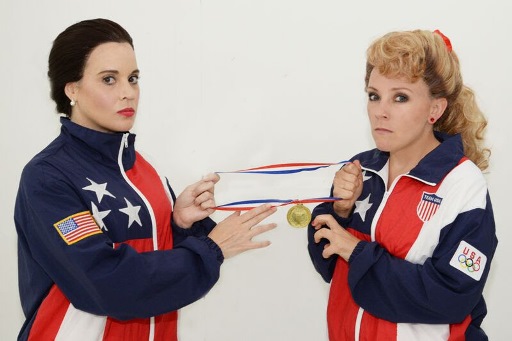 Jenna Leigh Green and Tracy McDowell in "Tonya and Nancy: The Rock Opera." Photo by Robert Pushkar.
"Wearing Black," July 9–15
Riley Thomas' stirring new production follows Evan, a man recovering from the loss of his twin. Torn between their complicated relationship and those his brother left behind, Evan spirals into self-destruction. Thomas previously took NYMF by storm with "Stuck"; this follow-up promises a similar triumph.
"What Do Critics Know?," July 23–27
What happens when three of the most vicious theater critics are saddled with staging their own show? James Campodonico and Matthew Gurren's topsy-turvy new show challenges the stereotypically antagonistic relationship between artist and critic.
For tickets and a full schedule of events, visit nymf.org.
Inspired by this post? Check out our theater audition listings!