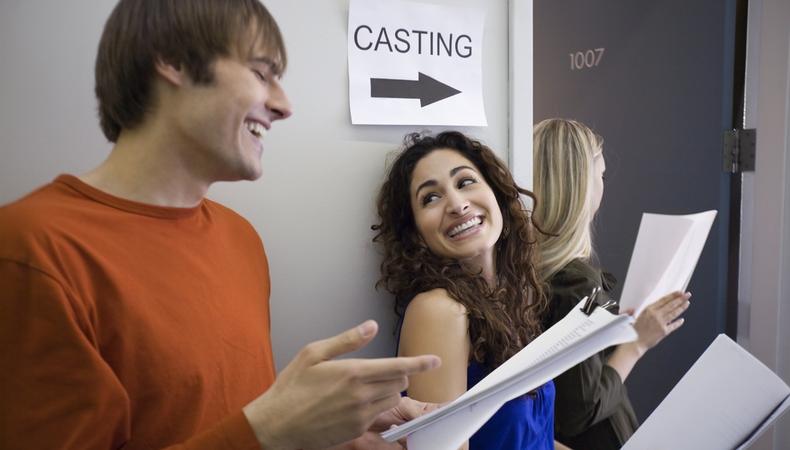 There's always an element of chance when it comes to auditions, but not everything is out of your control. Below are the five most common mistakes I see actors make at musical theater auditions—and tips on how to avoid them.
Making your accompanist's job harder.
Every audition song is a duet. Smart actors make their accompanist's job easy so they can play their best for you. (Your audition depends on it, after all.) Give your accompanist a clean copy of your music containing only what you want them to play and what you are going to sing. Put it in non-glare sheet protectors in a three-ring binder so there's no weird reflection from rehearsal studio lighting, and it won't fall off the piano as they turn pages.
It should be in the key you want. The name of the song, the composer, and the name of the show—if it's from a show—should be at the top. It's also a good idea to have a brief indication of the style written above the first bar (a rock ballad, for example). If they're not familiar with the song, all of this information will help them understand the feel you want. Tempo or key changes should be clearly marked or highlighted so they'll see them coming; you'll want to point these out to them before you sing. Quietly but clearly give them the tempo you want before you begin. And please don't forget to thank them!
Not warming up.
Most singers warm up their voices before they sing but many forget their body is connected to their voice. Here's an important musical theater audition tip: Warm up your body first and your voice will warm up faster! This is great news when you have a heavy performance or rehearsal load. Tension is a singer's worst enemy, and releasing tension in your body frees up your vocals without having to sing a note.
Along with inhibition and lack of specificity, failing to do a physical warmup is also partially to blame for the "no lower body" syndrome I see in so many singers who sing from the waist but are disconnected below that. A physical warmup incorporating your whole body is a step in the right direction.
Believing your audition is about singing.
In a musical theater audition, a great voice is a plus, but what gets you the job is how effectively you communicate who you are through your song. That means your acting is at least—if not more—important than your singing. A lot of people can sing, but the performers who have something to say are the ones that move us. The singer-actor's job is to understand, embody, and express a need in the lyric in a way that's their own by using their heart, mind, body, and voice. Neglect this hugely important part of your audition and you're just another actor who can sing a pretty song.
Lack of mental preparation.
If you don't believe in yourself, who will? When you go to an audition leave your baggage at home. Not your backpack, but your insecurities, pessimism, self-criticism, and belief that you're not really good enough. None of that will help you. Plan your strategy for how you will take control of your thoughts and focus your energy positively. You are not the first person to have issues and fears about auditioning. Stop making excuses and start conquering them. The tools are available. Start by researching them online or finding a great coach who can teach you how you can prepare to be your best self in the audition room. Soon you'll be on the fast track to reaching your career goals.
Choosing inappropriate songs.
Make sure what you're singing is appropriate for the musical you're auditioning for, as well as for your age and type. Don't bring "Jesus of Suburbia" from "American Idiot" to an audition for "Oklahoma!," and don't bring "Oh, What a Beautiful Mornin', " from "Oklahoma!" to an audition for "American Idiot"—even if you sing them well. Likewise, if you're in your late 30s and still singing "Much More" from "The Fantasticks," it's probably time to find a new song. And don't sing "I'm Still Here" or "Rose's Turn" if you're 16 years old. Also, avoid profanity for auditions. Yes, we're all adults but it's your first impression. Why risk offending anyone?
The views expressed in this article are solely that of the individual(s) providing them,
and do not necessarily reflect the opinions of Backstage or its staff.