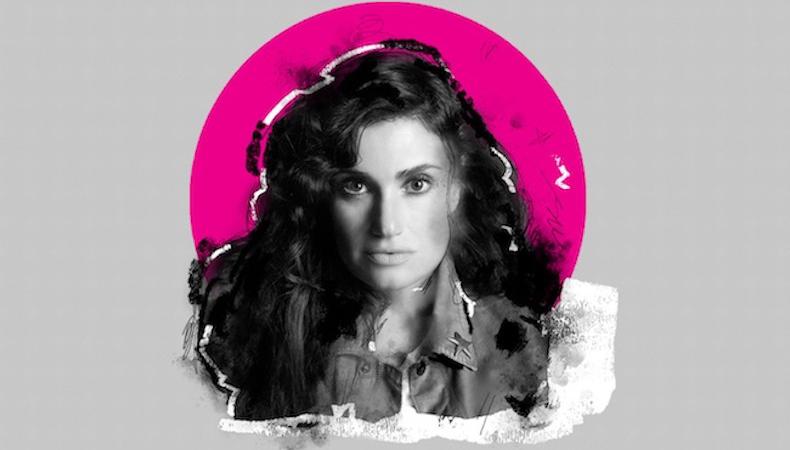 After going green—and winning a Tony Award—for her rafter-piercing origination of Elphaba in "Wicked," Idina Menzel solidified herself as a reigning queen of musical theater. What, then, brings the emblem back to the New York stage after over three years away? The answer, surprisingly enough, is a straight play. "Skintight," to be exact, Joshua Harmon's latest Off-Broadway outing at Roundabout Theatre Company's Laura Pels Theatre. Amidst preview performances, Menzel discussed what she's learning about herself as an actor in the biting comedy and how Backstage was instrumental during her childhood days spent dreaming of "Annie."
What brought you back to the theater, in a straight play, no less?
Honestly, I just love this play. I wanted to work with Josh and [director] Daniel Aukin, and I wanted to work at the Roundabout. That was the foremost thing; I didn't really care what it was. I was just excited to work with them.
READ: Idina Menzel Takes the Worldwide Stage
Do you remember what your first headshot looked like?
Oh yeah, it was shot by my mom's boyfriend, who was an actor-photographer. You could barely see my nose, it was so blown out and white. It was probably overly sexy for my age, as well.
Did you have a survival job before being able to support yourself as an actor?
My job was as a wedding singer, that's what I did from an early age. But to me, it wasn't a survival job. It was actually the coolest job ever, to be running around at age 16, singing at people's parties.
How did you get your Equity card?
The Off-Broadway show "Rent" was my very first professional show.
Prior to "Rent," did you ever use Backstage to find jobs or as a resource?
I went on a couple of industrial and commercial auditions, and I would check [Backstage] and watch casting calls. I remember reading Backstage more when I was a kid in Long Island, wanting to audition for "Annie." My mom wouldn't let me work as a kid, but I kept reading how you had to be under a certain height to audition for "Annie," and I would run into her room and say, "I'm getting too tall! I'm getting too tall!" And that's when I was holding Backstage, looking at the casting calls as a kid.
It's been a few years since we've seen you onstage. Does live theater flex a different muscle?
Yeah, definitely projection of voice in the theater [is different]. There are no mics [for "Skintight"], and we're doing a lot of intimate scenes that people in the dark really need to hear, so that's an interesting challenge, figuring out how to use your voice in the most natural way and still have people hear you. That's different from film and TV. Other than that, I don't know if there's a big difference. The crux of defining your character and who you are and what you're doing is the same, and you still have adrenaline doing both.
For "Skintight" in particular, have you found that you're learning anything new about yourself as an actor?
Every project will highlight something that you're experiencing in your own life, you know? Every single one. This particular one is about aging and youth and beauty. I just turned 47, and so I'm dealing a lot with these issues, and feeling like I'm getting older and looking older and [thinking] about my role in society and not wanting to make that so important—and yet it still is important. This role gets inside those issues that I, myself, am experiencing.
Inspired to get onstage? Check out Backstage's theater audition listings!