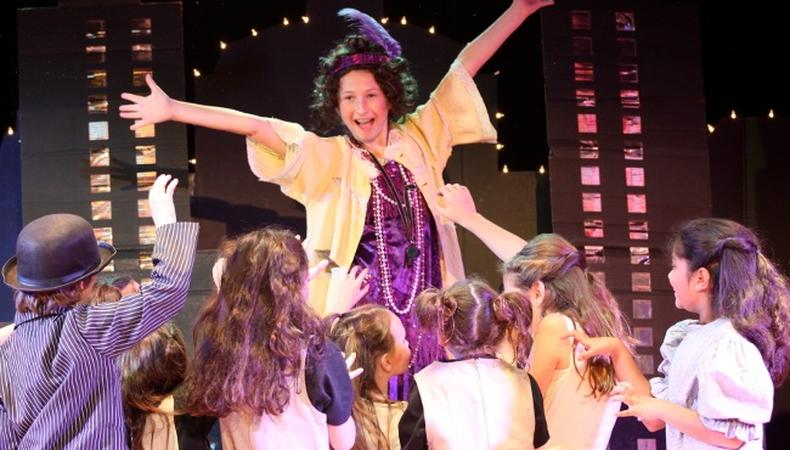 "There's a magic in children's theater," reads the website for Musical Theater Los Angeles. "Shy children blossom. Eager performers find their natural element. Hard work and discipline, as well as fun, are what make the magic happen." It's a fitting description for a thriving performing arts training ground for L.A. youngsters.
Amanda Baird, founder and director of MTLA, says she first experienced that magic as a child herself. Born in London but transplanted to L.A. at age 7, she was picked on by schoolmates for her accent. "I went to these private hoity-toity schools and the kids are brutal!" she remembers. "And of course my mom dressed me in little bows and ribbons and flowers in my hair so I was targeted to begin with." Intensely shy and yearning to assimilate properly, Baird found her voice acting in miniplays written and staged by her mother in their backyard.
It all came full circle in 1997 when Baird, an Oberlin Conservatory of Music–trained triple threat, was encouraged to transition from teaching kindergarten at Brentwood School to starting an afterschool musical theater program. "I was, like, 'I don't know how to teach musical theater!' But I think there's nothing better than watching a child come out of their shell, and watching them learn the discipline."
Originally titled Stage Kids Theater Company—"I [later] changed it to Musical Theater Los Angeles because kids these days don't like to be called kids; they think they're grown-ups," Baird explains—the company has expanded into afterschool classes, summer camps, workshops for adults, and curricular partnerships with over 15 L.A. schools. Children of all ages learn everything from dance and vocal technique to stage combat and improv comedy.
"To learn how to do all of that well, that discipline and that sense of fun, passion, and play—I think it's like gold for any child," says Baird. "No matter what they end up doing as human beings when they grow up, the skills they'll learn while they're learning this will serve them in their lives forever."
This is particularly true for the company of actors made up of more advanced students who rehearse full productions such as "Annie," "Peter Pan," and "Cinderella" on weekends. Baird's more experienced students are invested not only in honing their craft but picking up professional skills as well: how to cooperate with cast mates, prepare a polished audition, and, especially, handle rejection.
"There's one Peter Pan," she points out. "I'm not going to rewrite the show to have a different Peter Pan in every scene. First of all, that's illegal. And second of all, that's nuts." It's important for kids to understand that there are only so many lead roles, and acting in the real world entails plenty of disappointment.
The parents' role in a child's audition process is crucial, adds Baird. "When you're talking about putting a child in the business, there's a ton required of the whole family." Not only is driving around to callbacks a daunting task, parents need to ready kids for the possibility of rejection and prepare themselves for the possibility of booking a faraway touring production or sitcom.
"It's kind of like life, right?" Baird says. "Sometimes you get it and sometimes you don't." When it comes to both acquiring the rigorous skills of musical theater and using those skills out in the real world, she points out, "An actor is an actor, no matter how old they are."
To get your kid that technical training plus real-world preparation, check out musicaltheaterlosangeles.com.
Inspired by this post? Check out our Los Angeles audition listings!