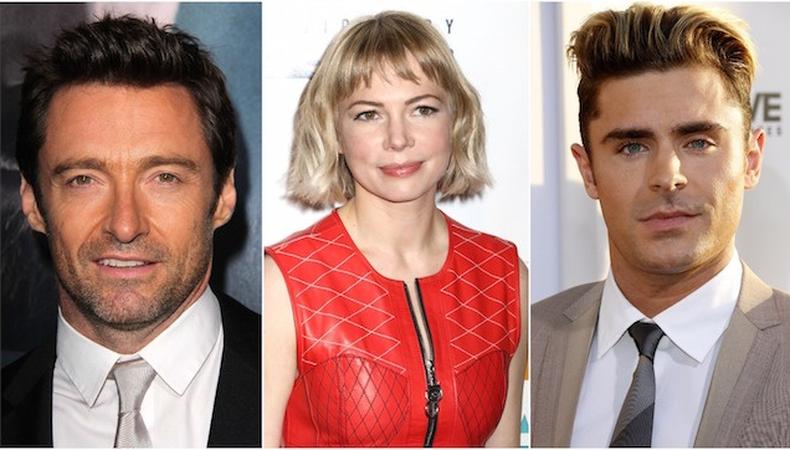 Roaring lions, clowns on unicycles, and trapeze swingers are just a few of the circus staples that could be attributed to P.T. Barnum, and 20th Century Fox wants to delve deeper into who some consider to be "The Greatest Showman on Earth." Come one and come all! This semi-biographical film about the famous showman, who created the three-ring circus, will follow his financial downfall after he invites Swedish opera singer Jenny Lind stateside to perform a series of concerts. The film, cast by noted casting experts Telsey + Company, will feature its own musical element with some veterans of the genre: The cast of songbirds currently includes Hugh Jackman as Barnum, Michelle Williams as Lind, Zendaya, and Zac Efron, heading back to his "High School Musical" roots. Filming on the project is set to begin in the fall around late October in New York, with rehearsals beginning in September.
Irish-bred Saoirse Ronan is taking her Oscar-attracting self to another cinematic project with "Lady Bird." Despite the title's clear relation to the first lady of the Johnson administration, the film won't be featuring anything presidential. The project instead, will be about a girl's senior year in Sacramento, California, and her overwhelming need to prove herself by getting out of town. "Maggie's Plan" actor Greta Gerwig writes and directs, making her debut as a solo helmer. No other players have been announced on the Allison Jones–cast project, but additional actors are expected to pop up before filming begins at the end of August in California.
READ: "Saoirse Ronan Finds Herself in 'Brooklyn' "

Vince Vaughn isn't going for laughs in his next film, "Brawl In Cell Block 99." While the usually comedic actor has made a few turns to the dramatic side, his new project will feature him in some savage action. After working as a drug courier and getting into a brutal shootout with police, a former boxer finds himself at the mercy of his enemies as they force him to instigate violent acts that turn the prison he resides in into a battleground. Vaughn is the only cast member currently attached to the crime-thriller but additional casting is being conducted by Matthew Maisto. Filming on the project will begin in September in a yet to be announced location that will probably fall in either Los Angeles or New York.
APPLY TO OUR FILM AUDITION LISTINGS!
Jonathan Ames' novel is about to get its big screen treatment with "You Were Never Really Here." The book adaptation has already snagged Joaquin Phoenix and Tony nominee Alessandro Nivola, and is continuing casting with Billy Hopkins. The film will follow a war veteran whose isolated retirement from the FBI becomes interrupted when he's recruited to find the daughter of a senator who has been kidnapped by brothel runners. The ramifications of his search lead to a wave of violence and vengeance. The project, written and directed by Lynne Ramsay, will begin filming in early August in New York. Additional cast announcements are expected in the weeks preceding production.
For the latest news, check out backstage.com/resources to find thousands of production listings, casting directors, acting classes, agents, and more!
Want to find out who's casting? What projects are happening? What's coming up? Call Sheet's Industry Buzz will help you stay in the know.