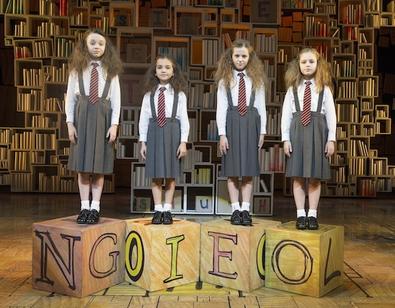 From "Jerry Springer: The Opera" to "Spider-Man: Turn Off the Dark," it seems musical inspiration can be found just about anywhere. Do you know which composers and lyricists found source material in your favorite childhood stories? Here are 11 musicals based on classic children's books.
"Cats"
Andrew Lloyd Webber's long-running musical is based on T.S. Eliot's witty collection "Old Possum's Book of Practical Cats." Eliot's poetry introduces many of the feline characters—including Old Deuteronomy, Mr. Mistoffelees, and Gus: The Theatre Cat—that Webber would later immortalize with song, and the whimsical world created in the book is even better on stage.
"Matilda"
This highly successful musical from Roald Dahl's 1988 children's novel of the same name follows highly a precocious 5-year-old as she navigates her terrible family and sadistic principal. What's not to love about a young heroine whose superpowers stem from a genius intellect and love of reading? Add a book by Dennis Kelly and lyrics by Tim Minchin, and you have the recipe for a worldwide hit.
"Coram Boy"
Though technically billed a "play with music," "Coram Boy" makes our list for its innovative use of song and stage and the wonderful young adult novel that inspired it. Jamila Gavin wrote the 2000 novel "Coram Boy," which takes place in 18th century England and follows several unfortunate generations all connected through the evil acts of the baby-stealing Coram Man. Music is a unifying factor throughout the story, and the play's haunting choral backdrop was created by composer Adrian Sutton.
"Peter Pan"
J.M. Barrie's 1904 play-turned-novel became a play-turned-novel-turned-musical in 1954, when Mary Martin first donned green tights as the unforgettable boy who won't grow up. "Peter Pan" has seen countless stage productions ever since, including numerous productions and tours starring Cathy Rigby. Amazingly, Rigby has played the role on and off for over 30 years. The musical was recently revived in an NBC live telecast, which starred Allison Williams as Peter and Christopher Walken as Captain Hook.
"The Wiz"
Known as "The Wiz" by most theater-lovers, "The Wiz: The Super Soul Musical 'Wonderful Wizard of Oz' " is a 1974 adaptation of L. Frank Baum's famous turn-of-the-century novel about a simple girl from Kansas traveling through a magical land. "The Wiz" brings Dorothy and company to an urban landscape, and retells the story through an African-American lens. A 1978 film version starred Diana Ross, Michael Jackson, Lena Horne, and Richard Pryor (among many other greats), and NBC is preparing to air a live telecast of a new production Dec. 3 of this year.
"Wicked"
Stephen Schwartz knocked it out of the park in 2003 with his smash hit musical adaptation of Gregory Maguire's "Wicked: The Life and Times of the Wicked Witch of the West." The first in a series of young adult novels titled "The Wicked Years," Maguire's novel is a riff on L. Frank Baum's "The Wizard of Oz," and places a much darker (and more adult) spin on Baum's original characters and setting. Kristin Chenoweth, Idina Menzel, and Norbert Leo Butz each made star turns in the original "Wicked" cast, and the musical has been running on Broadway for nearly 5,000 performances.
"Oliver!"
Long before "Where Is Love?" and "Food, Glorious Food" entered the repertoire of child actors everywhere, Charles Dickens penned the classic novel about a poor orphan boy escaping his mean fate and joining a lively gang of London pickpockets. Lionel Bart's 1960 musical version was an immediate hit, and spawned the famous 1968 film along with thousands of future productions on stages across the world.
"Mary Poppins"
Broadway's "Mary Poppins" is based not only on the 1964 Disney film, but also on the popular children's book series by P.L. Travers. Travers created the "practically perfect" character in 1934, and unfolded her story across eight different books. The musical version debuted in London in 2004, and features scenes and characters not found in the film, along with new songs and impressive stage effects.
"The Secret Garden"
Frances Hodgson Burnett's story of a rude little girl sent to live with a mysterious uncle was an instant classic when it was released in 1910, and still speaks to children and adults more than a century removed. The musical adaptation of Burnett's novel features book and lyrics by Marsha Norman and music by Lucy Simon, and debuted on Broadway in 1991. The original "Garden" earned great acclaim (and a Tony Award for young star Daisy Eagan), and has enjoyed a long life with countless subsequent productions.
"Little Women"
Louisa May Alcott's beloved, timeless novel was adapted for Broadway in 2005, and had a short life despite an acclaimed performance from Sutton Foster as empowered tomboy Jo March. A U.S. tour followed the Broadway production, and showstopper "Astonishing" remains an extremely popular— if overused— audition song for female musical theater performers.
"Big River"
Though Mark Twain's "The Adventures of Huckleberry Finn" has been banned in the past for its examination of race and use of strong language, the classic young adult novel is timelessly relevant and perfect for the stage. The 1985 musical adaptation "Big River" made waves (so to speak) with its bluegrass-style tunes, and a 2003 revival famously incorporated deaf performers and American Sign Language to make the production accessible to deaf and hard-of-hearing theatergoers.
Inspired by this post? Check out our Broadway audition listings!