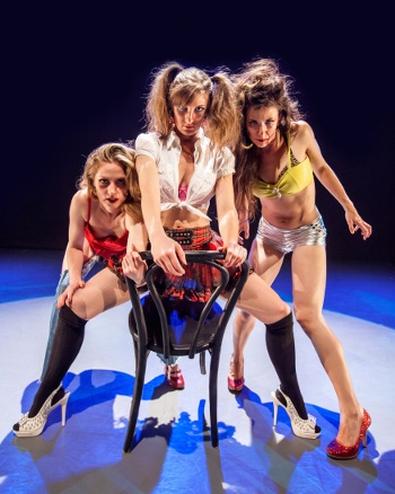 Midtown erupts in song and dance July 7–27 when the New York Musical Theatre Festival returns! Each year NYMF celebrates the genre with productions, concerts, readings, and special events—and has launched shows including "Chaplin" and Pulitzer Prize–winning "Next to Normal." For this year's full schedule, visit nymf.org—but here are seven shows we can't wait to see!
"DER GELBE STERN" ("THE YELLOW STAR")
Set in 1930s Berlin within the crumbling Weimar Cabaret scene, this provocative musical follows Erika Stern (Alexis Fishman, NYMF's 2012 Next Broadway Sensation Winner) as she handles the Nazi takeover of Germany with one last performance.
"ZOMBIE STRIPPERS"
You know how those zombie strippers are: "They only want you for your brains." For an (un)deadly good time, check out this musical that takes place in a graveyard and combines a pop-dance score, sexy lady zombies, murder—and friendship!
"RESCUE RUE," AN AUTISM-FRIENDLY PERFORMANCE
It's "Cinderella" meets "Beethoven" in this kid-friendly musical about a doggie named Rue who asks her Fairy Dogmother for a happily ever after. Based on a true adoption story, "Rescue" tells the story of Rue's journey to her "Furever" home in New York City using pop music and puppets. In addition to a regular performance, this show is also offered in an autism-friendly version where strobe lights and jarring sounds have been reduced. The lobby will also have a quiet activity area staffed with autism specialists.
"PROPAGANDA! THE MUSICAL"
Ever seen a tap-dancing president? No? Well, "Propaganda! The Musical" is your chance. The show centers on Rookie, a young man with a family history of covering up political scandals. When the biggest debacle since Watergate hits, it's up to Rookie to successfully sweep it under the rug. Consider it handled.
"MR. CONFIDENTIAL"
This comedy with a "big Broadway beat" focuses on the TMZ and Gawker of the '50s: Bob Harrison's magazine Confidential. "Mr. Confidential" is the (mostly) true story of the magazine about show-biz dirt that outsold Time and TV Guide.
"CLINTON: THE MUSICAL"
It's the show you didn't even know you wanted: a Bill and Hillary Clinton musical. With the latter of the two rumored to be eyeing the presidential seat, it's only right to immortalize the power couple in music! In the world of "Clinton," Bill is still president, there are two of him, and they all must "save their presidency, change America, and prove that 'politics is show business for ugly people.' "
"AS WE LIE STILL"
Set at the turn of the 20th century, this dramatic musical follows Avi Leiter, a successful New York magician who reaches "vaudevillian fame" alongside his assistant, Josephine. But when a trick backfires and they fall from the public's good graces, the two face decades of shame. Twenty years later, Avi alone must prove he still has one more trick up his sleeve.
Inspired by this post? Check out our New York audition listings!