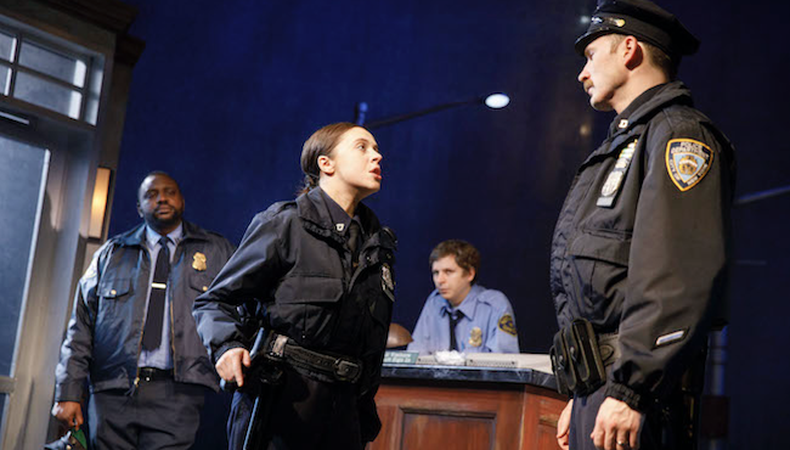 Costume designer Paloma Young is no stranger to the Tony Awards stage. A winner for "Peter and the Starcatcher" and a nominee for "Natasha, Pierre & The Great Comet of 1812," she is back this season with Kenneth Lonergan's "Lobby Hero" from director Trip Cullman, which picked up nods for best revival of a play and for actors Michael Cera and Brian Tyree Henry. The drama bowed at the Hayes Theater May 13. Here, Young speaks with Backstage about the challenges to getting her police officer and security personnel characters' uniforms just right and what she needs from her actors to get the job done.
How'd you first get involved with "Lobby Hero" and what made you want to get on board?
Well, I've worked with Trip Cullman a couple of times in the last couple years, and I love working with him. I think we have a good language that we [use to] talk about costumes together. You're usually brought on by a director or a producer, so he was like, "Hey, I'm doing a show. You wanna come do it?" And I think Lonergan is a great writer, and I was very excited to work on the first Second Stage Broadway show. So there were a lot of reasons to make this an exciting project to start working on.
Is that often the case with your projects—it's people that you've worked with before and a continued relationship in that way?
A lot of my work is. When I'm working with someone new, it's usually because that person is working on a project that has a different design approach than what they've worked on before, so they'll seek me out.
"Lobby Hero" only has four characters in it and, for the majority of the play, they're wearing uniforms. What kind of research went into getting those as realistic as possible?
Well, anything with an official uniform has rules. [With] military or police, it's absolutely essential to get every element correct because any person who is related to that field, who knows a cop or who is a cop who's come to see the show, if there's anything that's wrong, they will be taken out of the show. And we don't want it to seem costume-y. The main thing that I think is so great about this play is that every single character has so many layers and is imperfect and is very human, and so the costumes needed to just land as real as possible. There's a lot of research to be had on NYPD. And this play was written in the late '90s, so I couldn't just look at a cop now on the street because their uniforms have changed since 1999.
Right, there's even a conversation about the changing uniforms in the play.
Right, exactly. The big change is that in 2003, they started allowing beat cops to wear cargo pants, and you'll see most of the cops on the street are wearing cargo pants. Everyone loves pockets—even guys. But before, only tactical, like, SWAT teams would wear the cargo pants, and everyone else just had the dress pants. So that's what we're doing in the show. I definitely did continuously stare at cops on the street just to see how worn their equipment was, how they were wearing their belts. I kept thinking I was going to get arrested or pulled aside because I was very suspiciously staring at cops in the subway station. I also have a cousin who's a beat cop in Jamaica, New York. I had him send me photos of his duty belt, which is the thing that all of their weapons and tools are on, because any sort of photograph that I could see was just the front or the back, but I just wanted to see the whole belt. I also go on message boards. I will for various shows. I've signed up for veterans' message boards, NYPD message boards, because people will get on there and talk about what they put on their belts, what they think of the new shirts, that sort of thing.
Considering that these are legal law enforcement uniforms, are there any restrictions to the costume being too authentic?
Absolutely. There are no parameters around being too authentic, but you cannot purchase the clothes, you have to rent them—NYPD badges and uniforms and anything with the insignia, I can't buy it, no matter what sort of fancy letter I have. So I rent it through these approved companies. So that's a bit of a chore. And even then, we can't have the actors out on the street on a smoke break in their cop uniforms, for obvious reasons. The idea is someone might come and think that they're talking to a cop and ask them for help.
READ: How to Communicate With Your Costume Designer
When it comes to the actors you're working with, what's the ideal relationship? What traits does a quality actor have when working with you?
I like an actor that is good at communicating. Sometimes that means that an actor is telling me something they don't like, but there's a form of diplomacy to that. For instance, an actor will be like, "These shoes feel too heavy," in an initial fitting. They'd give me those initial reactions as opposed to giving me that feedback in front of everybody onstage in the middle of tech. I like an actor to be open to having a conversation about their costume earlier on. Sometimes, there's this stereotype of the diva[-like] needy actor, and that encourages young actors to not speak out. They think that they have to be complacent and suppress everything. And there is this sort of old-school idea that the director is always right, and then the costume designer is acting on behalf of the director, so they're also always right, and you just do what you're told. You wear the thing. And I think that that, especially in naturalistic pieces with modern dress, that is a recipe for disaster. If your costume doesn't match the way you're playing the character, it's bad for the performance, and it's bad for the play.
So the actual designing of the thing is your vision, but it sounds like you're pretty open to collaboration and feedback to meet and compromise along the way.
I don't even think it's compromising. It's learning from my collaborators, because I often start working on a play before there's any cast, so my initial ideas are based on what I read on the page, and I'm sort of forming backstory for these characters and filling in blanks and trying to make a whole human being and what I think the particular quirks of that human being would be. And even when we're talking about uniforms, it means, like, is this uniform nice and crisp? Is it a little bit oversized and been washed too many times? All these little details. But then the actor comes into the room that first rehearsal, and they've also been doing all of that research into their character. I've been doing it for every character on the page, but they've been really focusing on just their characters. So, in a sense, they are like a scholar of their own character, and they might bring a piece of information to me that I never thought about before or a different way to think about what kind of person that character would be. So, yeah, I like being able to incorporate that information into a costume.
Want to work on the New York stage? Check out Backstage's theater audition listings!