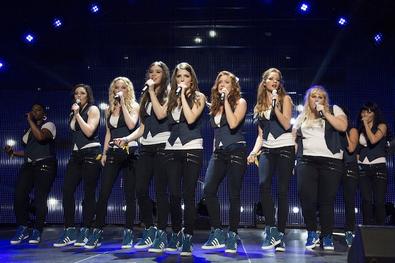 In the immortal words on 'N Sync, it's gonna be May. Here are seven films every industry pro should see this coming month, from the newest installment of the Marvel film universe to a really, really scary ghost clown doll.
"Avengers: Age of Ultron," May 1
You've probably never heard of the 2012 cult classic "The Avengers," but its sequel is likely to catch a few moviegoers' attention. Starring the actors who have made Marvel's comic superheroes massive pop culture icons—including Robert Downey Jr.'s Ironman, Chris Evans' Captain America, Scarlett Johansson's Black Widow, and Mark Ruffalo's Hulk—"Age of Ultron" is this summer's must-see blockbuster spectacle. Assemble!
"Hot Pursuit," May 8
Make way for Hollywood's unlikeliest comedic duo: Reese Witherspoon and Sofía Vergara. "Hot Pursuit" features the former as a scrupulous but inept cop, forced to protect the latter as a drug dealer's sassy widow. Director Anne Fletcher has helped turn the male buddy cop genre on its head, mixing period jokes with the usual car chases and shootouts associated with such films. Strap yourself in for a wild ride.
"Mad Max: Fury Road," May 15
Speaking of wild rides, have you seen the trailers for "Mad Max?" This post-apocalyptic action film is like a cinematographer's aneurysm; George Miller is taking both action films and car chase scenes to new, dizzying heights. Take several deep breaths before you see this movie and prepare yourself for a barrage of noise, harsh yet gorgeous visuals, and more noise. Also, how good does Charlize Theron look with a shaved head?
"Pitch Perfect 2," May 15
They're back, pitches. Everyone's favorite a cappella group is ready to take on the world in an international competition that an American team has never won. Can the badass Barden Bellas do it? The trailer features a new version of "Cups," the song that made the first movie and star Anna Kendrick famous, as well as several hilarious one-liners from Rebel Wilson, John Michael Higgins, and Elizabeth Banks (who also makes her feature film debut as director).
"Poltergeist," May 22
Don't you just hate it when your quaint suburban home is invaded by angry clown doll spirits? I know I do. This remake of the 1982 supernatural thriller contemporizes the classic horror story, and features Backstage cover star Sam Rockwell, Rosemarie DeWitt, and Jared Harris. See it if you dare.
"Tomorrowland," May 22
Blending sci-fi, mystery, and Disney's particular brand of adventure film, Brad Bird and Damon Lindelof's "Tomorrowland" looks like entertainment the whole family can enjoy. Starring George Clooney and a cast that includes Backstage cover stars Kathryn Hahn and Judy Greer, the film takes place in a fantastical, futuristic world that will look great on the big screen. If you're from the future and you've seen it, please don't drop any spoilers.
"Aloha," May 29
Cameron Crowe's first major film in years, "Aloha" has the kind of all-star cast that guarantees success: Bradley Cooper, Emma Stone, Rachel McAdams, Alec Baldwin, John Krasinski, and none other than Bill Murray. Set and filmed in picturesque Oahu, the film follows a defense contractor overseeing the launch of a new weapons satellite, plus several really good-looking A-listers on the verge of tears, so yeah, you're seeing it.
Inspired by this post? Check out our film audition listings!