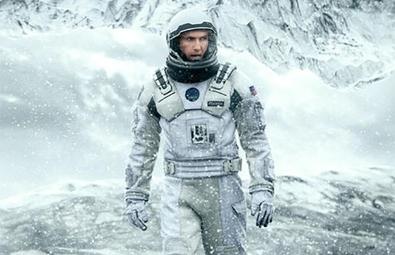 If you've caught up on October's incredible repertoire of film releases, then you're ready for yet another batch of must-see cinema. From late actors' (Robin Williams and Philip Seymour Hoffman) last performances to award season contenders, Thanksgiving month brings audiences great releases for every weekend. Which of the following are you most excited to see?
"Interstellar," Nov. 5
Christopher Nolan's latest film debuted yesterday and people are already flocking to the theaters to see it. Matthew McConaughey, Anne Hathaway, Jessica Chastain and others star in this space thriller about a group of explorers who travel beyond the galaxy to discover whether or not mankind has a future among the stars. Knowing humans' time on Earth is coming to an end, McConaughey and his team set out to save the human race, traveling to uncharted territories and not knowing if they'll ever make it back to their families.
"A Merry Friggin' Christmas," Nov. 7
It might seem a little early for Christmas movies, but this star-studded film couldn't come out sooner, as fans are eager to see one of Robin Williams' last performances. Surrounded by Lauren Graham, Joel McHale, Wendi McLendon-Covey, Jeffrey Tambor, and others, the late Williams stars in this holiday film about an estranged family of misfits forced to spend the year's cheeriest season together. And when McHale's character realizes he's left all his son's presents at home, he and his father (Williams) attempt an eight-hour trip to get the gifts and save their Christmas.
"The Theory of Everything," Nov. 7
Eddie Redmayne and Felicity Jones star in this biographical drama following famed physicist Stephen Hawking and his wife Jane. The romantic film follows the couple's love and struggle with Hawking's motor neuron disorder. Side by side the couple fight the scientist's crippling disease, despite him being given just two years to live. The two British actors are transformed into icons of triumph and resilience in what's sure to be one of the year's most talk about films.
"Foxcatcher," Nov. 14
From Bennettt Miller, the writer-director of "Moneyball," comes this biographical sports drama about Olympic wrestler Mark Schultz and his brother Dave, whose relationship with his sponsor John du Pont is anything but ordinary. Mark Ruffalo and Channing Tatum star as brothers Mark and Dave in this highly anticipated drama. Most surprising, however, is Steve Carell as du Pont, who's transformation goes beyond the physical and shows him as an actor we've never seen before. Much like Jonah Hill was given his serious acting debut in "Moneyball," we can only hope that "Foxcatcher" will open new doors for the former "Office" star.
"The Homesman," Nov. 14
Tommy Lee Jones serves as writer-director and star of his new film "The Homesman." Also starring Hilary Swank, the western drama follows a claim jumper and a pioneer woman who join forces to escort three women from Nebrasks to Iowa. The women, who've gone insane due to the harsh circumstances of pioneer life, must be delivered to a minister and his wife who've offered to take the women in. The gritty film is supported by several talented supporting actors including Meryl Streep as the minister's wife, John Lithgow, James Spader, and others.
"Rosewater," Nov. 14
Jon Stewart's directorial debut is also one of this year's buzziest films. Starring Shohreh Aghdashloo and Gael García Bernal, "Rosewater" is based on The New York Times best-selling memoir "Then They Came for Me: A Family's Story of Love, Captivity, and Survival," by Maziar Bahari, and follows the Canadian broadcast journalist as he's detained in Iran for over 100 days. Brutally interrogated in prison, Bahari's story is not for the faint of heart. The visceral drama could be just the beginning of Stewart's directing career.
"The Hunger Games: Mockingjay - Part 1," Nov. 21
Jennifer Lawrence is back as Katniss Everdeen in the third "Hunger Games" film. In "Mockingjay - Part 1" Katniss finds herself in District 13 and with the advice of her family and friends, she fights to save Peeta (Josh Hutcherson) and the entire nation. The anticipated adventure flick's supporting cast includes Liam Hemsworth, Woody Harrelson, Elizabeth Banks, Julianne Moore,Stanley Tucci, and the late Philip Seymour Hoffman. If you need to catch up, Netflix recently added the series' second film "The Hunger Games: Catching Fire."
"Horrible Bosses 2," Nov. 26
The crew of the 2011 hit comedy "Horrible Bosses" is back with a sequel as the three stars (Jason Bateman, Charlie Day, and Jason Sudeikis) decide to start their own business. However, things don't go as planned as an investor tries to persuade the three to pull off a kidnapping scheme. The comedic film's cast includes Chris Pine, Jennifer Aniston, Christoph Waltz, Kevin Spacey, and others.
"The Imitation Game," Nov. 28
This World War II era film is just one of many biographical dramas to hit theaters this season. Benedict Cumberbatch stars as mathematician Alan Turing who led the charge to crack the German Enigma Code, eventually ending the war. Keira Knightley and Matthew Goode lead the cast of supporting actors in this period drama.
Inspired by this post? Check out our film audition listings!