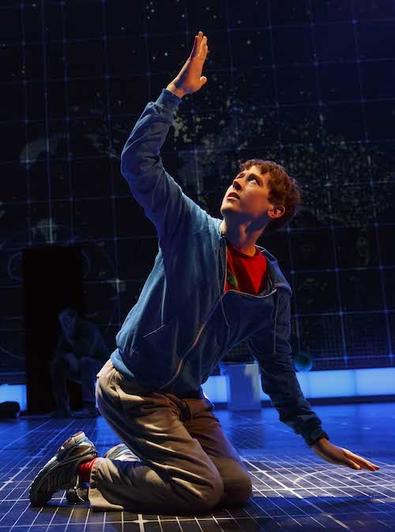 "You Can't Take It With You" (Opens Sept. 28)
James Earl Jones leads a starry cast (including Rose Byrne, Annaleigh Ashford, and Mark Linn-Baker) in this revival of the classic American comedy about the hilarious clash between an eccentric family and an extremely conservative one.
"The Country House" (Opens Oct. 2)
Starring Blythe Danner, Daniel Sunjata, and Kate Jennings Grant, this Chekhovian Donald Margulies play about what happens when artists encounter love and passion while visiting a Berkshires summerhouse will be directed by Tony winner Daniel Sullivan.
"The Curious Incident of the Dog in the Night-Time" (Opens Oct. 5)
Based on the novel of the same title, this British import follows the exceptionally intelligent 15-year-old Christopher on his hunt to identify the true killer of his neighbor's dog after he's accused of the deed. The show stars Alexander Sharp, Taylor Trensch, Ian Barford, and others.
"It's Only a Play" (Opens Oct. 9)
Matthew Broderick and Nathan Lane reunite for this Terrence McNally comedy about the opening of a new Broadway play, its nervous playwright (Broderick), his TV star best friend (Lane), and the assorted cast members, producers, and crew who presumably add to the shenanigans, played by Megan Mullally, Stockard Channing, and F. Murray Abraham, among others.
"On the Town" (Opens Oct. 16)
Directed by Tony-winning director John Rando ("Urinetown"), this Broadway revival started last summer as a regional theater production for the Barrington Stage Company. However the acclaim it received helped it makes its way to the Great White Way, bring Clyde Alves, Jay Armstrong Johnson, and Tony Yazbeck with it. The show follows the three as sailors on a 24-hour shore leave in New York City.
"The Last Ship" (Opens Oct. 26)
Directed by Joe Mantello and with a score by Sting, this production tells of life in the English seafaring town of Wallsend and Gideon Fletcher's (Michael Esper) desire to flee the ever-present local shipyard. When he returns 14 years later, life in Wallsend is very different and he must take action to preserve it.
"A Delicate Balance" (Opens Nov. 20)
Featuring a cast that includes Glenn Close, John Lithgow, and Martha Plimpton, this classic Edward Albee play focuses on a long-married couple as they struggle to maintain a sense of normalcy after taking in their daughter due to the failure of her fourth marriage, as well as their best friends, all while putting up with an alcoholic sister.
"The Elephant Man" (Opens Dec. 7)
Bradley Cooper returns to Broadway as the titular character who travels from a star exhibit in Victorian-era freak shows all the way up the social ladder to the London elite. The production will also star Patricia Clarkson and Alessandro Nivola.
"Constellations" (Opens Jan. 13, 2015)
This two-hander by Nick Payne will star Oscar nominee Jake Gyllenhaal (making his Broadway debut) and a to-be-announced female actor in the 70-minute story about the endless sense of potential at the start of a relationship. Michael Longhurst will direct the West-End-to-Broadway transplant for the second time.
"Honeymoon in Vegas" (Opens Jan. 15, 2015)
The musical adaption of the comedy about a gambler sabotaging a Vegas wedding between a man afraid of commitment and his more-than-ready girlfriend will be playing at the Nederlander Theatre, starring Rob McClure, Tony Danza, and Brynn O'Malley, with a score by Tony winner Jason Robert Brown.
Want more theater? Check out "10 Off-Broadway Shows You Must See This Fall."