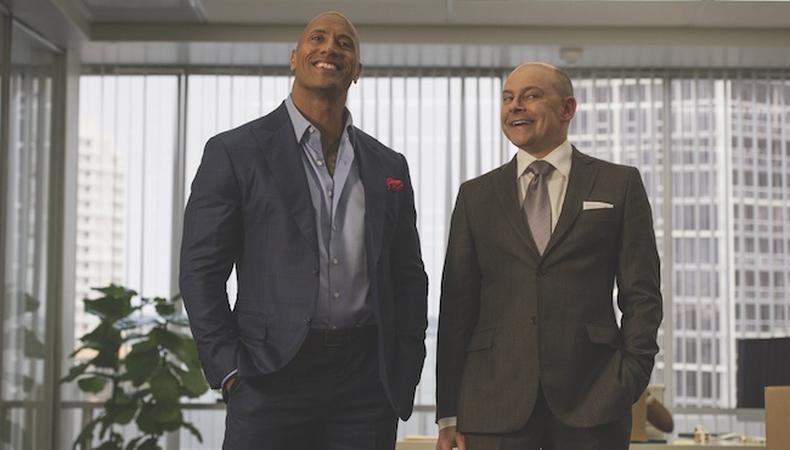 In light of this year's Golden Globes, the annual fete celebrating the best of both film and television, Backstage is presenting our own awards! We are saluting the most valuable players of the year—appearing on both the big and small screens—who weren't content to star in just one buzzy project. Instead, they dominated the cultural consciousness, deservedly taking their careers to the next level. Without further ado, the special Golden Globe Awards for Overachievement go to the crossover stars below.
Nicole Kidman
We're tempted to give this list of 2017 MVPs its own nickname: the Nicole Kidman Awards. This year she lent her undeniable talent to practically everything. Fresh off an Oscar nod for "Lion," she earned a much-deserved Emmy for HBO's "Big Little Lies," giving one of the year's most unforgettable performances in it, and signed on to the second season of "Top of the Lake" opposite Elisabeth Moss. Plus, she appeared in a whopping four movies, including awards contenders "The Beguiled" and "The Killing of a Sacred Deer." It's the kind of year most actors dream of.
Reese Witherspoon
Witherspoon also brought her big-screen charisma to "Big Little Lies" this year—and will stay on TV (she and former TV sister Jennifer Aniston will star in Apple's first stab at scripted television). Coming up, she's also got "A Wrinkle in Time" opposite Mindy Kaling and Oprah Winfrey, under the direction of Ava DuVernay, and will somehow find time for a newly confirmed second season of "Big Little Lies."
Idris Elba
Elba remains one of the busiest actors in the industry, and his recent roles prove why. He executive produced and starred on TV's "Guerilla," guest starred on BBC Three's "Five by Five," and will continue the streak heading into 2018 with a return to his titular role on "Luther." On the big screen, he starred in "The Mountain Between Us" and Aaron Sorkin's directorial debut, "Molly's Game." Roles in "The Dark Tower" and "Thor: Ragnarok" further cement his versatility and the essential role he plays in both mediums.
Laurie Metcalf
Metcalf is on a roll. When she wasn't appearing on the country's biggest comedy, "The Big Bang Theory," this year, you could find her on the Broadway stage in "A Doll's House, Part 2," winning a Tony Award in the process. She's never been more riveting than as the demanding matriarch of "Lady Bird," where she inhabits a character in the most exquisitely heartbreaking way.
James Franco
Not only did Franco do double duty as twins on HBO's "The Deuce," he directed and starred in "The Disaster Artist," where he studied how one of the worst movies in history was made by making a film about it. It's no secret he typically keeps busy, but having his hand in two prestige 2017 hits was a solid reminder of what he can do.
Dwayne Johnson
Sure, maybe they weren't the most highbrow arthouse films of the year, but there's something to be said for the mainstream buzz of "The Fate of the Furious," "Baywatch," and "Jumanji: Welcome to the Jungle"—and their megawatt star Johnson, for whom a busy year is not an anomaly. "Ballers," the fabulous and funny HBO show he also anchors, continues to make Johnson's spot on the A-list well-deserved.
Aubrey Plaza
Plaza has starred in many under-the-radar indie films, turning in reliably intelligent, quirky performances. This year's "The Little Hours" was a prime example, and to an extent so was "Ingrid Goes West." But the latter was so precisely satirical and topical, and featured Plaza at her nuanced best, that it qualifies her more for the mainstream than for indie darling status. Her fearless, unhinged work as a mutant supervillain on FX's "Legion" was an added bonus to her already stellar year.
Michelle Pfeiffer
Pfeiffer kicked off her 2017 with an Emmy-nominated depiction of Ruth Madoff in HBO's adaptation of Bernie Madoff's rise and fall, "The Wizard of Lies." On the big screen, she could be seen in Darren Aronofsky's latest thinker, "Mother!," and as a tantalizing suspect in Kenneth Branagh's take on the Agatha Christie classic "Murder on the Orient Express," bringing her commanding onscreen presence to three very different roles.
Kumail Nanjiani
No one could have predicted that Nanjiani's foray into autobiographical comedy, "The Big Sick," would be one of this summer's biggest hits, least of all the writer-star himself. Known and beloved as the deadpan Dinesh on HBO's "Silicon Valley," Nanjiani is now inching toward the top of the comedy A-list. Most exciting is the prospect of what he'll do next.
Allison Janney
Janney hit the trifecta this year as a standout across mediums—the Broadway stage included. She continued her Emmy-winning turn on "Mom," but her best performance was as Tonya Harding's abusive mother, LaVona Golden, in "I, Tonya." She balanced those with a run of "Six Degrees of Separation" on the Great White Way, digging into each of these three complex women as if it were her only role.
Claire Foy
Foy became a household name in 2017 for her SAG Award–winning humanization of Queen Elizabeth II on Netflix's "The Crown." We also saw her portray a more emotional character in the heart-wrenching feature "Breathe." And the actor isn't looking at much free time ahead—she'll soon play Lisbeth Salander in the rebooted "The Girl With the Dragon Tattoo" franchise, along with three other films slated for 2018.
Peter Dinklage
"Game of Thrones," as it grows into one of the most massive epics in TV history, is overcrowded with stars. But Dinklage continues to reign as the series' most magnetic (and winningest) force. This year, the actor also broke onto the prestige film scene opposite Frances McDormand in Martin McDonagh's "Three Billboards Outside Ebbing, Missouri."
Robin Wright
Once again (and deservedly) Emmy-nominated for "House of Cards," Wright is ready to become the undisputed lead of the show that changed it all for Netflix when it first premiered in 2013. But we're grateful for her breakthrough in two of the year's big-screen smashes: as an icy police lieutenant in "Blade Runner 2049" and a fabulously fierce general of the Amazonian army in "Wonder Woman," she proves nothing short of magnetic.
Jane Fonda
Netflix has made plenty of smart moves in its rise to streaming dominance, and using Fonda's talent and star power is one of them. Appearing this year in both "Our Souls at Night," the touching feature reuniting her with Robert Redford, and, of course, "Grace and Frankie," for which she received an Emmy Award nomination, Fonda is back on our screens and in our hearts.
Sterling K. Brown
Brown has certainly kept up his 2016 momentum. His Emmy-winning performance as Randall on the second season of "This Is Us" is as compelling as ever. He also brought his talents to another legal battle from a different decade as Joseph Spell, the innocent defendant in a rape case and Thurgood Marshall's client in "Marshall."
John Cho
Critical praise seems to follow Cho wherever he goes, especially in 2017, which saw scene-stealing turns from the actor both on Hulu's "Difficult People" and Fox's "The Exorcist." And in Kogonada's Sundance Film Festival hit "Columbus," Cho brought a poignancy to the life of a translator stuck in the titular Indiana town, confirming his status as a star on the rise.
Megan Mullally
Karen Walker is back! In addition to reminding us she has no comedic equal in the return of NBC's "Will & Grace," Mullally had a great year in film; "Infinity Baby" is as delightfully weird as the actor herself, and "The Disaster Artist" features Mullally in one hilariously memorable scene. For a performer at her level, one scene is all she needs.
Tatiana Maslany
Yes, she's won awards, but there's something about Maslany's work that always makes us think she's not getting enough recognition. This year, in which a searing turn in the Boston Marathon biopic "Stronger" was preceded by the final season of "Orphan Black," marks a turning point for an actor Hollywood should want to cast in everything. We'll miss Sarah, Helena, Cosima, and Maslany's many other clones, one of the best tours de force on all of TV.
Honorable mentions: The casts of "Girls Trip" and "The Post"
It seems the line between movie and TV star has become increasingly blurred. Along with many of the actors above, entire casts of certain projects have become bona fide crossover stars.
Take "Girls Trip," the summer's breakout comedy starring four hilarious leading ladies who are no strangers to TV: Queen Latifah (of Fox's "Star" and TV movie "Flint"), Jada Pinkett Smith (Fox's "Gotham"), Regina Hall (HBO's "Insecure," ABC's "Black-ish"), and Tiffany Haddish (NBC's "The Carmichael Show" and a slew of upcoming projects).
There's also the upcoming Meryl Streep and Tom Hanks film "The Post," featuring one of the starriest supporting casts ever—many of them nominated for Emmys just this year: Bob Odenkirk (AMC's "Better Call Saul"), Carrie Coon (HBO's "The Leftovers," FX's "Fargo"), and Matthew Rhys (HBO's "Girls," FX's "The Americans"), plus Sarah Paulson (FX's "American Horror Story"), Alison Brie (Netflix's "GLOW" and "BoJack Horseman"), and more. With assembled talent at this level, let's hope the TV-film crossover trend continues!
Looking to get on the A-list? Apply to casting calls on Backstage.