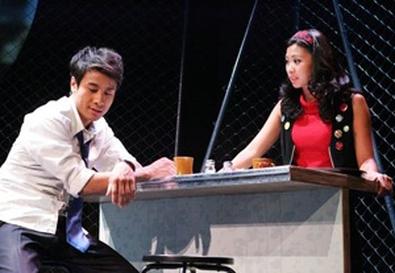 Scott Heim's wrenching 1996 novel "Mysterious Skin" was made into an equally wrenching movie by Gregg Araki, never known as a filmmaker hesitant to shock. Now the venerable and often conservative East West Players has joined the fray by presenting the L.A. debut of Prince Gomolvilas' stage adaptation of Heim's original tale, a production unexpectedly even more disturbing than anything ever filmed by Araki.
Brian (Scott Keiji Takeda) was only 8 years old when he lost five hours of his life in rural Hutchinson, Kansas, a town bordered on its four sides by a meat packing plant, a prison, the longest grain elevator in the world, and, prophetically, a space museum. A decade later, constantly troubled by dreams seeming to have something to do with his missing five hours, Brian has become convinced he was abducted by aliens, a conviction further fueled when he meets a lonely 32-year-old geek named Avalyn (Elizabeth Liang) who is even more fanatical about close encounters of the third kind than Brian is. Before her clumsy physical advances insinuate there may be other issues distressing Brian, she helps him find Neil (David Huynh), a young man once on his Little League team who is also an integral part of his recurrent visions.
Locating Neil, now a self-destructive New York City rentboy, begins to unravel the mystery of the missing five hours. Considering how gritty and creepy the reality of the incident the two shared at age 8 is, perhaps alien abduction would have been preferable, probes and all. Even for a more adventurous viewer, Gomolvilas' penchant for stomach-turning and vivid descriptions of a twisted childhood molestation—as well as a bloodily graphic and violent onstage rape sequence—is a bit more than necessary.
Under Tim Dang's direction, this is a haunting and unforgettable presentation, starkly designed, somberly staged for an adults-only audience, and performed with a passion that might leave the audience nearly as exhausted as it leaves its two leading actors. The Spartan direction is intensely accentuated by Alan E. Muraoka's towering set, dominated by an ominous moon and high chain-link fencing harshly lit by Jeremy Pivnick. But beyond all mechanisms that make this startlingly brilliant theater, including a stellar supporting cast (particularly the heartfelt work of Takeda and the sweetly sad turn by Liang), the play is lifted from excellent to world-class by the presence of Huynh, whose masterful performance of a young man destroyed by his past is sure to stay in your thoughts—and perhaps your own nightmares—for a long time to come.
Presented by East West Players at the David Henry Hwang Theater, Union Center for the Arts, 120 Judge John Aiso St., L.A. Sept. 15–Oct. 10. Wed.–Sat., 8 p.m.; Sun., 2 p.m. (213) 625-7000. www.eastwestplayers.org.