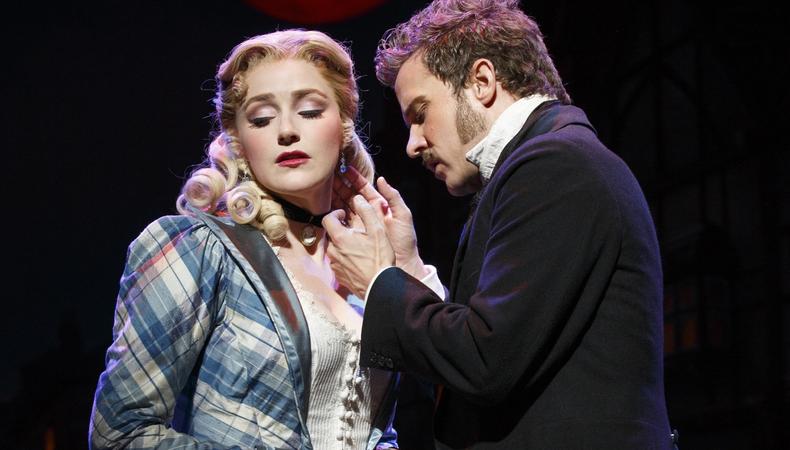 Betsy Wolfe recommends making decisions with your gut.
"I've really tried to pick pieces and new projects that inspire me, that I know will help me grow," Wolfe says of the artistic choices she's made. "As long as you are really following your gut and the material is what you want to be working on, I don't think you'll make a wrong choice."
Wolfe also has to trust her instincts onstage eight shows a week in Roundabout Theatre Company's "The Mystery of Edwin Drood," which also stars Stephanie J. Block and Chita Rivera. The Broadway revival, based on the unfinished Charles Dickens novel, follows a troupe of characters at the Music Hall Royale as they act out the novel and let the audience vote on the outcome.
"I've learned just to be completely open," says Wolfe, who plays Miss Deidre Perengrine portraying Rosa Bud in the musical. "I genuinely try and be open in the moments, and sometimes they might not go the way you think they're going to go. And even though you might have rehearsed it a certain way, you know what? It might be better just to try something else. And that has been really, really freeing with the show. Knowing that just like [the audience's] reaction is different each night, so can mine be."
How did you get cast in "The Mystery of Edwin Drood"?
Betsy Wolfe: I saw a press release saying that Chita Rivera was going to be doing "Drood" and playing Princess Puffer, and I thought it was such an excellent choice. I actually played Princess Puffer in college my senior year. I was like, "Oh she'll be a great puffer. I wonder who is playing Drood?" And I remember calling my agent saying, "Hey, do you think I could get an appointment for Drood?" And I remember them saying, "No, but you could go in for Rosa." I was thinking, "Rosa?" Because I never thought of myself as the ingénue really ever in my life. It kind of took me by surprise when they said that. Then I started to realize how much playing a character within another character allows you to kind of have it be anything.
As an actor, how do you prepare to play a character playing another character?
Wolfe: I like to think of how I would do it and kind of my approach to what draws me to something in a character. What are the quirks? What makes her tick? I love the fact that this woman, who's been in the Music Hall Royale, is playing this 18-year-old. I think she thinks she's a real fine actress. I think she takes herself a little seriously, but at the same time, she's kind of a mess. I loved making sure that they were two different people, and I loved that the idea that Deidre Peregrine was playing Rosa Bud, this sweet and innocent confused young woman. But Deidre knows exactly what she wants in life. It was not intentionally trying to create two completely separate different characters, but really finding even some similarities that allowed the differences to be even greater.
What is your training as an actor?
Wolfe: I took voice growing up from different voice teachers. I discovered Audra McDonald, who grew up about 45 minutes away from me, and so I used to watch her perform in shows like 45 minutes away at a little dinner theater there. I got in touch with her voice teacher, and of course she wasn't the Audra McDonald we all know of this time. I just remember going, "Gosh, she's really good. Maybe I should study from who she takes lessons from." So I started driving up there once a week and started taking voice lessons from her.
The audience votes on the murderer, the lovers, and the detective at the end of the show. How do those decisions affect your performance?
Wolfe: You don't know until pretty much the end of the show, so your performance leading up to that is what it is that night. Certainly some nights, you might ham it up a little bit more if you can sense the audience is on your side. Because the voting happens so late in the show, your show that you'd done is your show, and I think it's important that we all stick to somewhat of a guideline because it's just such an ensemble piece and we really have to work together for all the laughs. If one person is kind of out on their own doing something, we've noticed that the piece falls flat a little bit. I haven't seen any crazy secret campaigning for votes that destroy the ensemble effect of the piece. You just do your show and the chips will fall where they fall.
If you were in the audience, who would you vote as the murderer?
Wolfe: The one that doesn't get chosen as much as I feel like it should is Andy Karl, who plays Neville. And maybe that's because I've seen his confession, and it's really actually quite funny. And I don't think people expect his confession to be funny because he's one of the more obvious villains of the piece, but his confession is quite enjoyable and quite funny. He rarely gets to do it. He has such great comedic timing. This cast is full of gems. You can't go wrong.
How often do you get voted the murderer?
Wolfe: Lately, it's been three-to-four times a week, about half the time. I think people love to see the sweet innocent do the crime. I think people get a lot of satisfaction over that.
How do you prepare for so many different endings?
Wolfe: Well, you learn your lines and you just pray that something comes out. There has been a lot of freedom in not exactly knowing what's going to happen. That's kind of thrilling as an actor. There's something to be said for why I think a lot of actors love a rehearsal process and that's because of the freedom you get to explore and play and make choices. Some of them might be better choices than others, but you're just making choices. Sometimes when you get to that performance mode, scenes are a little bit more set, but certainly with this show, at least in those moments, you just get to rely completely on your instincts and there's something very freeing about that.
"The Mystery of Edwin Drood" is playing at Studio 54. For more information, visit www.roundabouttheatre.org.