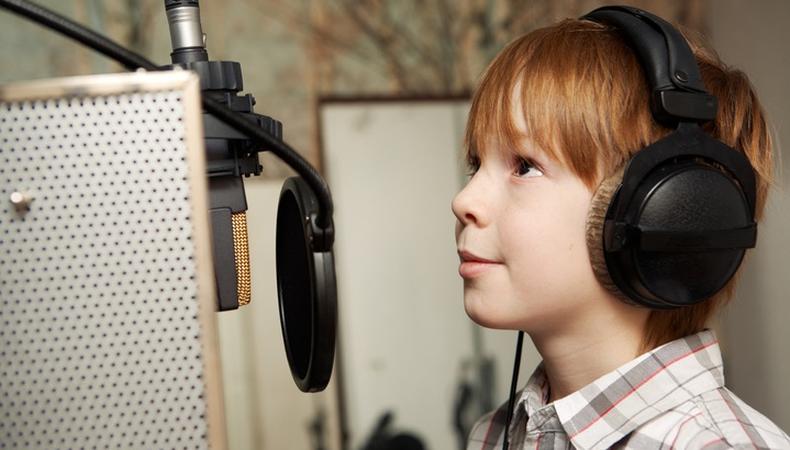 Voice acting is a massive, competitive and lucrative industry for actors. Although we often think of "voice acting" as an industry full of adults with dozens of different character, cartoon, and child voices. There are, indeed, many multi-talented adult voice actors with range and skill. However, there is a place for children in the voice acting industry, too!
Here are five common myths about child voice acting:
Myth #1: Only adults with character voices play child voice roles.
Again, this is not true. There is a major demand in American animation and voice acting for "authentic" voices for child characters when possible. If you've seen (and heard) animated television series like Fisher Price's Little People, The Backyardigans, and Disney's Palace Pets, you've heard youthful voice work by real child actors, such as, for example, one of my 3-2-1- Acting Studios students, Sanai Victoria.
Sometimes, child actors go back and forth between voice and on-camera acting. Other times, they specialize in voice acting and maintain lifelong adult voice acting careers.
Myth # 2: Voice acting is easier than on camera acting.
Actually, I would say that voice acting can be more challenging than other kinds of acting. You can't "hide" in voice acting — there is no visual distraction in the form of physical comedy or emotional/facial expressions. All acting must be expressed through the voice!
All forms of acting are uniquely their own, and all rely on the actor's willingness and ability to access their instrument and communicate with others. Recorded performances are, by nature, removed from the audience. Usually, voice actors will work in small booths, completely alone, relying solely on their imaginations! Two actors might each record their halves of an argument in separate recording sessions, a month apart. The workflow of animation is such that some voice actors record their performances with only a little concept art and the script to go on.
Also, voice actors are often cast in multiple roles in the same project (both because they can pull it off, and because it's budget friendly, reducing costs and production time).
Myth #3: I must have an amazing voice to be a voice actor.
Actually, voice work requires versatility, and versatility comes from acting skills, talent, confidence and commitment. What gets voice actors cast? Their acting skills! First and foremost, voice actors must do what actors do: communicate emotions and real-feeling experiences to their audience. Voice actors do this almost entirely with their voices (though the animation itself certainly contributes!). Acting is paramount.
READ: "How to Find a Kids Monologue"
Myth #4: Voice work ends when my voice changes.
Change and growth are a good thing! Gradual vocal maturity is an asset to the voice actor. For example, Melissa Altro voiced the title character of Muffy for 16 years, starting at age 12. Her natural voice changed over time, but so did her vocal control as she matured as an actor. Tara Strong's career took off at the age of 13, when she was cast to voice the television title character for the animated series Hello Kitty. Her teenage voice fit the character, and her acting skills were up to the task. Today, Tara does many voices for many different projects, but she credits her acting and commitment to her overall development as an actor for her great success.
Myth #5: Voice acting is more difficult to break into than other fields.
Competitively speaking, voice acting is no different to any other forms of acting. All lasting acting careers require tenacity, business acumen, training, and a willingness to constantly grow and learn. If your child is interested in breaking into voice acting, your best bet is to start with solid training. Voice acting training differs from on-camera training. Start with your local acting school, and ask for referrals to coaches who specialize in voice work, voice demo reel services, and casting sites that are specific to vocal professionals. You might even seek a talent agent who specializes in voice acting. Are you a parent who likes to be involved? Just as "real family" casting has become a trend in the on-camera commercial world, there is a demand in voice for "real families" of parents and children who can work together.
Be sure to check out our kids auditions! And watch the video below for more advice for young performers.
The views expressed in this article are solely that of the individual(s) providing them,
and do not necessarily reflect the opinions of Backstage or its staff.