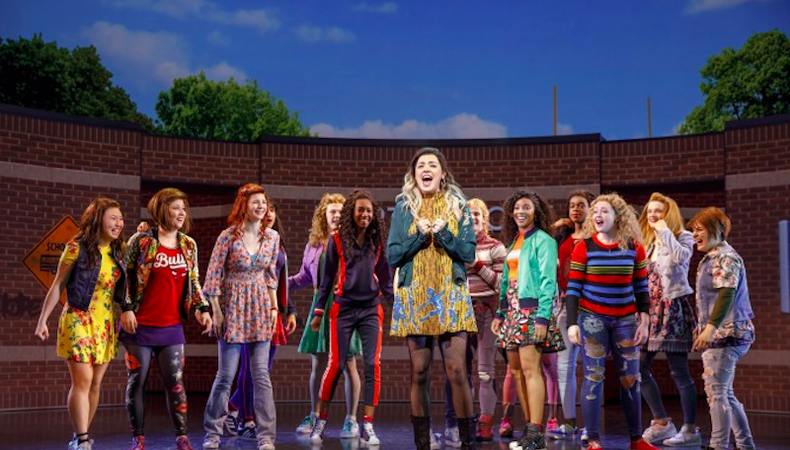 After years of incubation, Tina Fey has finally ushered her iconic "Mean Girls" to Broadway, with each culturally ingrained one-liner from the 2004 film intact. Making the cut-throat comedy come to musicalized life, of course, is its stacked cast of triple threats—all of whom were faced with the at-times grueling (or should we say "grool"-ing) task of bringing versions of the film's characters to life onstage without merely creating a song-and-dance carbon copy. Portraying "art freak" Janis Ian, Barrett Wilbert Weed masters the feat. Just before the musical's official opening, Weed spoke with Backstage about the attribute Fey looks for above all else when auditioning talent, and the aspect of the industry she wishes she'd known back in high school.
How did you come to be involved with "Mean Girls" the musical?
I've been hearing for years that Tina was wanting to adapt the movie into a musical. The second I heard that I was like, "Cool, I'm getting that part," which was a little overconfident, but sometimes you just get an idea in your head. I heard the breakdown was gonna come out. Obviously it was something that everybody and their mother was trying to get seen for so it was a little tricky. Grey [Henson], who plays Damian—we've known each other for a while so we kind of conspired to get the other in.
What was the audition process like?
I think I had four auditions, which is pretty standard. Tina has this thing where she likes to cast people who are really, really similar to the characters in real life, at least from her perception. I was like [to Grey], "Call your reps and tell them I got an appointment and have them call the casting offices and tell them that Barrett and Grey are really good friends and they have to be seen for this together." And I think that actually worked. We got to audition together and that was really weird and fun. He insisted we go into the room holding hands because he was like, "They have to know we're real friends, that we're not faking it like other people!"
What has it been like to work with Tina in her Broadway debut?
I've never really seen somebody work as intensely as Tina. It's inspiring to be in the room with her. She not only is an exceptionally talented person and incredibly smart in a way that you rarely encounter in your life, but also she is lovely and self-effacing and incredibly funny. She lurks around backstage and she is kind of a friend now, which is crazy. She came to my birthday dinner when we were in D.C. [for the pre-Broadway run] because it fell on a Monday. She came and had dinner with me and my castmates, and that's a very normal thing. She is very present and accessible.
What has the experience been like playing a role that is so beloved?
There is a built-in excitement when people are coming to see the show. I think Lizzy Caplan [who played Janis in the film] and I have a similar vibe as actresses, but we're very different. The goal when you're playing a character that's super beloved from a movie is to honor what the actor before you has done, and then really just expand, which is what you get to do in a musical because you have songs, choreography, and everything is happening in real time. There are definitely pressure-y moments when it's high stakes for everyone involved, [but] you have to take the pressure off yourself so you can find stuff and make a character the way you think it should be made instead of trying to guess what people want to see or what is going to be the most popular choice. That's what they pay us to do: They pay us to act and make those made-up people [seem] real. You can't do that when you're focused on what other people are thinking.
Is there anything you know about the business now that you wish you'd known when you were in high school?
There is so much that happens before you get onstage. Those things weirdly end up being 50 percent of the job: auditioning, or doing things like this [interview] where you talk about yourself, which is a skill I've had to develop that doesn't come naturally to me. You have to learn how to dress yourself and how to walk into a room and talk to people. Once you're in rehearsal, you have to know how to rehearse and how to communicate with your creatives even if you don't communicate the same way. When I was in high school, I was so in love—as I should have been—with the performance aspect of theater and just the literal act of performing. When you become a professional, there is all this other stuff you have to do. That part is the job, capital J-O-B. They're very different things, but they're all part of the same career. Once you get onstage and you get to perform, that's your reward for doing your job.
Looking to get onstage? Check out Backstage's theater audition listings!