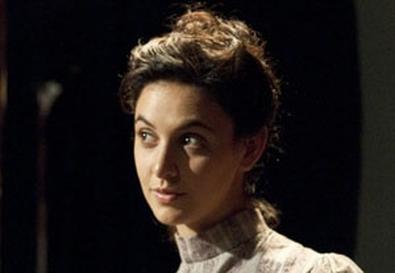 Lizzie Borden, the Massachusetts spinster who was acquitted of killing her father and stepmother with a hatchet but found guilty in the court of popular opinion, has become a mirror of whatever times she is re-examined in. She's been a dangerous threat to the patriarchy and a feminist folk heroine, and now we have Lizzie the Lesbian, in David Foley's "Nance O'Neil." And make no mistake, despite being named for an actor famous during the first quarter of the 20th century and befriended by the infamous Miss Borden, Foley's two-act drama is all about Lizzie.
Setting the play in 1904, 12 years after the murders, comes as something of a relief. Spared the playwright's conjectures about what really happened that day, we're allowed to explore the tragedy's aftermath and the relationship between the lonely Lizbeth Borden (as she rechristened herself) and O'Neil. Unfortunately, O'Neil, now forgotten but once called the American Bernhardt, is no match for the powerful pull of Lizzie Borden. And Rachel Brown, as O'Neil, is no match for the power and force of Jonna McElrath's Lizzie.
Tall and awkward, Brown looks uncomfortable in the period costumes, and her surface performance makes the tragedian seem more like an ingénue, particularly in scenes with the restrained McElrath. This Lizbeth Borden turns out to be a startling combination of childish enthusiasm and steely resolve. "I care nothing for their stares," she says contemptuously whenever O'Neil comments on how people everywhere gawk. And McElrath's performance as a woman who sees her vast fortune (inherited after her father's murder) as a buffer between herself and the world makes that disingenuous statement ring true. She's ecstatic to exert her power by extending her fortune to O'Neil, to the dismay of both her puritanical sister Emma (an appropriately bitter Jane Titus) and O'Neil's manager, McKee Rankin (a perpetually bemused Frank Anderson).
Director Gary Shrader and McElrath together have created a chilling and memorable version of Lizzie Borden, but the friendship with O'Neil never rings true. Foley's O'Neil is a little too winsome to be believable; she never comes across as calculating as her actions indicate. He's much more comfortable imagining the effects of enforced solitude upon Lizzie and the ways in which she appears to flaunt the benefits of her parents' murders. And Brown simply isn't up to the task of layering subtext in her performance. O'Neil may have exerted a power over audiences during her heyday, but it's McElrath and Lizzie Borden who stir audiences now.

Presented by Blue Coyote Theater Group at Access Theater, 380 Broadway, NYC. Sept. 15–Oct. 9. Wed.–Sat., 8 p.m. (212) 868-4444 or www.smarttix.com.