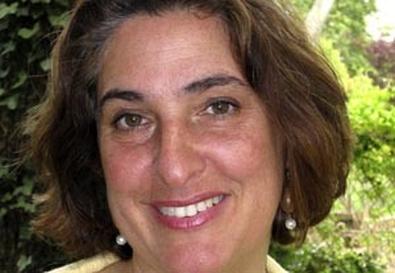 When asked what her goals are for her students, vocal coach Nancy Mayans enthusiastically replies, "Expressing yourself can be fun and vibrant and empowering; that's a big part of my work. To have a wide range, a wonderful flexibility, and a variety of resonance allows your voice to express so much more of who you are, not only as an artist but as a person." Mayans teaches voice, speech, and classical text at the William Esper Studio, as well as coaching actors and singers privately.
"I want a full-bodied voice—I mean that quite specifically," she says. "I use a lot of Linklater technique and Cicely Berry for text and some Skinner for diction, but I'm interested in having the entire body vibrate with sound. So there is a big physical component of my warm-up. It's not enough to have your diaphragm working nicely and your tongue and your lips. You need to be vibrating all the way to your toes. When someone is open and vibrant and warmed up through all their resonators from head to toe and beyond, sending the sound out and behind and below you, when you get the entire body vibrating, there is so much more presence and resonance and flexibility and looseness."
Mayans has been teaching, directing, and performing for more than 25 years. She has served as acting and speech coach for HBO, MTV, and two PBS children's series. As an actor, she has performed around the world in Julie Taymor's "Juan Darien" and at Manhattan Theatre Club and the Public Theater in New York, Yale Repertory Theatre, and Cambridge, Mass.'s American Repertory Theater, of which she is a founding member.
Jonathan Maxwell, who studied with Mayans in his first year at the Esper Studio and will be working with her again in his second year, emphasizes the ease she brings to the classroom. "She was very relaxing to be around and very comforting," the Back Stage reader says. "She takes the time to stay after class with you and makes sure you get it right. She's very nurturing in that way. It really helps an actor to settle in something you're not comfortable with, like doing a monologue you're not familiar with. She makes it very easy for you to learn and build confidence around it, which is a huge thing for me.
"We worked mainly on poems, classical ones like 'The Raven' by Edgar Allan Poe. We also did personal poems that fit us; she helped us pick them. She took us through the whole process of learning the poem and speaking it from beginning to end. I thought that was great; not a lot of teachers do that. She helped me find a poem that was personal to me. I really appreciated that. She's definitely helped me broaden my horizons and open up inside, because I was very tense as an actor. She helped me develop my classic speech. Her vocal relaxation and energy work was phenomenal."

Nancy Mayans, William Esper Studio, 208 W. 37th St., New York; (212) 873-2755; www.nancymayans.com
Runners-Up:
Page Clements, T. Schreiber Studio, (212) 741-0209,
www.tschreiber.org
Mike Ruckles,
www.mikeruckles.com
Susan Eichhorn Young, (646) 812-4920,
www.susaneichhornstudio.com
Justin Stoney, (646) 374-8623,
www.newyorkvoiceteacher.com