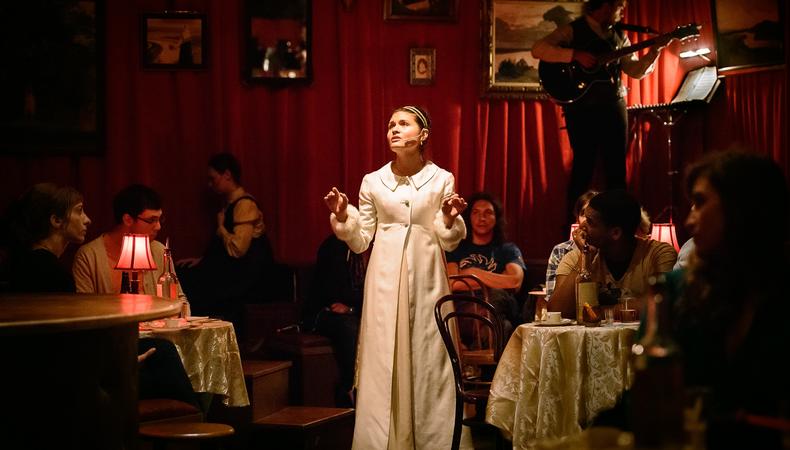 "Natasha, Pierre & the Great Comet of 1812" feels like a Russian novel. This is good, because the musical is based on Leo Tolstoy's "War and Peace," a book that would take far longer than the show's two-and-a-half-hour duration to cover theatrically. (Let's all be thankful that the company did not read the novel verbatim as Elevator Repair Service did "The Great Gatsby" for "Gatz.") Composer-librettist Dave Malloy wears many hats, including orchestrator and musical director, all of which he balances well, and the production is excellently staged by director Rachel Chavkin in Ars Nova's intimate cabaret setting.
However, as with a Russian novel, there are moments when the piece drags and certain songs and orchestrations start to sound the same. One might argue that this just represents how character-specific the songs are, and that's a valid point. Young bride-to-be Natasha, engaged to one man but in love with another, sings beautiful melancholic ballads, while Moscow curmudgeon Pierre engages in boisterous odes—complete with an accordion—over and over.
The opening number sets up the action well, with a lively and engaging chorus chanting short character descriptions. If only the rest of the story could be condensed so easily. (I'm not going to begin to try to summarize "War and Peace" in the few lines afforded to me in this review.) The musical, which is entirely sung-through, follows young and naive Natasha, who is already betrothed to the absent Andrey when she meets the handsome though mischievous Anatole at the opera. Meanwhile, Andrey's sister, Mary, and his father, Bolkonsky, don't like Natasha, and her cousin Sonya is skeptical of Anatole's intensions. Pierre's wife, Hélène, vouches for Anatole, as he is her brother and she is bored at home with her husband, and Natasha's godmother, Marya D, tries to shepherd Natasha from home.
Malloy's score is impressive and catchy if repetitive. The author also plays Pierre, a part that perfectly fits him as a performer, though the role itself can feel tangential to the musical. The women are particularly strong. Phillipa Soo delivers an emotionally centered, touching performance as Natasha, while Brittain Ashford, as Sonya, steals the second act with a beautiful, heart-wrenching ballad about her love for Natasha. While there are many anachronisms, Ashford's modern folk vocal sound is the best one. Gelsey Bell is hilarious as Mary, while Amber Gray is charismatic, with impressive stage prowess, as Hélène. Lucas Steele limns Anatole like a Zoolander model—with a single facial expression—and Blake DeLong's Bolkonsky is a greatly exaggerated old man.
I'm still not quite sure what the entirety of "War and Peace" is about, but I do know that if you're going to stage a Russian novel, there should definitely be free vodka and an accordion.
Presented by and at Ars Nova, 511 W. 54th St., NYC. Oct. 16–Nov. 17. (212) 352-3101, (866) 811-4111, www.theatermania.com, or www.arsnova.com. Casting by Henry Russell Bergstein.
Critic's Score: B