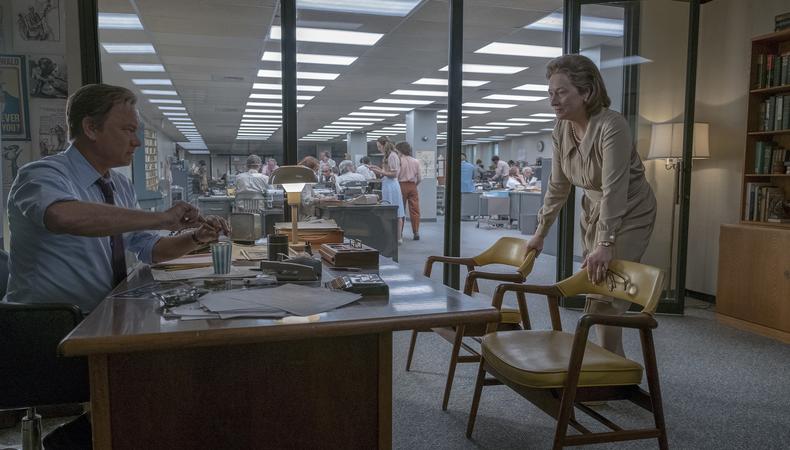 Steven Spielberg's "The Post" finally entered the awards season race today.
The National Board of Review have named their annual honors, celebrating excellence in filmmaking. Taking home the prize for Best Film of the Year, Spielberg's highly anticipated contender from 20th Century Fox also nabbed the Best Actor and Actress performances, with those titles going to Tom Hanks and Meryl Streep, respectively. The historical drama centers around journalists from the Washington Post and New York Times who published the leaked Pentagon Papers in 1971. The film doesn't begin its theatrical release until Dec. 22.
WATCH: Meryl Streep + Tom Hanks Lead Steven Spielberg's 'The Post' Trailer
In addition, Greta Gerwig won the NBR's directing award for her festival darling and current box office hit, "Lady Bird" (A24). The 108 year-old organization announced its winners today in New York City, with a gala ceremony scheduled to take place Jan. 9.
The organization, comprised of a select group of film enthusiasts, filmmakers, and other professionals, is one of the earliest awards milestones of the season—though not necessarily an indication of major nominations in future. Last year both NBR winners Kenneth Lonergan and Casey Affleck of "Manchester by the Sea" went on to win at the Academy Awards, although "Moonlight" claimed the Oscar for best picture. The last NBR Best Film winner to take home the top Oscar was 2008's "Slumdog Millionaire."
Of their choices, NBR President Annie Schulhof said, " 'The Post' is a beautifully crafted film that deeply resonates at this moment in time. We are so thrilled to award it our Best Film as well as to honor the wonderfully talented Greta Gerwig as our Best Director."
Jordan Peele's Universal Pictures horror hit "Get Out" (a recent Gotham Award winner and Independent Spirit Award favorite with 5 nominations) was honored with both Best Directorial Debut and Best Ensemble. Laurie Metcalf of "Lady Bird," Willem Dafoe of "The Florida Project" (A24), and Timothée Chalamet of "Call Me By Your Name" (Sony Pictures Classics) also received acting distinctions.
For a partial list of honorees, see below, or check out the full list of the 2017 National Board of Review Award recipients here. For more awards coverage, visit backstage.com/awards-season.
Best Film
"The Post"
Best Director
Greta Gerwig, "Lady Bird"
Best Actor
Tom Hanks, "The Post"
Best Actress
Meryl Streep, "The Post"
Best Supporting Actor
Willem Dafoe, "The Florida Project"
Best Supporting Actress
Laurie Metcalf, "Lady Bird"
Breakthrough Performance
Timothée Chalamet, "Call Me By Your Name"
Best Directorial Debut
Jordan Peele, "Get Out"
Best Original Screenplay
Paul Thomas Anderson, "Phantom Thread"
Best Adapted Screenplay
Scott Neustadter & Michael H. Weber, "The Disaster Artist"
Best Animated Feature
"Coco"
Best Foreign Language Film
"Foxtrot"
Best Ensemble
"Get Out"
Spotlight Award
"Wonder Woman," Patty Jenkins and Gal Gadot
NBR Freedom of Expression Award
"First They Killed My Father"
"Let It Fall: Los Angeles 1982-1992"
Top Films
"Baby Driver"
"Call Me By Your Name"
"The Disaster Artist"
"Downsizing"
"Dunkirk"
"The Florida Project"
"Get Out"
"Lady Bird"
"Logan"
"Phantom Thread"
Looking to enter the Oscar race? Check out Backstage's film audition listings!