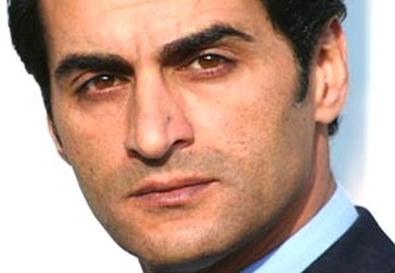 If you don't recognize the name Navid Negahban, you'll definitely recognize his work.
Born in Mashhad, Iran, Navid fell in love with acting at an early age. He lived in Turkey and Germany before moving to the US, honing his acting chops along the way. Navid has played a broad range of intriguing characters in film and TV including "Charlie Wilson's War," "The Path To 9/11," "24," "NCIS," and a significant supporting role in the upcoming "Brothers" with Tobey Maguire.
Most notably, Navid has received a great deal of acclaim for his powerful leading role in the stunning dramatic feature "The Stoning of Soraya M." which tells the story of an Iranian woman Soraya (Mozhan Marnò), whose arranged marriage to an abusive tyrant had a tragic ending.
We spoke with Navid about getting kicked out of his theater company years ago, playing villains, and what he does when he's not acting.
ACTOR2WATCH: What made you want to be an actor?
NAVID NEGAHBAN: When I was I kid, there were so many different things that I wanted to be. As an actor, I get a chance to be all of those things, at least for a couple of days, which is fun.
A2W: How did you arrive here from Iran?
NN: I left Iran back in 1985. I lived in Turkey for a while, then I went to Germany. I joined a theater company there, and we toured the country. I speak Farsi, German, Dari, and I understand Turkish, but I haven't used it since 1985, so I'm a bit rusty. I moved here in 1993. I didn't speak any English. When I got here, I went back to school. The best break I got was me being thrown out of the theater company at the school.
A2W: Why did you get thrown out?
NN: Two of the students in my class were working on a scene. And the teacher was telling them, "You need to look for your objective and your super-objective. You have to go and do the research." And these two were very frustrated. I said to them, "You know what? At the moment this incident takes place, you guys had a journey. You went through certain things to get here. So why don't you forget about this moment because this moment hasn't happened yet. Go and start working to get to this moment, and whatever comes out, that's what's right."
When we had our finals, everyone was sitting in the theater. They did the scene, and the professor stood up and started applauding, and said, "That was fantastic. I told you guys you could get there. How did you get there?" And one of the students said ,"Navid told us how to get here". So the instructor pulled me out of the class and said, "I don't want you to come back to my program anymore. Just go do whatever you want to do. Go take classes from anyone." And I left. It was my fault. I was kicked out of the program because I was interfering with the instructor.
A2W: What is the best advice someone has given you?
NN: I studied Shakespeare with a teacher named Russell St. Clair. One day he pulled me aside and said, "I've been studying almost my entire life. Do you want to be an actor or do you just want to keep learning?" I said, "I want to be actor". He said, "Then what are you doing here? Just go outside and try." That was when I did the short film that opened all the doors for me. It was called "Boundaries", directed by Greg Durbin; it took us two years to finish. It won the Grand Jury at Slamdance. It also screened at Method Fest in Pasadena the same year, where I was nominated for Best Actor. That brought me to Los Angeles, and I started getting jobs.
A2W: Was there any change in the type of roles you were offered after 9/11?
NN: Yes. Before 9/11, I was playing a wide range of characters. I would play a lover, a cop, a father. As long as I could create the illusion of the character, the part was given to me. But after 9/11, something changed. We became the villains, the bad guys. I don't mind to play the bad guy as long as the bad guy has a base. It's not just a villain who's in your face and screaming and you don't know why he's screaming. Don't get me wrong, but the villain to some people is the hero. So I always play my villains as a hero. Heroes in other parts of the world – let's put it that way!
A2W: How did you get the role in "The Stoning Of Soraya M"?
NN: I worked with the director Cyrus Nowrasteh before on "The Path to 9/11." I read the script and I really liked the character. I went for an audition and didn't hear anything for two weeks, and then I got the part. I play Soraya's husband, Ali. He has fallen in love with a fourteen-year old girl, but he can not afford to have two wives. And he can not afford a divorce. He accuses Soraya of adultery so he can get rid of her. He is a very selfish, self-centered character.
A2W: Was it difficult playing such a person?
NN: He was one of those characters you couldn't turn on and off. For six weeks, you live as the character. Even when you are dealing with other people, you deal with them as the character. After six weeks, it was a little difficult and scary. Even when you look at yourself in the mirror, you see that character. But I was lucky, I was shooting another project in Canada right after that, so I had to go work on that project.
A2W: The news of the film caused quite a stir in Iran.
NN: Most of the people who worked on the film were Iranians. They are proud Iranians and love Iran. We never intended to attack Iran or attack Islam. However, there are people who are using Islam to abuse and control people. One of those people is the character I play, Ali. He's taken advantage of the innocence and the purity of the people in the village. People like Ali are the ones who are giving Islam and Iran a bad name.
A2W: Tell me about your new movie "Brothers."
NN: "Brothers," directed by Jim Sheridan, is coming out in December. The character I'm playing is an Afghan man who fought against the Russians, and is now a leader of the freedom fighters in Afghanistan. He wants to free Afghanistan from all the foreigners, all the Americans, and at the same time he wants to teach them a lesson. Basically what he is saying is that if you are coming to my country to help me, you have to get to know the problems before you can solve them. Most of my scenes are with Tobey Maguire.
A2W: What do you do when you're not acting?
NN: I love to work on antique furniture - I have a small workshop at my house. But even when I'm not working, I'm working. As an actor, when you are shooting you are not working. When you are shooting you are having fun, you are playing. When you are not shooting, that's when you are working, because that's when you are trying to create and develop the next job. I consider that work, not when I'm acting.