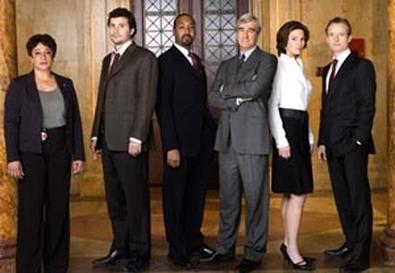 The final episode of "Law & Order," the crime drama that straddled three decades and spawned one of the most successful franchises in television history, will air May 24. NBC announced today that it will not pick up the show for a record-breaking 21st season. In addition, the network said that it has renewed sister series "Law & Order: Special Victims Unit" for the 2010-2011 season, and has picked up a new spinoff, "Law & Order: Los Angeles," from series creator Dick Wolf.
"The full measure of the collective contributions made by Dick Wolf and his 'Law & Order' franchise over the last two decades to the success of NBC and Universal Media Studios cannot be overstated," Jeff Gaspin, chairman of NBC Universal Television Entertainment said in a statement. "The legacy of his original 'Law & Order' series will continue to make an impact like no other series before."
Having been broadcast on NBC for 20 seasons, "Law & Order" ends its run tied with "Gunsmoke" as the longest-running prime-time drama in network television history. It holds the record for most consecutive best-drama Emmy nominations with 11, and won the award in 1997.
A third spinoff, "Law & Order: Criminal Intent," airs on the NBC Universal-owned cable network USA and is currently in its ninth season.