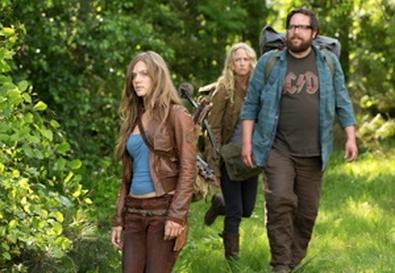 The major television networks have announced their 2012-13 primetime schedules at upfronts, yet many of the upcoming TV season's new shows will be making significant changes to the ensembles before their fall premieres.
Deadline reported
that several roles in new NBC, CBS, and FOX series are being recast.
Two characters are in flux on "
Revolution
," J.J. Abrams and Eric Kripke's post-apocalyptic drama about a group of people struggling to survive after a worldwide blackout. Andrea Roth ("Ringer," "Rescue Me") played Rachel, the mother of the two leads, in the pilot but is being replaced in order for the role to be "reworked," according to Deadline. Australian actress Anna Lise Phillips was cast as a doctor named Maggie in the pilot, but her role has been diminished and instead of a series regular, she will appear in several episodes to wrap up the character's storyline. Casting director April Webster cast the pilot.
Also at NBC, the character played by Lamman Rucker ("Meet the Browns") in the pilot for Anne Heche's midseason comedy "
Save Me
" will be recast. The pilot was cast by CD Donna Rosenstein.
Sara Rue was a guest star in the comedy pilot for NBC's "
Guys With Kids
," but she was forced to leave the show when her pilot "Malibu Country" was picked up by ABC. The character may be recast, or written out of the show entirely. And as Back Stage reported earlier, roles in NBC's
new half-hour comedy "Animal Practice"
and
hour-long drama "Infamous"
are also being recast.
In the new CBS legal drama "Made in Jersey,"
Pablo Schreiber
("A Gifted Man," "The Wire") is being replaced as lawyer Luke Aronson, a love interest for the lead character played by Janet Montgomery. Meanwhile, Stephanie March's role in the show will no longer be a regular, but she may return as a recurring character. Casting directors Julie Tucker and Ross Meyerson cast the pilot episode, and will also be casting the series.
FOX will be replacing Jeananne Goossen ("Alcatraz") as FBI agent Jennifer Mason in its new drama "The Following." Deadline reported that the role "is being aged up and reworked." Felisha Terrell played Lucinda in FOX's midseason comedy "Goodwin Games," but she is also being recast. Marisa Ross cast the "Goodwin Games" pilot.
Daniel Lehman is a staff writer at Back Stage. Follow him on Twitter: @byDanLehman