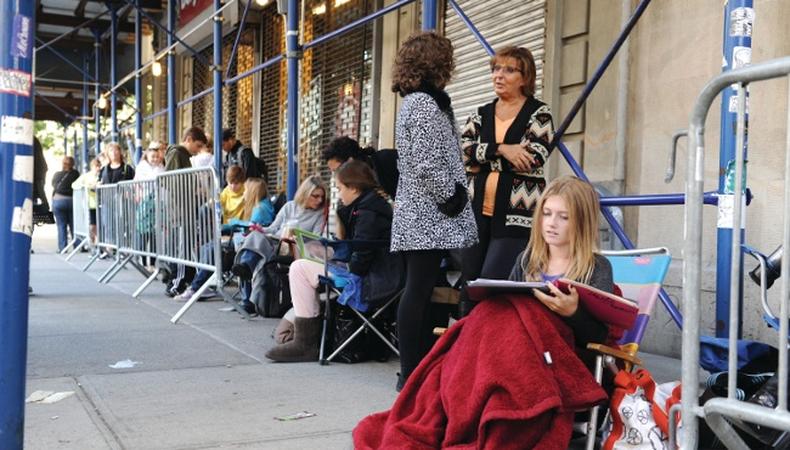 A teenage girl, blond and composed, stood at the corner of the playground facing Fourth Avenue and, with a welter of parents and aspiring performers behind her, sang a song to herself and passers-by. No, this wasn't a moment from a movie musical; it was the scene outside Grace Church School in Manhattan's Union Square, site of the open call for Von Trapp children in NBC's live broadcast of "The Sound of Music," set to air Dec. 5.
A beloved musical in its own right, this production of "The Sound of Music" has the added allure of starring "American Idol" winner Carrie Underwood and Stephen Moyer ("True Blood"). But for Broadway babies, the real attraction just might be the project's casting director, Bernard Telsey.
"Although we always see all the agent kids and all the submitted kids, every time we do open calls it's a great way for us to find fresh, exciting young talent who just happen to not have an agent," Telsey said over the phone a few days before the auditions. "When we did the 'Annie' open call, we had over a thousand people, and at the end of the day three or four of the orphans came out of that call. And in this case, we're looking for seven kids plus understudies. So it's really exciting for me to be able to find people. Even if we have to go through a thousand!"
An hour before the designated start time of the auditions found a healthy crowd but comfortably under a thousand. The more energetic and industrious parents could be seen on the sidewalk in folding canvas camp chairs, indicators of their early arrival. Everywhere, adults were filling out paperwork and clutching headshots while children lazed about with the healthy aplomb of seasoned professionals.
"I had an audition last Saturday for Paper Mill Playhouse's 'Oliver!,' " teenager Carmine said. "He was too big," his mother chimed in. "But the casting director told him about this." Asked to prepare a short Broadway song, Carmine selected "Not While I'm Around" from "Sweeney Todd." Elsewhere in the holding area, girls could be seen poring over sheet music for "Rodgers + Hammerstein's Cinderella" (currently on Broadway).
"I'm singing 'Cockeyed Optimist' from 'South Pacific,' " said Allie. She was sitting with her sisters Emily and Nadia, all big Broadway fans, whose mother, Claire, got them up and out the door by five in the morning to be 28th in line. Though both Emily and Allie were auditioning for the role of Brigitta Von Trapp, neither seemed worried about their competition.
From the friendly atmosphere that filled the holding area, it seemed as if one of Telsey's goals for the open call was already met. "We want the open call to be a fun experience," he said. "It's such a great story that celebrates family and singing. And hopefully the open call will feel like that. At least, that's one of my goals."
For a full list of NBC and TV Network casting notices, go to Backstage Casting.