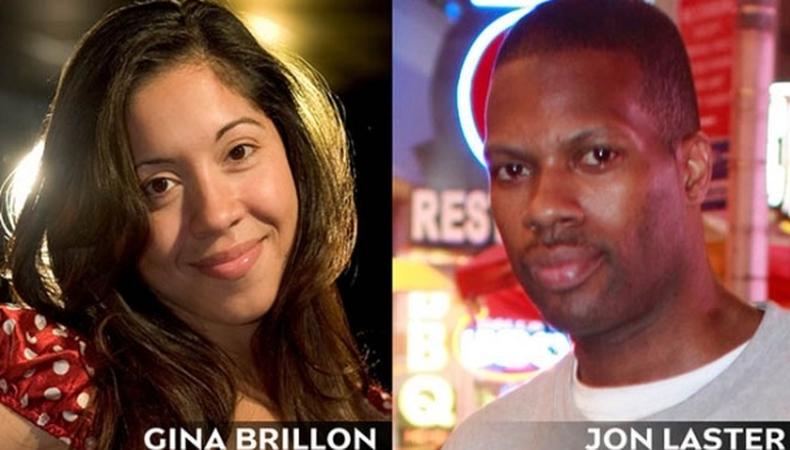 New York-based standup comics Gina Brillon and Jon Laster have each earned one-year talent holding deals with NBCUniversal as a result of its ninth annual Stand-Up for Diversity comedy showcase. The nationwide talent search gives "comics of diverse backgrounds who are serious about being funny" the opportunity to be considered for potential talent development deals, representation, and national exposure.

Bronx-born Brillon is a comedian, actor, and writer who has been featured on Comedy Central's "Live at Gotham" and performs regularly at New York comedy clubs including Carolines on Broadway, the Laugh Factory, Stand Up NY, Comic Strip Live, and Gotham Comedy Club.

Laster moved from his native Denver to New York City to start his comedy career. He has since appeared on three seasons of BET's "Best of Comic View" and currently hosts his own weekly comedy night in Brooklyn, where he also lives. "My goal is to make people feel good and forget about or at least laugh at life's pressures, even if just for a few minutes," Laster says.

"Once again, our Stand-Up for Diversity Showcase was filled with inspired, unique, and hilarious comics," Grace Wu, executive vice president of casting for NBCUniversal, said in a statement. "All of the standups have original voices and we look forward to considering them for NBC projects. We are especially excited to have Gina and Jon in talent holding deals for the upcoming season. I can't wait to see what they do next."

In addition to Brillon and Laster, the 2012 finalists include David Smithyman, Arvin Mitchell, Rob Haze, Vladimir Caamano, Kortney Shane Williams, Ryan Sickler, Reyne Amaya, and Mo Amer. Selected finalists will join the "Stand-Up for Diversity College Tour" that, in partnership with the National Association for Campus Activities (NACA), visits more than 50 college campuses nationwide. Some finalists will also be featured at the NACA national convention in February in Charlotte, N.C.

These 10 finalists were chosen from a pool of more than 50 semi-finalists who performed in the recent "Best of Stand-Up for Diversity" showcase, hosted by actor-comedian Alphonso McAuley ("Breaking In") at the Comedy Store in West Hollywood.

Semi-finalists were selected from last summer's open call auditions at Stand Up Live in Phoenix, the Comedy Mix in Vancouver, the Punchline in Atlanta, and the Comedy Cellar in New York City. The talent search was overseen by Kendra Carter, director of NBC Talent Diversity Initiatives, and Shannon Chavers, coordinator of NBC Talent Diversity Initiatives. According to NBCUniversal, "comedians were evaluated on the originality of their material, delivery, cast-worthiness, and overall performance."

"Stand-Up for Diversity is one of many programs that NBCUniversal has created to improve diversity both in front of and behind the camera," Dolores Machuca-Ruiz, VP of diversity communications for NBC, told Backstage in August. "We practice and believe in diversity and inclusion as both a social value and business philosophy that embraces different thoughts, choices, philosophies, and experiences. Our programs are designed to develop and provide opportunities in television and film for an array of diverse talent. By continuing to provide and enhance these programs our goal is to reflect, celebrate, and inform the full diversity of our world."

2011 winner Tone Bell is now a series regular on NBC's "Whitney." Previous showcase alumni include rising stars Hannibal Buress, W. Kamau Bell, Eric Andre, Deon Cole, Brandon T. Jackson, Hari Kondabolu, Sheng Wang, Calise Hawkins, and Owen Smith.

Dates and locations for 2013 Stand-Up for Diversity open call auditions will be announced soon.