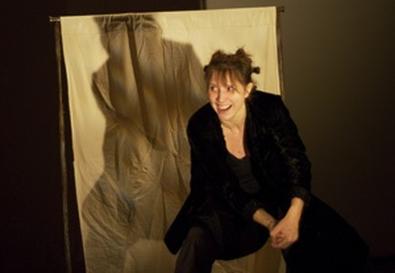 In Susanna Hamnett's "Nearly Lear," there isn't nearly enough Lear. In this one-woman show, which Hamnett has co-written and performs, the writer-actor has set herself the almost Herculean task of presenting Shakespeare's "King Lear" for a young audience. This adaptation, co-authored and directed by Edith Tankus, walks the narrow ledge between comedy and pathos, and in the process Lear as a tragic figure gets rather short shrift. Hamnett, Tankus, and Shakespeare give performer Hamnett the job of balancing comic cutups with death scenes and madness. The result is an uneasy mix.

The story is told through the eyes of the Fool, here called Norris. There's no Edgar, there's no Kent, and for some reason the villainous Edmund has become Osmond, presented by Hamnett as catnip to Lear's daughters Goneril and Regan. Detailed mannerisms are given to this conniving trio: Goneril is a haughty nitpicker, Regan is a glamorous giggler, and Osmond is a lower-class lounge lizard. The strength of these comic characterizations has a way of upstaging poor Lear.

There's nothing wrong with goosing the material for a younger audience: Note the handing out of tissues for a sad scene and a Dame Edna treatment for latecomers. But a couple of touches seem downright injudicious. In preparation for the storm scene, Hamnett enters the audience with a household sprayer to allow them "to experience the storm." The kids love the shenanigans, but the following important scene gets lost. When Gloucester's eyes are gouged out behind a screen, the staging is compelling until an eyeball dangling on a ribbon comes over the screen. It's as if the author doesn't have enough faith in the power of Shakespeare's basic story.

For all these effects in this complicated plot, Hamnett as storyteller has to work hard on an almost bare stage. She is an intelligent, versatile performer having to be very busy and very obvious, so when she speaks some actual iambic pentameter it comes as a welcome respite. Thus Lear's "Come, let's away to prison" speech seems like an oasis.

It's difficult to know the target audience for this entertainment. At the performance attended, the elementary school children seemed sufficiently engaged, while three high school girls directly behind me spoke often and loudly of things only loosely related to what was happening on stage.

Presented by the New Victory Theater at the Duke on 42nd Street, 229 W. 42nd St., NYC. Jan. 7-16. Fri., 7 p.m.; Sat., 2 and 7 p.m.; Sun., 3 p.m. (646) 223-3010 or www.newvictory.org.