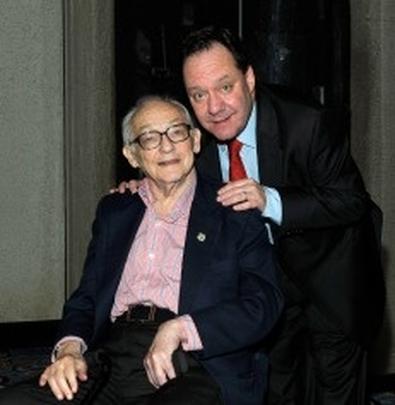 Every industry has its dynasties. The Kennedys are synonymous with politics. The Fords are the kings of automobiles, and on Broadway the Nederlanders are royalty. Celebrating its 100th anniversary this year, the Nederlander Organization is one of the last family-owned and operated theater and live entertainment companies in the country.
Nov. 8, two of the family's core members, James M. Nederlander and his son, James L., were named "Living Landmarks" by the New York Landmarks Conservancy at an event at the Plaza Hotel, becoming the first father and son duo to win the honor.
"It wouldn't be New York without Broadway. The Nederlanders are preserving the heart and soul of the City and providing great entertainment to boot," said NY Landmarks President Peg Breen in a statement.
The Nederlanders' journey to prominence started in 1912 when David T. Nederlander secured a lease on the Detroit Opera House at the age of 26. This first lease led to the acquisition of other Detroit-based theaters. David's son James M. was sweeping the floors of his family's theaters by the age of 7 and in 1964 moved to New York City to purchase the Palace Theatre on Broadway. James M. was responsible for expanding the family's business across the country by buying and renovating theaters in major cities like Chicago, Los Angeles, and London. Now, the Nederlander Organization owns 28 venues in the U.S. and London, and entertains 5 million customers annually.
"The Nederlanders of the last 100 years is a uniquely American story of vision and determination, and a tradition of hard work that has been passed down from one generation to the next," said Charlotte St. Martin, the executive director of the Broadway League in a statement. "Given the theaters Jimmy and his family have restored, the legion of artists they have supported, and the legacy of shows they have produced or presented over the last century, their contribution to our culture is as profound."
The Organization's centennial also coincided with the opening night of "Annie," which was originally produced by James M. in 1977.