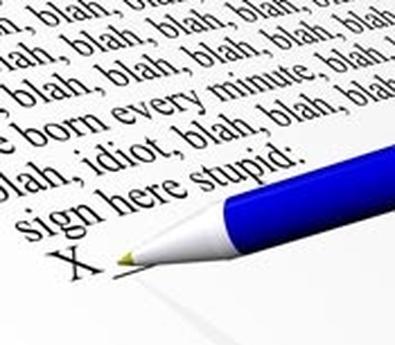 Many actors believe that the Screen Actors Guild Codified Basic Agreement regulates all aspects of their onscreen credit for film and TV projects. However, unlike the Directors Guild of America or Writers Guild of America agreements, which address credit comprehensively, the SAG agreement doesn't specify the placement, size, or form of an actor's credit. It merely requires, with a few qualifications, that at least 50 cast members (or all of them if the cast numbers fewer than 50) be listed in the end titles. It's up to the actor or his or her representative to negotiate anything better, which means that unless you are vigilant, you will end up buried in the end titles or nowhere at all.
Placement
Obviously, main-title billing is better than end-title billing (though both is probably best), as most filmgoers are departing when the closing credits appear. Unfortunately, all main-title credits must be negotiated. Stars such as Brad Pitt often receive credit "above the title," which means before the film's title appears, unless they are only making a cameo appearance, in which case the star may insist on no credit or only an end-title credit. Occasionally the director or studio may decide not to have any main titles, usually for aesthetic reasons, in which case all credits appear at the end.
Each principal usually receives credit on a separate title card, but supporting actors will likely either share a card with other cast members or get end-title credit, which is often part of a crawl. Those receiving shared cards should consider asking that their name appear first on the card and that the number of individuals on the card be limited to two.
Size and Position
Many actors request that their credit be not less than the size of other cast credits, as measured in height, width, boldness, and onscreen duration. Screen credits not above the title are usually of the same size and font, so this request is often granted. A lead might also ask that the size of his or her credit be tied to the size of the picture's title on screen. First and second position among the principal-cast credits are typically considered the most desirable. If there are many stars — as in a Robert Altman or Woody Allen film, for example — and these positions have been taken, talent reps may request an "and/as" or "with" card to bring added distinction to an actor. These cards usually appear as the last and next-to-last single main-title cast cards, respectively, and look like this: "with [actor's name]" and "and [another actor's name] as [character name]." Another possibility is alphabetical billing for everyone, which, of course, requires consent from all cast members.
Paid Advertising
Paid advertising includes movie posters, billboards, print ads in magazines and newspapers, radio and television spots, and Internet promotions, the bill for which is footed by a project's producers or distributor. Prominent actors and those in lead roles typically receive credit in such advertising, at least in the billing block, which is the credits that appear in block form at the bottom of the ad. These stars may also request that their image on the movie poster be substantially the same size as that of any other actor and that they be credited in the billing block on DVD and CD packaging.
Paid-ad credit is often subject to what are known as customary exclusions, which can include print ads smaller than a specified size and outdoor advertising. Often the exclusions are so broad that the credit commitment becomes meaningless. To address this, representatives ask for an excluded-ad tie, which requires that the actor be credited whenever another actor is credited in excluded ads, with an exception for congratulatory ads naming only the lauded individual, such as for award nominations or wins.
Credit Disputes
SAG's agreement requires that credit disputes be arbitrated, and for certain daily and weekly performers it specifies set financial damages in the event of a breach. For all other actors, the arbitrator has the authority to award an appropriate remedy, which may be damages and/or the correction of prints and ads.
Send comments and questions to [email protected].