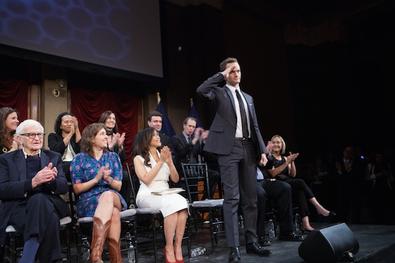 Weylin B. Seymour's in Brooklyn was buzzing Nov. 10 as New York City Mayor Bill de Blasio and Media & Entertainment Commissioner Cynthia López honored some of the city's most influential artists and entertainment industry professionals at the Made in NY Awards.
The 2014 honorees included Steve Buscemi, Louis C.K., Neil Patrick Harris, Albert Maysles (who was awarded the lifetime achievement award), Stanley Nelson, Rosie Perez, the Producers Guild of America, Jane Raab, and Huge, the Brooklyn-based digital agency.
The event began with some familiar faces, as "On the Town" (and former Backstage cover) stars Clyde Alves, Jay Armstrong Johnson, and Tony Yazbeck performed "New York, New York" from the iconic musical currently running on Broadway.
After remarks from the first lady of the city, Mayor de Blasio began the awards ceremony with statistics that prove New York is a giant in the industry, with 230 films and 39 primetime series shot in the Big Apple just this year. The entertainment business annually generates $7 billion for the city, and employs over 130,000 New Yorkers. Additionally, 232 permits have been issued for film production so far in 2014.
"Artists energize our society," the mayor said. "We have the best talent, we have it all here, and that's why we grow stronger all the time."
One distinction de Blasio made sure to make is that New York is a five-borough city, something his administration paid homage to by holding the event in Brooklyn.
Honoring all of the boroughs, Buscemi said he's proudly filmed in each one as Nucky Thompson on HBO's recently ended drama "Boardwalk Empire."
Louis C.K. took his moment in the limelight to touch on a more political issue. As a father of two, the actor said, "I hope that this city puts a lot more effort putting art in the schools.
"It's the only thing I wanna say that isn't funny," he added.
But wrapping his acceptance speech on a comedic note, C.K. said, "I don't need to thank anybody because I came alone and I'm divorced," to which the room broke out in laughter.
Recent Tony and Emmy winner Harris has also made an invaluable contribution to the city; additionally, his 2015 NBC variety show will be filmed entirely in New York.
One thing became clear throughout the acceptance speeches: Every honoree noted how important it is to have an administration like de Blasio's that supports the arts.
"We are so grateful that you recognized how important it is to be an artist in the city," Buscemi said to the mayor.
"I voted for this guy and it's nice when you get results like that," C.K. added.
The event showcased "everything good about New York City in on room," according to de Blasio, his mission in the arts being "to bring more and more people in" to the city's prosperous community.
You can make art anywhere, but the East Coast entertainment hub is one of a kind. As Louis C.K. put it, "Nobody talks like a New Yorker. Nobody acts like a New Yorker."
Inspired by this post? Check out our New York City audition listings!