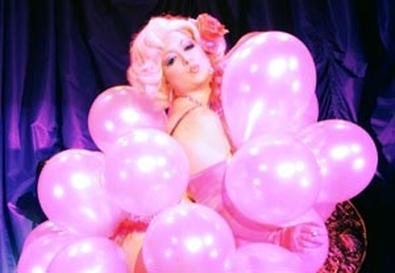 "Today you can't be a naked lady without saying something," according to New York burlesque performer Dirty Martini. "My body is different from what you might expect to see, but it's real and it's glamorous. There is a subtext in what I do. I take my clothes off, I do athletic dance moves, and I'm a size 16. It's important for women to see a woman of my size owning my sexuality. I believe all shapes and sizes should be celebrated."
A recently released documentary, "Dirty Martini and the New Burlesque," celebrates not only Martini but a host of other performers who indeed boast a range of body types, along with a potpourri of styles and sensibilities, from over-the-top glitz and glam to the downright goofy. Feats of athleticism, balletic movements, and contortions that defy gravity are also on display—all of it straddling that fine line between homage and parody.
Burlesque—more recently dubbed "neo-burlesque"—is not new. What is new is its scope. According to all accounts, burlesque is booming in small-town America and especially in larger cities here and abroad. On both coasts—though perhaps more notably in New York—as burlesque clubs fold or reinvent themselves, a proliferation of bars, cabarets, and clubs that showcase burlesque in its many guises is popping up. In New York, the scene exists throughout the five boroughs, not just in Manhattan.
"There is a wider arc today," says Doc Wasabassco, who produces burlesque shows. "Four or five years ago, there may have been five established shows. Now you have 20 or 30 different shows in New York that are bigger and more professional, though there is some compartmentalization. If you want to see a fetishy show, you'd go to the Lower East Side."
City Winery, Union Hall, the Bell House, and the Bowery Poetry Club are among the better-known New York spots. Thirsty Girl & Pontani Productions presents "The Empire Burlesque Revue" the first Saturday of every month at Drom, and at Under St. Marks, it's GiGi La Femme's "Revealed" the third Wednesday of the month. The hot spots in Los Angeles include Three Clubs, the Mayan Theatre, and 1616 Club. There are also significant burlesque scenes in Chicago and Seattle.
Some burlesque mavens estimate that there may be as many as 3,000 burlesque performers in the U.S. alone, though that number reflects artists with a range of experience and talent. Burlesque schools are burgeoning, and Las Vegas plays host to the annual Burlesque Hall of Fame weekender, which attracts hundreds of performers who try out new acts and compete with and support one another.
At New York's Coney Island Circus Sideshow, which has been at the forefront of the neo-burlesque movement since the mid-'80s and has become a destination spot during its May–September season, the number of weekly shows has doubled. Founder Dick Zigun said he's no longer fearful about asking for funding. Burlesque does not generate the raised eyebrows it once did, even for nonprofits such as his.
Good Burlesque is Theater
Likewise, audiences are not, for the most part, composed of lecherous old geezers expecting a lap dance or a boob swipe. Indeed, the hipster, the professor, and couples on dates are far more prevalent on the scene today. In some settings, women make up 50 percent of the audience. Performers are not stripping for tips. The fourth wall is clearly in place as burlesque becomes more like theater. Indeed, Angie Pontani of the campy Pontani Sisters said her show "This Is Burlesque" played at New York's now-defunct Curio for two years, which she likened to an Off-Broadway run.
According to Martini, the 2010 film "Burlesque," starring Cher and Christina Aguilera, helped make the art form even more mainstream—"not that the movie had anything to do with burlesque," she said. "But it did get people curious. So they went to the Internet to learn about some of the old burlesque stars and perhaps the new ones and where they could see them."
Martini views her performances as political. For Zigun, burlesque today is largely "feminist performance art." But Jo "Boobs" Weldon, who at one time worked as a headline stripper and now runs the New York School of Burlesque, said "feminist" is a slippery concept, with a range of meanings depending on who's speaking. "I would say burlesque is very empowering, but not necessarily in terms of gender. It's artistic empowerment. It's your vision, your show, and you get to do it. Burlesque performers are in control of their art."
It's no coincidence that many burlesque performers launched their careers in acting, dance, or performance art but felt frustrated by the lack of opportunities. Many are also their own producers; some produce shows for others as well.
Nasty Canasta, a New York burlesque performer, pointed out that while a burlesque performer's goal is to entertain the audience, entertaining oneself and one's fellow cast members is a major component of the art today, not unlike the relationship that's established among the actors in a play, she said.
But the scene is also witnessing an influx of nonprofessional performers who are taking to the stage to shake their booties. Former strippers are coming on board too.
"After the movie 'Burlesque' came out, every stripper and her mother called me," said Lili VonSchtupp, who teaches burlesque in Los Angeles along with performing and producing. "I said, 'Well, you take your clothes off. You're halfway there.' But in reality, burlesque is a lot deeper than that. A real burlesque has to have a story arc and a transformation. It has a little tongue-in-cheek, a tease, and a reveal. A reveal can be removing your top and exposing pasties. But it can also be untying your hair to reveal four feet of hair cascading down your back. That's far more sexual than taking off your top. Burlesque is about taking an audience on a journey and then blowing them away with the reveal." She added, "The striptease in burlesque is not about being nude, but getting there. It's foreplay."
Living it Up
Few performers make their living at burlesque. Most have unrelated day jobs; the more fortunate work in auxiliary fields, such as teaching burlesque or producing or costuming burlesque shows. At one time, performers were able to make good money at private corporate parties, but those opportunities have largely dried up because of the economy. The competition is keener than ever, and to develop any kind of a following requires upping the ante.
VonSchtupp cited a tassel-twirling act called Satan's Angel: The tassels are on fire. Then there's L.A.'s Lucha VaVoom, which presents masked Mexican wrestling and burlesque numbers on the same bill. They surpass each other in the comic, weird, and kinky. Rita D'Albert, who performs in and curates these shows, insists that the two genres complement each other and raise the bar for each form of entertainment.
Among the most cutting-edge burlesque acts are the Wau Wau Sisters, Karis, and Roky Roulette, D'Albert said. Roulette strips as he hops about on a pogo stick, while the Wau Wau Sisters do an amazing trapeze act while stripping. But the most striking, according to D'Albert, is the gender-bending Karis. "He's a man doing a belly-dance act, though he's not a drag queen and is so extraordinary at what he does, straight men in the audience are transformed," she said. "Even when they realize he's not a woman, they're still attracted to him and their views have changed. What we do transcends burlesque." And then there's her own Edwardian "widow" number, in which a buttoned-up lady slowly undresses to reveal a tail.
Then there's "nerdlesque," a burlesque subculture that incorporates sci-fi characters and other figures out of popular culture. Storybook Burlesque is a New York-based troupe of seven performers who come out of performance art and produce "approximately three original works a year, each of which is based on a different narrative or sometimes an author's collective work," explained one of its members, BB Heart. "We've done everything from Dr. Seuss to the Bible."
In Los Angeles, Lux La Croix combines impersonation, drag, and striptease as she riffs on Prince, Josephine Baker, and Jennifer Beals. As a racially mixed woman, she's even more anomalous in the field, she said. "But that's beginning to change."
Culturally diverse burlesque—it's the new wave.