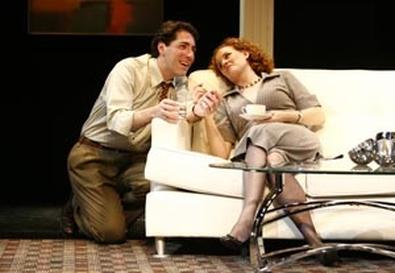 A Nervous Smile
is an affecting cry of the heart from playwright John Belluso. This rising talent, who suffered from a bone disease that confined him to a wheelchair, died in 2006 at age 36. He's known for plays about the disabled, and in this piece, one of his last, he writes with both poignancy and bitterness about the situations faced by parents of severely disabled children.
Eileen, a pill- and alcohol-addicted heiress, and her husband, Brian, a failed novelist, have a teenage daughter almost incapacitated by cerebral palsy. Nic, a divorced mother, has a similarly afflicted son. The parents have become friends through a support group. Now they're on the verge of a horrific act, taking off to unknown parts and leaving their children behind. Brian and Nic, who have become lovers, will go off together; Eileen will go alone. As the three describe their lives, Belluso paints in excruciating detail the hell that tending to their children has been. But as his play concludes with plans gone awry, it also makes a heartbreaking plea for the rewarding love such a child can offer.
Apart from the resonances stemming from Belluso's personal situation,
A Nervous Smile
is a smartly crafted, tersely told tale lasting little more than 70 minutes. There are hints it could take on an interesting edge of dark absurdist humor, particularly in the first half, as the somewhat tipsy Eileen and Brian describe the escape plan to Nic. But the production, under Ike Schambelan's direction, stays squarely in naturalistic mode. There's barely a laugh. Still, brisk pacing and well-etched performances that keep the parents from becoming total monsters give the story engrossing credibility.
In perhaps the most challenging role, Pamela Sabaugh gives Eileen a distinctly irritating manner, but it seems true to character and she eventually gains our sympathy. Nicholas Viselli as Brian shows us the desperation of a failed artist as he describes his businesslike blueprint for abandoning the kids, and Marilee Talkington brings depth to Nic's conflicted feelings. Melanie Boland has a colorful turn as a vodka-swilling Russian nanny who's outraged but acquiescing.
Presented by Theater Breaking Through Barriersat the Kirk Theatre, 410 W. 42nd St
.,
NYC
.
April 26
–
May 17. Wed. and Thu
.,
7 p.m
.;
Fri. and Sat
.,
8 p.m
.;
Sat. and Sun
.,
3 p.m
.
(
212
)
279-4200 or www.ticketcentral.com
.