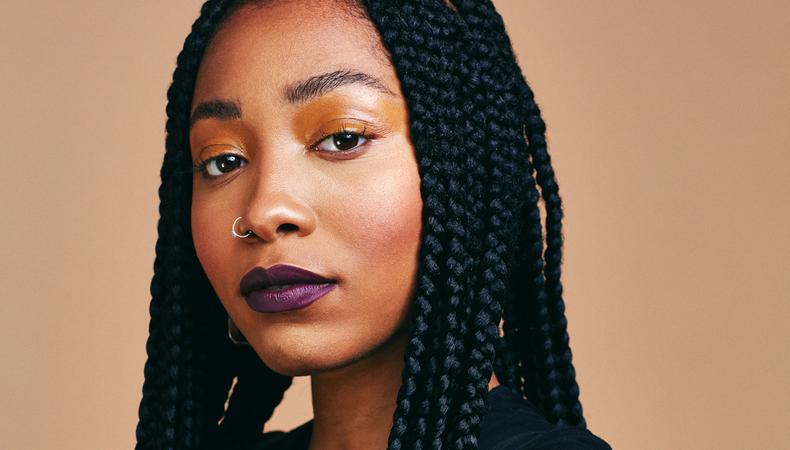 The following Career Dispatches essay is an as-told-to transcription of a conversation between Backstage and Odley Jean, who can next be seen starring on "Grand Army" on Netflix.
I always had a passion for acting. I started acting in church when the church would have Christmas plays, and I remember a lot of people would compliment me. At one point, I took on two roles for a Christmas play, and that was really fun. I felt like it was something that I always wanted to do, but I was also a really shy person, so I didn't know how to get around that. But then in high school, I came across a theater program that was in my school called Opening Act. It's a nonprofit theater program that works with under-budgeted schools. Originally I was given an opportunity to get extra credit in my English class, and I was told to go to a show after school and write a paper on it, and I'll get extra credit. So I ended up going. It was basically a group of students from that program that made their own play and performed it at the end of the semester, and I remember watching it and feeling like I wanted to be part of that. We met once a week, every week. We did breathing exercises, physical exercises, and we started doing improv. And from then on, that same program constantly offered me opportunities that I just kept saying yes to.
And that's when I came across "Grand Army" creator Katie Cappiello, who I met at an all-girls coalition meeting. I remember thanking her for creating a space for girls all around—in New York City, in different high schools—just to have a place to sit and talk about our experiences. And then I was offered a scholarship to her theater program GoodCapp Arts. I was performing plays on social justice across the country, performing it for judges, lawmakers and also lobbying, and I felt like not only can I do theater, but I can also spread awareness and advocate and change laws—that felt amazing.
Ever since, I've been finding that way of molding the two. GoodCapp is where the intersection of social justice and performance happened. And in those classes, it consisted of not only dissecting our own experiences, but the experiences of survivors who are the same age as us and what they're up against. We got to basically work hands-on with them and hear their stories and be able to tell their stories in ways that not only protect them, but allows the world to see it for what it is.
Katie then later introduced me to "Grand Army." I was not expecting it at all, actually. She told me she had a big project coming up, and she told a lot of her students not too long before casting that it was in the works. I was super excited, but I was not expecting an opportunity to actually audition and be given a leading role! So around the time of casting, Katie encouraged me to audition, and told me that I should give it what I can and give it my all because it's not up to her whether I get it or not, but it's a cool role and she'd really love me to be part of it. WhenI read the sides, I knew that this show was bigger than what I actually thought it was. I gave it my all in the audition and ended up being cast as a lead.
APPLY: Want to Act on Netflix? We Have Casting
Notices Right Here!
"Grand Army" was my first time filming anything, so I went in super nervous. Also, I'm used to performing theater, where you memorize beginning to end, you go onstage, and you give your all—you make a mistake and just keep pushing, you do what you've got to do until the end of the play. But TV was different. Entering it was weird for me because I was so used to watching shows and films on TV, but being in it and seeing how it's dissected and cut up and shot and filmed was a huge learning experience.
The cast made it such an amazing experience, too, because it was a lot of our first roles or first big projects. We all supported each other and we were just learning together in the midst of that. I also felt the growth within just being in my character, because at first I was kind of nervous about doing too much or saying too much and sticking to the lines, and I was kind of nervous about how much freedom I would have compared to how much freedom I actually have onstage. But as the days progressed and we filmed more and more, I started getting the hang of it.
I think you can see that on the show, too, and in my character. Dom—Dominique Pierre—is a junior in Grand Army High School. She's first-generation Haitian background. She is ambitious, head-on, grounded, very vocal. She's a hustler, and she's just a girl trying to do everything right and everything she can to make a better life for herself and her family. It resonated so much with me because I remember that. With Dom, I can relate to having that Haitian background, being first-generation, and wanting to take any opportunity head-on and make a change in my community. Filming as Dom, I felt like I was also learning about myself and remembering who I am and what I want to do, especially as it relates to my major in school and my activism. I think it will resonate with so many girls out there because it resonated so much with me, and I find that super exciting.
And to those girls, and those looking to break into the industry themselves, I would say surround yourself with the people who love what you love. If you want to be an actress, if you want to be a writer, a director, a singer, a dancer, surround yourself around artists because it's just constant creative energy being spread out. And it's amazing because you're surrounded by opportunity, too, and you're surrounded by people who know people and it helps you network. If you're interested in something, go out of your way and look for it, look into it, practice it. We're surrounded by so many resources now. I mean, it's kind of weird because of COVID, but there are still ways to expose yourself to the things that you love and learn from that.
And never take no for an answer. Where there's a will, there's a way. If you want it to happen and you're fighting for it, it has no choice but to turn out the way you want it. I feel like with Dom, you can see that. And especially with my life now, coming from where I came from and dreaming and taking on every opportunity that I can—I actually made it here. It's still surreal to me, but it shows you how possible things are when you just keep going and keep giving it your all at the same time. It is possible.
Looking for remote work? Backstage has got you covered! Click here for auditions you can do from home!