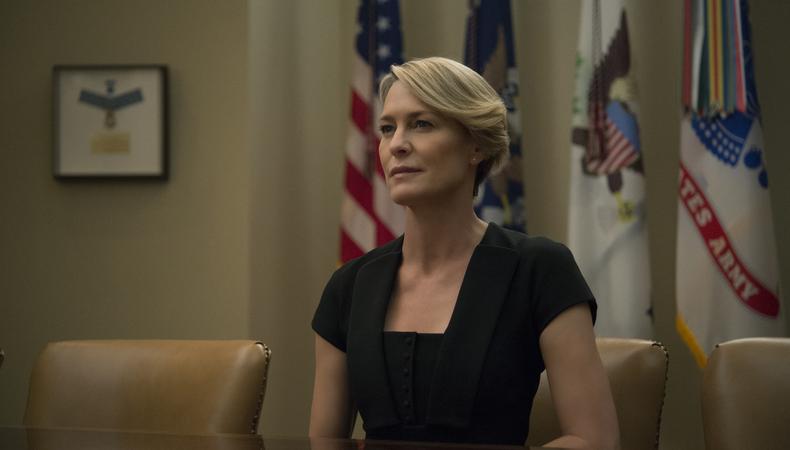 Typing the letter "N" into the search bar and slamming the enter key: thus begins a ritual of binge-watching, days without sleep, and an ultimate sense of groggy accomplishment. Netflix has become a lifestyle, and there are so many exciting series, movies, and documentaries to look forward to in 2016. In honor of "House of Cards" Season 4 becoming available for streaming March 4—kicking off the return of several beloved series over the next few months—below are eight performances to keep your eye on as the season of binge-watching commences. (Some spoilers ahead!)
1. Robin Wright, "House of Cards"
"I'm leaving you" were the final words uttered by a stoic yet blistering Claire Underwood in the "House of Cards" Season 3 finale. After 13 episodes of feverishly high ups and crushing downs for the Underwoods, her statement was almost a relief. The Golden Globe-winning Wright brought out Claire's intensity at full force as her damaged marriage and political prospects crumbled throughout the season. She made it impossible to root against her, and if the new trailer is any indication, she will continue to fight for herself in Season 4.
2. Michelle Yeoh, "Crouching Tiger, Hidden Dragon: Sword of Destiny"
Nearly two decades after the acclaimed original film, "Crouching Tiger, Hidden Dragon" received a sequel that luckily already premiered on Netflix Feb. 26. Yeoh reprises her role of Yu Shu Lien, and her piercing stare alone is lethal. The action-packed flick is now available for streaming!
3. Charlie Cox, "Daredevil"
In the Season 2 trailer, Father Lantom (Peter McRobbie) warns Matt Murdock (Cox) of what's in store for him—and us. "The guilt means your work is not yet finished," he says. Thank God for that! Marvel's "Daredevil" will be picking up where Season 1 left off as new forces come to power in Hell's Kitchen. Cox's heroic turn as the title character is sure to be as captivating as ever; the new season drops on March 18.
4. Tituss Burgess, "Unbreakable Kimmy Schmidt"
The Emmy-nominated Burgess lights up the screen in "Unbreakable Kimmy Schmidt" as Titus Andromedon, Kimmy's wise-cracking, fearlessly marvelous best friend. Burgess was hysterical (and sounded phenomenal) performing "Peeno Noir" last season, so another lavish musical number in Season 2 would be greatly appreciated! "Unbreakable Kimmy Schmidt" makes its triumphant return April 15, so mark your calendars now.
5. Lily Tomlin, "Grace and Frankie"
"Wow, I must have half the beach in my vagina," quips Tomlin's Emmy-nominated Frankie in the premiere episode of this hilarious series. As she walks side-by-side with Grace (Jane Fonda) across the sandy shore, a complicated friendship begins. Here, Tomlin is giving one of the greatest performances of her career; free-spirited and judgment-free, she carries the story of two women whose husbands have filed divorces in order to marry each other. "Grace and Frankie" returns for a second season on May 6, but if you haven't watched Season 1 yet, check out the trailer below.
6. Mike Colter, "Luke Cage"
Colter will portray the title role in this sure-to-be-gripping superhero series. Based on the Marvel comic of the same name, Luke Cage is a former convict with some abnormal qualities: namely, extraordinary strength and unbreakable skin! The series will also star Alfre Woodard and "House of Cards" alum Mahershala Ali and is set for release sometime in 2016.
7. Selenis Leyva, "Orange is the New Black"
Leyva's explosive performance as Gloria Mendoza was thrilling to watch last year. Throughout Season 3, the tension between her and Sophia (played masterfully by Laverne Cox) bubbles and eventually reaches a roaring boil in the kitchen when Gloria has finally had enough. "You know what gives me a headache? This job!" she exclaims, ripping off her apron. For three years Leyva has turned Gloria into a scene-stealing standout within a huge ensemble cast, and she's bound to amaze in Season 4 as well. The inmates of Litchfield are back on June 17.
8. Winona Ryder, "Stranger Things"
Ryder will star as a single mother named Joyce in this brand new horror series. When Joyce's son goes missing under possibly supernatural circumstances, she is forced to face a frightening truth as she attempts to bring him home. Ryder will surely get the chance to showcase her superb dramatic acting chops within such an eerie plot. July 15 is when this mysterious series launches.
Inspired by this post? Check out our television audition listings!