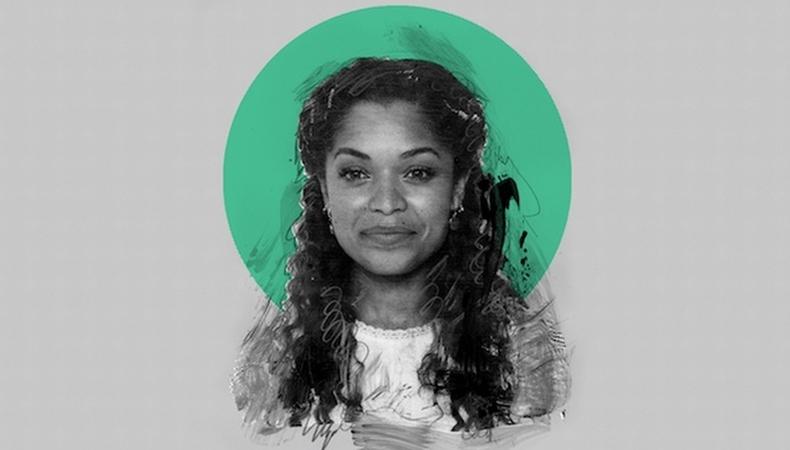 On the surface, Antonia Thomas plays characters who couldn't be more different. On ABC's "The Good Doctor," she stars as American surgical resident Dr. Claire Brown, while on the Netflix rom-com "Lovesick" (formerly "Scrotal Recall"), her character Evie is a British creative whose career and love history are equally as muddled. Though they exist in almost opposite worlds, both are willful, straight-shooting, and supportive. Here, Thomas reflects on navigating these two complex characters, her worst audition story, and more.
What has working on "Lovesick" and "The Good Doctor" added to your acting skills?
I feel so lucky to explore such different worlds and such different characters. "Lovesick" is this little indie British project, a rom-com, a strong character-lead thing. "The Good Doctor" is this huge production and I'm playing this serious career-driven character who is trying to make waves.

But at their core, Evie and Claire both have similar characteristics.
Yes, that's very true! Evie is very straight-talking and no-bullshit. Claire is definitely more together in her life. Evie is a little behind in that respect.
How have the audiences between the two shows differed?
What's really nice is, in a way, "Lovesick" seems to have a bigger audience in the States than it does at home. It had a slow burn because it had a different name when it started out so people were slow to have caught onto it; I think people were deterred by the name. Every time I go to the States, more and more people come up and go, "I've found 'Lovesick' on Netflix! I love it!" Whereas "The Good Doctor" is a completely different ballgame. It's on in people's homes on a Monday night and you get the immediate reaction in terms of viewing figures, which have been overwhelmingly good. It's a different response to the two show. In a way, I guess the response that you'd think for a little British indie show and a big American network TV show is as expected.
It's great that Netflix has created an international audience for so many shows.
The fact that they saw our little show and they got it immediately and wanted to make it accessible is brilliant. In terms of "Lovesick," they let the writers get on with making it because they loved what they were doing initially.
What advice would you give your younger self?
I'd say keep chugging away. Often the things that I thought I most wanted were things I never got. The things I was scared of for one reason or another have been the best opportunities for me. To be frightened is a good thing. It pushes you to create in a way that you might not do when you're comfortable. I'd also say it's definitely a marathon and not a race. Sometimes when that might feel frustrating, it's probably for the best. Once you start getting the bigger opportunities, you're ready for them.
What was your most memorable survival job?
I used to work for a catering company. I would waitress for big events like film premieres. It eventually started getting depressing because you'd be waitressing at these big events and you'd be like, "I wish I was in that movie!" But it was always good money and helped you to get by.
How do you typically prepare for an audition?
You have to know your lines. You don't want to be going in there and feeling underprepared because they don't want you looking down at a piece of paper, they want to see your face. I always try to prepare where I know my lines enough but I haven't rigidly prepared a performance so I'm open to what the director might throw at me. Drama school was really great because they made up these mock auditions quite a lot. By the time I got out doing proper auditions, it didn't feel like quite a daunting thing. They always made sure the panel at school was particularly stern. Most of the time in the real world, people have been nicer. [Laughs]
What is your worst audition story?
I had this hilarious, terrible, one of my first auditions in L.A., actually. The casting director wanted me to pretend that I was American to see if I could fool the director who was British. I was like, "OK, but they're going to have my C.V. are they? If they might've seen my work at home then they might think it's weird that I'm talking in an American accent." So the first thing, the British director has my C.V. in front of him. And I was like [in an American accent] "Oh, hey. I'm American!" And he goes "I see you went to Bristol Old Vic Theatre School?" And I was like, [in an American accent] "Yeah, I did!" and he goes, "My wife went there!" It was this awful thing where the casting director just sat there looking at me as I was doing this accent. This director obviously knew I was British. In the end, we got through the chit-chat and I did the audition and it was fine. I dropped into my accent and just left and wanted to die.
READ: The Key to Nailing British Accents
But your American accent on "The Good Doctor" is extremely convincing.
That has been the source of, not concern, but I've been a little nervous about it. "The Good Doctor" has been the first show I've done an American accent in.
How vast are the differences in auditioning in L.A. versus the U.K.?
It is different because our industry is so small in Britain. In L.A. everyone gets one timeslot and then everybody turns out at the audition room and you're often waiting, sat looking at all these other actors who are basically a variation of yourself, which is really weird. At home, everyone has an individual timeslot. You barely get to see the person before you and the person after you, so you feel a little more protected from the competition. Whereas it's very out in the open in L.A.
Check out Backstage's film audition listings!