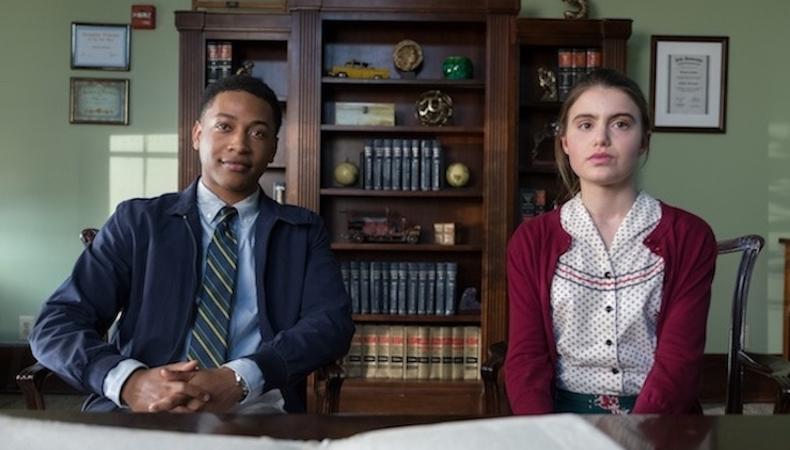 You may know Sami Gayle from CBS' "Blue Bloods" or her new Netflix film, "Candy Jar," but did you know she got her big Broadway break with an assist from Backstage? "Candy Jar," which she also produced with her screenwriter brother Chad Klitzman and producer Judy Cairo ("Crazy Heart"), is now streaming and follows dueling high school debate champions as they vy to be admitted to the nation's top universities. The film also co-stars Jacob Latimore, Helen Hunt, Uzo Aduba, and Christina Hendricks. We recently caught up with 22-year-old multi-hyphenate Gayle to discuss her theatrical roots, her advice to other actors on the rise, and what it was like starring in and producing "Candy Jar" with her brother.
READ: How to Audition for Netflix
Klitzman, who's graduating this year from Columbia Law School, wrote 'Candy Jar' to give Gayle a role worthy of her passions.
"Being a screenwriter is something he's very passionate about, but not the only thing that he does. But he saw the types of material that was coming in for me, the types of characters that I was being sought after to play, and he wanted me to be able to fulfill my dream of having a leading role in a film where it was about a driven, independent young woman who was looking for a kind of self-fulfillment that was independent of external things like a relationship. She's just a girl who is trying to be the best version of herself, and so he thought, Why not take this into our own hands? So when he wrote this character, not only was it fulfilling the dream role I wanted to play, but it was also—since he's my brother and we're very close and nobody really knows you better than your family—tailor-made for me to play to my strengths as an actor and to really allow them to shine."
Backstage led to her Broadway debut as Baby June in 2008's 'Gypsy' revival.
"My brother has been kind of facilitating my career since the beginning when I started. I was about 10 years old, and I started in the Broadway community because Chad had found in Backstage…an audition for 'Gypsy.' [I went] to an open call where they see like, 5,000 kids, and sure enough, that's how I got my first role…. [My brother] has been integral in every aspect of my life, and now the latest has been, 'How do we do the same thing for your TV and film career as we've done for the rest of your career?' Which is [to] take matters into your own hands, so he literally did that writing 'Candy Jar.' Now we've started our own production company. [It's] kind of the start of our new era for us."
READ: How to Become a Producer
Even when you're working, keep your training up.
"I think it's really important for an actor, no matter where you are, to constantly be getting back in the room with another group of actors and another group of dancers or singers and honing your craft. We're always learning, we're always developing. The second that you let that development kind of plateau is when we get complacent, and that's when we start losing our ability to get jobs. Keep training."
Don't let rejection get you down—it's part of the business!
"I had a lot of fortunate experiences, but when I was young, I was going on a lot of auditions for theater and booking a lot of roles. As I've grown older, I've gone on more and more auditions, and I booked a lot of them, but even if you're lucky, you're booking 5 percent of the auditions that you go on, right? Because you go on hundreds of auditions per year. And so I think at first, I was just very fearless and then you kind of get involved in all of this rejection that comes your way, and I think it's really important to know not to let any of that get in the way of your fearlessness, because your fearlessness is what's going to continue to book the jobs in the end. There's a ton of rejection in this business, but it doesn't come from necessarily your talent. There are a lot of things that go into the person booking the job, and so I think it is pivotal that one maintains their fearlessness when entering a room as they grow older and encounter more and more rejection. Always know your value, do not let it be affected."
Ready to get to work? Check out Backstage's TV audition listings!