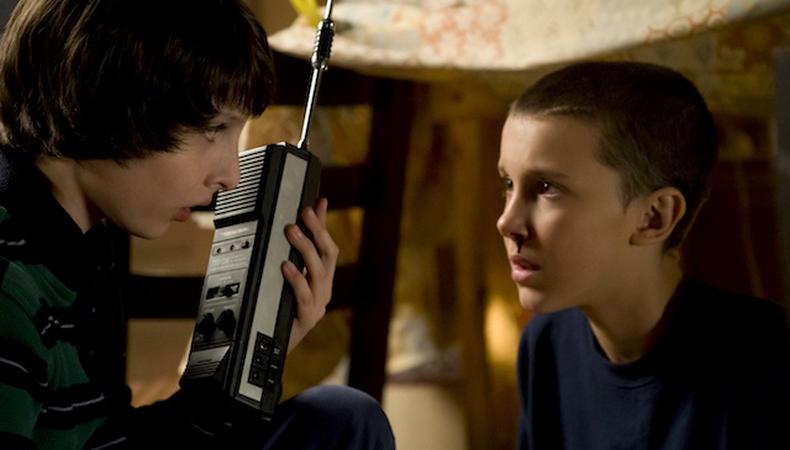 Netflix's "Stranger Things" should come with one caveat: Don't start watching unless you plan on being a couch potato for the next eight hours. The new hit series from creators Matt and Ross Duffer sucks you in and keeps you there till it's done—tree trunk portals be damned! Luckily, it's one of the most satisfying binge-watch sessions of the summer. This hour-long thriller superbly harkens back to the finest Stephen King and Spielberg sci-fi flicks of decades past.
Following Joyce Byers (a never-better Winona Ryder), a single mom who's youngest son, Will (Noah Schnapp), inexplicably goes missing, it's a quick lead into the dark and supernatural as her, Sheriff Jim Hopper (David Harbour), and Will's friends search for answers.
From there, the less you know going in, the better.
READ: "How to Audition for Netflix"
Considering its eight-episode script weighs so heavily on child and teen talent (led by series breakouts Millie Bobby Brown, Finn Wolfhard, Caleb McLaughlin, and Gaten Matarazzo), we rang up Emmy-winning casting director Carmen Cuba to chat about this particularly special casting process.
What was your favorite thing about working on "Stranger Things"?
This was the first time I was casting actors who were in the same age range as my two sons, and I realize now that this was a big factor for who I gravitated to in these roles. Being able to experience the young actors with this very present sense of what, at that age, a person is like, how deeply they think and feel, how connected they are to their younger selves, and yet how fragile they are while transitioning into that next independent phase, was special for me. It might sound corny, but my connection to my own children at this magical time in their lives informed the qualities I wanted these kids to have as people and as actors.
Were there any concerns going in?
There were the usual concerns: You always want to figure out how to crack the code to make special material ring as true as possible while also trying to be strategic about how to give it a feeling that will resonate with an audience. Needing young actresses to be on board with shaving their heads in order to really be considered was a particular hurdle for this one, but I think we always felt that the girl who was right for Eleven would embrace this as a very powerful move. And we were right!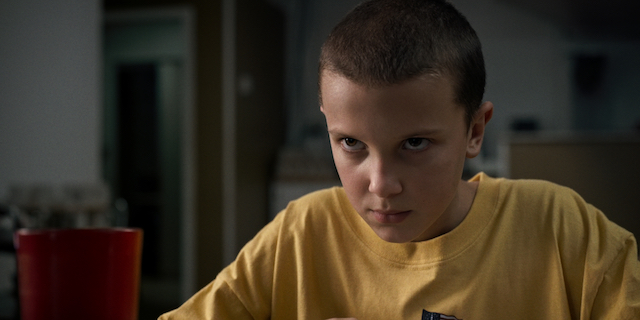 Millie Bobby Brown as Eleven
Does casting kid actors for lead roles pose any specific challenge?
We needed every single actor to have a subtlety and an inner life that didn't necessarily need words to define them, and we held the kids and teens to the same standard. We didn't discuss it at the time, but it's clear that we weren't thinking of them as kid or teen actors in the process—the Duffer Brothers were really expecting them to be able to deliver a very rich human experience despite what age body they were in.
What specific traits were you looking for? Were silhouettes and physical traits already in place, or did those features come to light through casting?
I know this sounds cliché, especially when it comes to casting, but the Duffer Brothers were really just looking for the best actors for the roles. What was great about this process was that we were able to find kids who had so much of their own individual traits and energy that they shaped their own characters organically, and we had enough time before shooting that the writers could build the story to the actual actors we cast. As we met each kid who went further and further in the [audition] process, it was clear that the story could go in very different directions depending on who we picked and then again who we matched them up with.
With children in particular, does whether or not an actor has prior experience play a role in who you cast?
With child actors, it sometimes matters a lot to me if they have prior acting experience and it sometimes doesn't matter at all. It depends on the role and the scope of what they have to do, the director's style, and the simple realities of how much time they are given to shoot. In this case, it was pretty clear from early on that this would benefit greatly from actors who understood from some sort of experience [the effort the roles were] going to take and could access it [and] execute it at a fairly quick pace.
What are some of the best ways kid actors can get out there and gain acting experience?
I think that if a kid is the kind of person who can or should be acting, then it's likely they will create situations where they gain experience. They will make movies with their friends; they will play a tree in the school play; they will dress up with their sibling and stay in character all day long; they will be glued to a screen watching old movies imagining themselves in every role. I worry about the idea of kids focusing on the gaining of professional acting experience rather than the pursuit of the joy that they receive from creating imaginary worlds for themselves because the truth is that any actor's best experience will come from having had a rich life outside of acting. And even more so for kids!
What are some good acting habits that really impress you during the casting process?
The best habit I think an actor can have is to be prepared enough that he/she can use that preparation to feel confident and playful in the audition—even if it's not necessarily a playful role. And to not judge themselves while they are in the middle of it if they feel like it's going sideways is also key. It's such a vulnerable thing to go into these rooms and put everything into these fleeting moments; filling them with an actual creative exchange should be key.
Any bad habits actors should avoid?
Worst habit is probably preparing something in such a specific way that if the casting director or director ask you to adjust or do it differently, it causes friction and stops you from being in the moment.
What's your favorite/most rewarding thing about what you do?
For one, I consider it a privilege to be in a room with an actor during an audition because I could never be on the other side of what they do. And generally being able to problem solve with a group of brilliant people who work equally hard to make something come to life is very rewarding.
Want to star on Netflix? Check out our television audition listings!
Need more acting tips for kids? See what Backstage Expert Denise Simon has to say below.