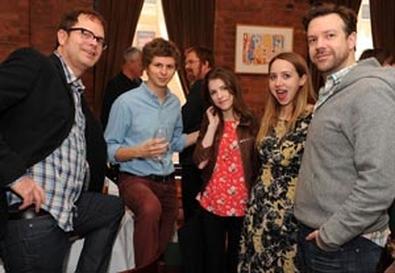 For the aspiring actor, the film and TV business can appear to be a vast, impersonal bureaucracy. Ignored mailings, futile workshops, and unsuccessful auditions can get anyone down. But film festivals offer a possible respite from the industry's oppressive hierarchy. There, industry players gather in a setting where you can hobnob with them on an equal footing—before and after screenings, at panels and parties, and even on the streets and buses of Park City, Toronto, or wherever.
For actors, fests offer a priceless opportunity to see and be seen, to get a sense of the latest cinematic trends, and to strike up potentially rewarding relationships with filmmakers, agents, and others who hold the keys to successful careers. But whether you have a film in the festival or not, experts agree that fostering lasting connections and getting the most out of your festival experience requires more than pushing your reel on anyone you meet. It's a delicate process and must be approached with care.
"You want to avoid appearing too eager, green, or being too pushy at festivals," says Tony Nation, president of and a partner in Actors Connection, a networking studio in New York. "The industry is not there to meet actors. They are there to promote their films. But if you get the opportunity to speak with a director, producer, writer, or agent and they ask" about your work, he says, "that's great. Just go, network, meet people, be open, and create relationships."
Be Prepared
First things first: Make sure you're prepared. Festivals can be fast-paced, far-flung environments that involve hectic traveling and scrambling to meet new people. Most attendees spend long days at screenings, panels, and parties, so you won't have the typical opportunity to hand them your headshot and résumé. The people you're meeting won't want to "schlep around with it for the whole evening," Nation says.
"I really think it's important to have your materials accessible without them being out in the open," adds Melissa Bacelar, owner of TheNetworkStudio.com and TheActorsSource.com. "So a big bag is No. 1 on my list. Cards are No. 2." Your business card, she says, should have "a small photo and a number, email, website."
"Then if possible, have some headshots, résumés, and a demo," she continues. "Only offer if asked. And make sure all of your materials are stapled, cut, and ready to go. Most of the time a card is sufficient, but just in case, have the other stuff. And always, always ask for a card in return. Then you can follow up a few days after the festival."
Where to Meet
One of the best ways to meet filmmakers and begin developing potential relationships is to attend post-screening Q&As. To make the most of them, it's important to comb the screening schedule ahead of time and highlight the films made by directors you're familiar with or who intrigue you, without neglecting the rising stars spotlighted in the short-films section. Most filmmakers stay for the run of the festival and will probably be present before and after most screenings.
"Attend the film and stay for the Q&A and ask a question," advises filmmaker Matthew Bonifacio, whose feature directorial debut, "Lbs.," premiered at the Sundance Film Festival in 2004 and was nominated for a 2011 Spirit Award. "Show your knowledge and appreciation of their past work or what's to come. Approach them after the Q&A. Strike up a very short conversation, even if you're just complimenting something in the film that resonated with you, and mention your name. Let them know you're an actor. Don't be pushy asking for an email or shoving your business card in their face. You never know, they may ask for your card or website or ask you to mail a DVD of your recent work. It's all about timing."
Still, even in a profession that demands fearlessness and the willingness to put yourself out there in ways nonactors couldn't fathom, the thought of joining a phalanx of people waiting to approach a filmmaker post-Q&A can seem overwhelming. It's natural to feel like you're being an imposition, but Bonifacio insists that's not the case. "No matter what, be you and don't put pressure on yourself to say the right thing. You'd be surprised how approachable most filmmakers are," he says. "We want to hear from the audience and network ourselves."
Experts do, however, warn actors not to expect too much from these initial encounters. It's unrealistic to think that a filmmaker will immediately turn his focus on you. But another ubiquitous feature of film festivals can help you maximize your festival experience: the panel discussion.
Attending panel discussions is one of the best ways to learn the latest trends in an industry that's always evolving. This year's Sundance Film Festival, for example, offered panels on everything from "The Power of Story," featuring author Dave Eggers and TV icon Norman Lear, to a New York Times session with Vera Farmiga, Greg Kinnear, and Ray Liotta. Typically, panels offer opportunities to ask questions, and the informal setting often allows for some socializing afterward.
Most people agree that the main reason for an actor to attend a film festival is to learn about the industry. "Research, research, research," says Bacelar, emphasizing that there's no better way to complement seeing a wide range of cutting-edge films than by soaking in as many informational events as possible. Actors will be more informed by being "around what's currently in the marketplace," says Marc Isaacman, executive director of the networking company One on One NYC.
Actors should therefore choose events that will be educational, even if they don't provide immediate, tangible career benefits. "There are some intangibles that will definitely happen," says Isaacman, when actors increase their industry contacts by putting "themselves in a position to meet someone they can start a relationship with." After introducing yourself, he adds, "maybe if a relationship is established, keep in touch…and then maybe after some correspondence has gone on, the actor can say at some point, 'Hey, by the way, if you get a chance, can you look at my reel?' "
On the Screen
Of course, there's one way to all but guarantee that your experience leads to bigger and better opportunities: Have the good fortune to star in a well-received film shown at the festival. L.A. actor Kristen Riley came to Sundance this year as the star of "Ex-Sex," a short film that played before Joe Swanberg's "Uncle Kent." Riley's I.D. badge was an automatic conversation starter.
"While waiting for the shuttle or even riding on the bus, it's so easy to network," she says. "Usually people would see my film badge and ask if I was involved with a film and we'd just go from there. After the first day, I began starting up conversations too. I met tons of directors, producers, and other filmmakers this way, as well as a few journalists and programmers from other festivals."
If you have a film in the festival, it's imperative that you have screener copies with you at all times, Riley adds. Films are screened a finite number of times, and given all the different things happening at once, the right people might not be able to make it to a screening. At Sundance, in addition to tirelessly promoting her film's screenings, Riley made a point of distributing DVDs. Nearly a month later, she was still getting warm responses from people who, in the calm of postfestival life, had finally gotten around to watching their copies.
While the prospect of attending her first Sundance Film Festival was "definitely intimidating" and she "felt a lot of pressure beforehand," Riley says, she quickly discovered an essential truth: Even a fest as vast and influential as Robert Redford's annual mountaintop celebration can be filled with nice, generous people who want to meet you. "I was surprised by how welcoming and easy to talk to everyone was," she says. "There was a real feeling of camaraderie among all the filmmakers, from the smallest of shorts right up to the Grand Jury Prize winners."
Coming Attractions
At the end of the day, maximizing your festival experience—with its manifold screenings, panels, and parties ("a fantastic way to meet everyone," Nation says)—comes down to two key things: learning and building. Soak in the atmosphere, learn all you can about the industry, and—in a natural, depressurized way—meet people and build relationships that could bear fruit down the road.
"It was just meeting people and having conversations," Riley says of her experience. "My whole team would hang out every night with other filmmakers at the late-night lounge and talk about current and upcoming projects. Hopefully, more work will come out of some of the relationships I've forged. And really, as a nonrepresented actor, that was the best thing I could do while I was there: get to know people and let them know who I am, and let my work speak for me."
If New York actor Lauren LoGiudice's festival experience is any indication, Riley's relationship-building at Sundance could very well pay off. Acting on Bonifacio's advice, LoGiudice attended the 2009 Tribeca Film Festival in New York with the intention of meeting directors and producers after their screenings.
"After my fourth film at Tribeca, I started chatting with the person next to me," she says. "We spoke at length about the film, without mentioning what our roles in the industry were. We clicked right away, I think because I wasn't so focused on making a contact and was content to simply make a connection with a like-minded artist. As it turned out, it was Sheetal Vyas, the producer of a feature film, 'When Harry Tries to Marry.' She happened to be casting a reading of the film at the time. The next week I auditioned, and the week after that, we had a reading for investors. Months passed, and I wasn't positive that I would get the role if the film gained financing. One never knows. But the following October, I got a call from my agent saying that they wanted to book me for the film."