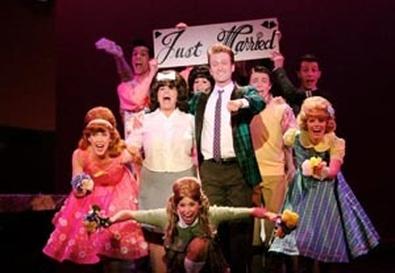 Mary Joe Duggan and Angelica Richie both looked up from their audition materials. Another actor at the "La Cage aux Folles" open dance call was making a bit of a scene, and the New York newcomers giggled to themselves and then caught each other's eye, sparking the beginning of a life-changing friendship.
"Angelica and I have a very special bond," says Duggan, who moved to the city in January 2010. To make connections, "I have found that it's easiest by not being afraid to say hi to people at auditions, which is primarily how I've met my closest friends that I hang out with on a regular basis."
With thousands of actors already in New York and many more coming each year, finding a community in this expensive and intimidating city can be daunting, particularly given New Yorkers' notoriously competitive nature.
"New York definitely has a more competitive vibe about it," Duggan says. "The people that are the nicest are the ones that are the most successful. I haven't really experienced too much negativity, partially because I approach it as, 'Well, what's there to be negative about? We're all after this.' There's already that competition, so why make it more than it needs to be?"
Auditions, film and theater festivals, classes, religious and community groups, resource centers, and group activities are some of the best ways for actors to connect. Whether you're searching for jobs or friends, building a support system is one of the cornerstones of success.
"We need to have people in our lives to enable us to keep up the good work," says actor Rebecca Branscom. "It's a tough city, and it can be discouraging. It's much easier to work through something with someone than do it all by yourself."
Starting Out
Networking is the actor's way of life in New York City. As the old adage goes, "It's not what you know but who you know."
"The biggest asset for living and working here is, literally, networking…and people are a lot more open about setting up connections," says Branscom, who reached out to people she knew through school and internships before she moved to the city. "It's not as closed-off as other parts of the country where I worked before."
Because actors in New York are constantly attending casting calls, auditions are sometimes the best place to meet people. "You see these people day after day after day," Duggan says. "You have to not be afraid to be open and including of whomever, because even though the city is big, the community is so small and you cross worlds with so many people."
Francis Eric Montesa is a monitor at the second-floor Actors' Equity Association lounge, and he touts the midtown location—165 W. 46th St.—as one of the best places to make connections and catch up with old friends. "It's sort of like one little safe haven for a lot of actors to go to," he says. "It's kind of like home."
The lounge, which is open only to Equity members, offers various resources for the union's actors, including a housing bulletin board, and hosts events throughout the year, such as readings, memorials, and a health fair. "It's sort of like going to a bar like Cheers, where everybody knows your name," says Montesa. "Every time I'm at the door, I will inevitably run into two or three people I know. It's a place to reunite with people."
Nonunion actors also flock to the Equity building for open calls and meet each other outside the lounge while hoping to be seen. Another popular location for auditions is Ripley-Grier Studios.
Many actors move to New York to attend school, where they often build a strong community of like-minded artists. "I didn't really have a base of friends from college," says Duggan, who went to a conservatory in Kansas City, Mo., "whereas a lot of people I know that went to schools in New York have this huge safety net when they move to the city, and that's an amazing blessing."
Duggan found her community through some of her connections who did go to school in the city, while actor Franziska Huber, who moved to New York from Germany to attend the Lee Strasberg Theatre & Film Institute, found a community with her classmates. "My network is based in the connections I made at school," Huber says. "It's about supporting each other, and when you show your support, they will support you."
Branscom warns against casting a wide net when beginning your networking, because it can result in too many irrelevant connections. She thinks actors have to focus on what type of contacts and friends will be most helpful.
"Once you know what you want, it's easier to build your community," says Branscom, who moved to New York to pursue a master's degree in theater education at New York University. "If you're like, 'I want to be an actor,' and come to the city trying to find people, that's casting a really large net. You're going to struggle. Knowing specifically what you want is the key."
Getting Involved
Another resource that many actors use is the
Actors Fund
, which provides social services such as housing, health care, and employment information to entertainment industry professionals.
"We are the place to come," says Actors Fund president and CEO Joe Benincasa. "We're kind of a one-stop shop for anyone working in entertainment who may need some advice or a helping hand."
Every Monday at noon, the organization hosts an orientation to the Actors Fund Work Program, which assists performers—both newcomers and veterans—who are looking for day jobs. These sessions can also provide an opportunity to meet other professionals. In addition, the Actors Fund supplies low-cost housing in Manhattan and Brooklyn (though the waiting list is very long) and has housing boards for actors looking for roommates or a place to live.
"We don't help actors become better actors," Benincasa says. "We're not involved in the professional side of the business, but we are involved in what someone might need to survive."
Another way to get connected through the Actors Fund is by participating in community service and other activities. The fund has partnered with
Broadway Cares/Equity Fights AIDS
and also sponsors the
Broadway Show League
, which brings the casts of Broadway shows together for a summer softball tournament.
Common interests outside of acting, such as sports, are a way to connect with both other actors and "civilians." "I'm a runner, so I go to running clubs," Duggan says. "I take yoga in the city, so I've met people through that."
Religious groups can provide a built-in community as well. Benincasa refers actors to the
Actors Temple
. "If you're looking for a temple and you want to be with other actors, this temple is terrific," he says, adding that St. Malachy's, the
Actors' Chapel
, is also a great place for actors to meet.
Many churches and other religious organizations also host support groups for actors and other artists in the city. "Church is a great way to meet people," says Duggan. Redeemer Presbyterian Church hosts an actors group every month through its
Center for Faith and Work
and has a quarterly gathering for all types of artists.
"I'm always surprised each fall, summer, and spring—Redeemer just welcomes scores of artists who are new to the city," says Kenyon Adams, the church's arts ministries coordinator. The group welcomes 25 to 40 actors each month. "There's a need for all artists to find a community in New York."
Branscom agrees, saying that church is a way for her to meet friends who could become collaborators. "Because I'm a Christian and because I'm an actor, my faith is how I do my artistry," she explains. "To be in a room with people who understand that and are interested in those kinds of stories too, that speaks to my need for community. And those are people that I want to create with and work with."
Finding a Job
Sometimes meeting new friends at an audition, at church, or through a community group can also be the initial spark for finding a day job or an acting gig.
Many organizations offer seminars where actors can perform for agents and casting directors and get their feedback. Although the events generally cost money (about $30 each), Huber advocates using these companies—such as One on One, Actors Connection, and the Network—to connect with CDs and talent reps. She also suggests classes taught by the industry's gatekeepers, as classes give performers more time to get to know these people.
"Do classes with casting directors," she says. "They are the people that can give you paid work right now. You do a class for a couple hundred dollars, but you see them six to eight weeks in a row. They will remember your face. They will remember your work. It's a long process to establish a relationship with them."
Theater Resources Unlimited
has also been an invaluable resource for Huber. The nonprofit organization offers a "speed dating" session about three times a year, as well as an annual combined audition. The audition features 40 to 50 theater companies as well as agents and CDs, and the speed dating event allows actors to meet one-on-one for three minutes each with 10 to 12 industry professionals, from casting directors to headshot photographers, and learn about their services.
"It helps them settle into the city in one event, and suddenly people know who they are," says Bob Ost, TRU's executive director. (Back Stage is a co-sponsor of some of the organization's events.)
TRU, which mainly provides services for producers and self-producing artists, was a huge help to Huber when she was producing her one-woman show "The Royal Weight Watcher" at the Midtown International Theatre Festival this summer. "If you go to festival launch parties, you meet a lot of other actors, but you meet the producers as well," she says. "I network at the festivals."
Marc Isaacman, the founder and executive director of One on One, agrees that theater and film festivals contain a wealth of community-building opportunities. "That's a great way of meeting other people and starting a community," he says. "If I met people online or at a business thing, there'd be some guards up. If you meet someone at a festival, people's guards are more down, and that's a great opportunity to meet people. I've seen it so many times."
Spending money on festivals, classes, or seminars isn't always an option for new actors, but the Internet—particularly Meetup and Facebook groups—offers no-cost ways for actors to connect to the industry and to each other.
Nikhil Kamkolkar started the Facebook group New York Actors, which has close to 500 members, to gather young performers in the city who are interested in working on projects together. An actor and Equity member who moved to the city from Los Angeles in 2000, he is now pursuing more writer-director assignments, and Facebook is a way for him to cast his projects and discover new faces and "stars"—a label he uses on Facebook for actors who wow him.
"The Facebook effort was about finding people who are on the rising curve as opposed to people who are already established," Kamkolkar says. "This is really for discovering unique rising talent." He also uses the site to learn about actors beyond their headshots and résumés. "You get a sense of the person because of their profile and what their interests are."
Kamkolkar uses Facebook to find people who take initiative with their careers, and Huber agrees that being proactive about making connections is essential. "If you feel like you're not connected, create the connections yourself by creating something yourself," she says. "You can create your own opportunities to network and meet people."
Community Maintenance
One of the ironies of the New York theater scene is that many actors come to the city only to find work that takes them, at least temporarily, away from it.
"Every theater comes to New York to audition," Duggan explains. "For the most part, a lot of people move to New York to audition in New York for work that takes them out of New York and then brings them back, which is kind of contradictory." This also makes it difficult to maintain a community in the city.
Duggan has performed in Chicago and Colorado and is currently appearing in "Hairspray" at Merry-Go-Round Playhouse in upstate New York, and she uses Facebook to stay in touch. "Facebook allows you to really stay close with people," she says. "It's hard because you come into incredibly close contact with these people in rehearsals and performances, and you see them every second of every day, and then in the blink of an eye you say goodbye. If you're willing to put forth the effort to keep those friendships alive, then they will stay alive."
With new actors moving to the city constantly, Duggan wants to use her experience to make sure others feel welcome. "I don't regret having to figure some things out for myself," she says. "There are definitely some guess-and-check things, but that's when I feel as an actor you become so proud of yourself, because you're like, 'You know what? Maybe I messed it up, but tomorrow I'm going to know what to do.' Those are the moments when you're like, 'I'm going to make it easier for the next person to transition.' "
The person who reaches out a helping hand might become a new best friend, and that can make or break an actor's experience in New York.
"My experience has been phenomenal because of the people that I've been with," says Branscom. "Sure, you might get the biggest role of your life, but if you're by yourself, then what?"