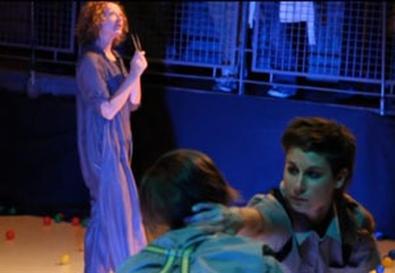 Childhood memories and ballroom choreography intertwine in Kay Scorah's delicate dance-theater piece "Never Look in the Mirror When You're Dancing." The author narrates and plays herself at age 3, telling us the story of her mom and dad's courtship (they met in a dance hall as teenagers), early marriage, and terpsichorean frolics in a poor section of Sheffield, England, and about the death of her father's twin brother. Her monologue is interspersed with dance moves executed by Erin Hunter and Faith Hunter Kimberling, a pair of sisters who play both the senior Scorahs and the twin siblings as boys.
Not much happens in this 30-minute valentine. Scorah reminisces about her favorite toy, a little stool that is replaced by a much bigger version when she transforms into her younger self; a destitute neighbor comes asking for money; Scorah's grandmother passes moral judgment, and that's about it. Scorah delivers her lines tentatively but is totally enthusiastic when she becomes a toddler, clearly enjoying reconnecting with her inner child. Hunter and Kimberling are like a pair of graceful ghosts, creating whispery impressions of another era.
The piece ends with a video of Scorah's now elderly parents dancing a quick step in their crowded living room. They laugh with abandon as they forget the steps and bump into the furniture. It's a sweet ending to a tender tribute.
Presented by HaveMoreFun as part of the New York International Fringe Festival at the 4th Street Theatre, 83 E. Fourth St., NYC. Aug. 22–28. Remaining performances: Thu., Aug. 25, 5 p.m.; Fri., Aug. 26, 7:45 p.m.; Sat., Aug. 27, 1 p.m.; Sun., Aug. 28, 1 p.m. (866) 468-7619 or www.fringenyc.org.