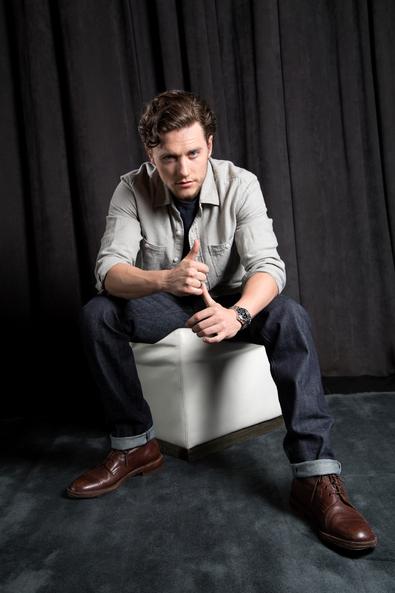 English actor Jon Fletcher is making his big debut on the small screen with the CW's sci-fi show "The Messengers." He chats about moving from theater to television, his thoughts on auditions, and his new approach to his latest role.
On playing preacher Joshua Silburn Jr.
"I very much lost myself in this guy more than I have with any theater character that I've played. You're just living it more. Theater, you're in rehearsal for weeks and then you just gotta get to that place in the evening. But with this it's all day, every day, and you've got three scripts in your head all the time: the one you just finished, the one you're working on, and the next one. It's a lot. As it progresses through the season...everything seems to happen to Joshua, is my running joke on set."
On auditioning.
"Half the time they don't really know [what they want]. They're just waiting for somebody to walk in and do it. Even when you do do it, sometimes they still don't know that's what they want! There are certain things we can control and then there are huge things that we can't. Leave it in the room."
On his acting technique.
"It depends on what the role calls for. The best way is to pick what works for the circumstance and the situation. I've never been someone who does just the one thing. I feel like with this guy, I've been a lot more Method than with anything else I've ever done."

On connecting with his character.
"It's his passion about it. When I was doing research about all these modern-day preachers, there's a guy in Brooklyn; he wears the leather jacket, has a shaved head, has a bunch of tattoos—he could sell you anything. He's so passionate about what he's talking about. So many times I watched some of his sermons and he kind of brought me to tears. You just believe. Seeing somebody speak about anything that passionately is quite a beautiful thing. That's the way I connected with him. As far as preparation goes, I did lots of research about all those things and went to a bunch of churches."
On his audition.
"[My character] is the preacher, so in the audition I'm doing this huge thing and it's me in this tiny room. Then in the middle of it I can see the casting director just kind of nodding along. So I stopped and said, 'I feel like I'm not doing what you want.' She said, 'Well, I just think it's more folksy and intimate.' In the script it says he's preaching to 30,000 people. So, like every actor does, just has no opinion, I said, 'Sure! I'll do what you want!' And then I didn't hear anything for a week and was then told it wasn't going any further. Then they rereleased the breakdown and it was exactly what I wanted to do, but they wouldn't see me. I said, 'Let's put it on tape and send it to them.' We did, and that's how I got back in the room."
On moving from theater to TV.
"Often the thing you hear is people in the TV-film world are kind of against theater actors; they're not at all. They love people who have trained and know their craft. It's the same as anything; whatever you do has its own style. You just have to figure out what it is and play it. An audition is an audition, and you have more control than you think that you do. I wouldn't have got this if I hadn't have gone, 'I'm going to put it on tape because I believe I can do the role. I can do the thing they want.' "
Like this story? Read more of our Spotlight On interviews!