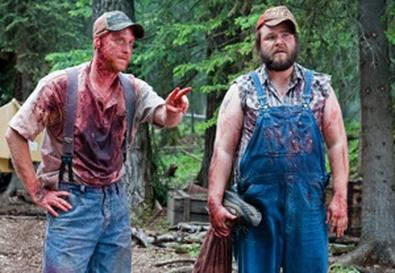 Jennifer Lawrence, actor
"Winter's Bone"
Jennifer Lawrence had to fight tooth and nail to land the part of Ree Dolly, the iron-willed protagonist of the hardscrabble drama "Winter's Bone." The film—which picked up Sundance's Grand Jury Prize for dramatic feature and Waldo Salt Screenwriting Award and was acquired for distribution by Roadside Attractions—tracks 17-year-old Ree's search for her drug-dealing father, as well as her struggle to support her poverty-stricken family and still make it through high school.
Initially, the filmmakers concluded that Lawrence, 19, was "too pretty" to take on such a dark, stripped-down sort of role. "They said I wasn't right," she recalls. "So to prove to them that that was in fact not true, I chased them all the way to New York. They probably thought I was crazy. I think I was going 50 hours without sleep, so that could've had something to do with me looking the part: 'You look hideous. Sign here!' "
In the end, Lawrence impressed director Debra Granik and festival audiences with her unflinching, brutally honest performance. She says she kept her work fresh by indulging in very little rehearsal. "What if I came to set all memorized and then Debra had a note for me and I didn't know how to do it because I was so set in the other way?" she muses. "Something that I think is rare and beautiful in acting is when you can really tell somebody's thinking, and they're really reacting off of what somebody's saying. It's fresh, and it can't be fresh if I've been rehearsing it all night before."
Though this role represents something of a breakthrough for Kentucky-bred Lawrence, she's been acting since she was 14: credits include the acclaimed indies "The Poker House" and "The Burning Plain" and a regular gig on the sitcom "The Bill Engvall Show." She will next be seen in Jodie Foster's "The Beaver" alongside Mel Gibson. Lawrence says she has worked hard to construct such a varied career. "Hopefully, if I'm just good at what I do—if I'm good in comedies and I'm good in dramas—people can respect that I can do both," she says. "I just have to keep on being good."
Taika Waititi, writer-director, and James Rolleston, actor
"Boy"
In crafting "Boy," his utterly charming sophomore feature, New Zealand–born director Taika Waititi wanted to paint a nonstereotypical portrait of rural Maori life. "We always get portrayed either as tough, like, wife-beaters or really spiritual whale riders," he says. "I wanted to move away from that and show that day to day, we're pretty much just normal people."
The film focuses on the slow maturation of an 11-year-old boy in the 1980s; affectionate references to familiar pop-culture landmarks like Michael Jackson and "E.T." abound. Waititi shot in his hometown of Waihau Bay and cast local Maori kids in many of the major parts. First-time actor James Rolleston, 12, landed the coveted title role after initially being cast as an extra. "They asked me, 'Do you want to try being an extra?' And I didn't actually know what an extra was," recalls Rolleston with a grin.
"He came in for a costume-fitting, and he just sort of went around meeting everyone and was this amazing guy, and he was basically what I'd been looking for but hadn't found," marvels Waititi. "He had that freshness."
In a similar vein, Waititi ended up casting himself as Boy's wayward father Alamein, a flighty yet charming parental figure with more than a few schemes up his sleeve. "I auditioned lots and lots of people for the role, and it wasn't quite what I wanted," Waititi remembers. "The character's based on a couple of relations of mine, and there were specific things that I really wanted, little character things. I wasn't getting it, so I thought it just made sense for me to do it."
And ultimately, that helped Waititi to better direct Rolleston and his fellow young thespians. "It helped to be acting opposite them and engaging with them while we were doing stuff," says Waititi. "We'd just change lines or change the meanings of lines, which would change the performance. I could sort of micromanage that way."
Ryan O'Nan, actor
"The Dry Land"
Ryan O'Nan felt a certain amount of responsibility in taking on the role of emotionally scarred Iraq veteran James in "The Dry Land," a harrowing look at one soldier's attempt to reclaim a normal life.
"The hardest thing was the constant reminder that these are real people; they're going through these real events and they're coming back," he says. "I wanted it to be as honest as possible so that soldiers watch it and say, 'Someone understands what I'm going through.' "
The role came to O'Nan rather serendipitously. He happened to be seated between "Dry Land" co-star and executive producer America Ferrera and writer-director Ryan Piers Williams at a poker game. "I was like, 'Oh God, what am I going to say?' " O'Nan recalls with a chuckle. "But they actually already knew who I was because Jeanne McCarthy, who cast the film, had recommended me for the lead." McCarthy had had her eye on O'Nan for a while: Though she'd never cast him in a project, he'd gone on tape several times for her. "She was a little angel on my shoulder," he says.
O'Nan—whose other credits include "Mercy," "The Unusuals," and "The Seagull" opposite Dianne Wiest—researched heavily for the role. "Ryan had contacted a bunch of organizations, so I had the privilege of speaking to a great number of soldiers that had come back," he says. "And once I got this role, people came out of the woodwork; people wanted to talk about it. They were very interested in this story getting out there."
Christopher Thornton, writer-actor
"Sympathy for Delicious"
Thirteen years ago, actor Christopher Thornton suffered a rock-climbing accident that paralyzed him from the waist down. He briefly considered abandoning his burgeoning acting career, but several dear friends—including fellow actor Mark Ruffalo—encouraged him to get back on the stage. The result was a critically acclaimed production of "Waiting for Godot," which netted Thornton a Drama-Logue award. "[My friends] basically wouldn't take no for an answer," he recalls. "That really was a turning point. And that made me want to do it again."
Now, Thornton and Ruffalo have teamed up to make "Sympathy for Delicious," an offbeat tale of a homeless, paraplegic DJ who discovers he has the power to heal others. Thornton stars and wrote the script, while Ruffalo plays a supporting role and makes his directorial debut. In crafting the story, Thornton notes that he drew from the aftermath of his accident. "I got dragged to healing services," he says. "Everyone wants to fix you. And you're so desperate that, even though I didn't really believe in all that, you're willing to try it."
Thornton and Ruffalo embarked on the project a decade ago but faced major obstacles in finding funding. "We'd find money and we'd lose it," says Thornton. "We'd get an actor with a name to do something, and then we'd lose the actor. It was this roller-coaster ride. There were people who liked it, but they didn't want me to play the part. They told Mark, 'If you get a star to play that guy, we'll give you the money right now.' "
The duo held out, the money finally came through, and their film now boasts an all-star cast that includes Juliette Lewis, Orlando Bloom, and Laura Linney. "Sympathy" also earned a Special Jury Prize at the end of the fest. Thornton is thrilled that he got to make such a personal film with old friend Ruffalo. "Mark and I would be sitting late at night after we'd been shooting for hours, trying to fix scenes for the next day," he says. "It was an overwhelming, all-consuming process."
Tyler Labine and Alan Tudyk, actors
"Tucker and Dale vs. Evil"
Alan Tudyk and Tyler Labine are already well-known among discerning TV and film buffs for their memorable takes on scene-stealing sidekick roles. But "Tucker and Dale vs. Evil," a clever horror-comedy that had Sundance audiences in stitches, catapults both to leading-man status.
The duo plays a pair of backwoods best friends mistaken for killers by a gang of impressionable college students. And though the film satirizes horror flicks wherein the psycho killers are broadly drawn hillbillies, the actors and writer-director Eli Craig were determined not to let Tucker and Dale fall into stereotype. "We weren't going to go into this movie and be just a couple of dumb hicks," says Labine. "Dale was written to be a simple-minded guy with a heart of gold. You could easily misinterpret that, I guess, but kudos to Eli: He found the actors who he thought were going to do what he wanted to do. And I guess we did it."
Adds Tudyk, "These were just a couple of good ol' boys who like going fishing. I think there was a minute where I was going to have blacked-out teeth. I remember finally getting a mirror, and I was like, 'Goddamn, no way!' "
The instant likability of these characters had festival audiences clamoring for a sequel. Though Tudyk and Labine note it's a little early to be discussing such things, both say they'd work together again in a heartbeat. "We met up and went through the script ourselves, just the two of us," recalls Tudyk. "I've never done that with any other actor. Just like, 'Hey, let's do this, let's walk through this ourselves.' "
"We came up with backstory, where we were from, how we knew each other," chimes in Labine. "I felt like an honest-to-goodness actor."
Tatiana Maslany, actor
"Grown Up Movie Star"
In coming-of-age drama "Grown Up Movie Star," 20-something Tatiana Maslany plays Ruby, a precocious teenager coming to terms with her budding sexuality. Maslany's age initially gave filmmaker Adriana Maggs pause during the casting process—but not for long. "Honestly," says Maggs, "if it had been a problem, I almost would've wanted to write a whole other movie just to put her in."
In the end, Maslany's performance is achingly believable, a stark portrait of a young woman in transition. Festivalgoers took note, and Maslany was awarded a Special Jury Prize for her work. The actor credits Maggs with creating a welcoming environment that allowed her to regress back to a younger mindset. "It's all so much there in the script," she says. "Ruby is so alive on the page as it is, so I guess it was a matter of being open to that imagination a child has and that access to emotions. Every single scene, if you were given just that scene to play in a film, it would've been awesome. That's a full gamut of experience. And it felt so safe to go there with this crew and with this cast and Adriana. There was so much respect for the process."
Maslany, who hails from Regina, Saskatchewan, has racked up an impressive array of credits, including the films "Ginger Snaps: Unleashed" and "Flash of Genius" and the award-winning Canadian TV show "Instant Star." Ultimately, though, her dream is to continue doing sharp indies like "Grown Up Movie Star." "If I could pick, this would be the kind of film I'd want to do, always," she says.
"But you have to do the bigger ones, too," warns Maggs. "You gotta do an action flick."
"Okay," says Maslany, mulling it over. "I'll get a catsuit."