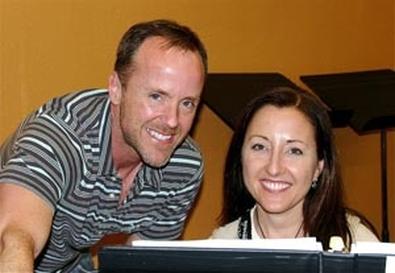 After four decades of nurturing librettists and songwriters, the Academy for New Musical Theatre makes its maiden foray into the nitty-gritty discipline of putting up a production. Feeling closer to a workshop than it does to a premiere, this unpretentious mounting brings together a few chairs, the sparsest of set pieces, a keyboardist (Cindy O'Connor), and five actor-singers. Director Michele Spears' no-frills rendition highlights the characters, music, and narrative. Despite rough edges, the result is sweetly entertaining.
Initially, librettist-lyricist Larry Todd Johnson and composer–music director O'Connor emphasize music over dialogue. The show becomes more involving after intermission, when the characters are fleshed out and story arcs kick in. The intriguing themes center on questions we face at midlife: Am I getting what I truly wanted from life? If not, what is it I wanted?
Shifting between 1983 and today, the play introduces five high school acquaintances and shows what happens when their lives intersect anew. High-strung Winter (Taji Coleman) wanted to be a neurosurgeon but became a supermodel. Perky Sarah (Angela Wolcott) was headed for a career as a champion gymnast but ended up as a discontent divorcée raising a reluctant-gymnast daughter. Nerdy Oren (Kevin Noonchester) was a computer whiz who predictably became a software entrepreneur. There are gay undercurrents in interactions between macho wannabe-baseball-star Robby (Ed Martin) and out-of-the-closet Kevin (Tod Macofsky), who yearns to be a musical comedy luminary. Neither man finds himself where he thought he'd be in his 40s.
Wolcott is particularly engaging, starting with a Sally Field exuberance, then smoothly moving toward a richer characterization as Sarah's dreams fade, depicted in a lovely ballad, "Higher." Macofsky sings superbly and hits humorous and poignant notes as a brash but likable fellow. Martin deftly explores a wide range of emotions in "Better Left Unsaid" and "I Love My Wife." Noonchester and Coleman do solid work, each enjoying standout moments: her "Comfortable in My Skin" and his "The Nerds Shall Inherit the Earth."
O'Connor's accompaniment is first-rate, but too many lyrics are lost due to acoustic imbalance. This bittersweet musical is a diamond in the rough, and ANMT makes a promising bow in the production arena.
Presented by the Academy for New Musical Theatre at the Secret Rose Theatre, 11246 Magnolia Blvd., North Hollywood.
July 22–Aug. 27. Wed.–Thu., 8:30 p.m. www.anmt.org.