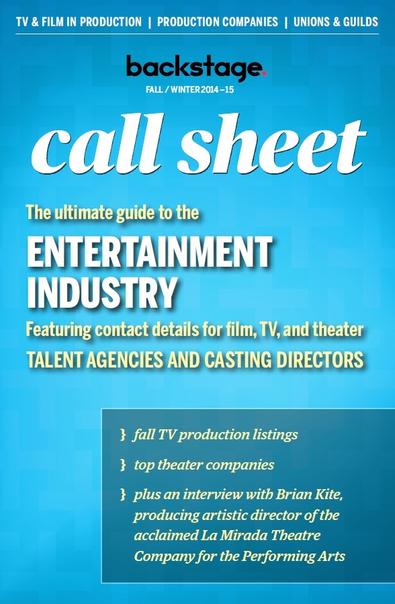 Call Sheet features details about hundreds of casting directors, talent agents, managers, and production companies.
The online version of Call Sheet is fully searchable and includes tons of exclusive listings updated daily, including literary agents and managers. The online database is updated daily, and the companies can be sorted from A-Z or by the most recently updated listings. You can access all of the great resources from Call Sheet by visiting Backstage.com/CallSheet.
Call Sheet (formerly known as Ross Reports, and the successor to The Hollywood Creative Directory) is a comprehensive resource directory and searchable database of entertainment-industry companies and contacts, spanning film, television, theater, commercials, new media, and more.
And now the new Fall-Winter 2014-2015 issue of Call Sheet is available at a bookstore near you. Published biannually, the current print-edition of Call Sheet features over 250 pages of valuable entertainment-industry contacts and data.
The current issue also contains an exclusive list of fall TV productions; an insider's guide to the best theater companies across the U.S.; and an interview with Brian Kite, the producing artistic director of the critically acclaimed La Mirada Theatre. Plus, you can read new how-to guides to help you get the most out of Call Sheet's listings.
Building A Foundation Onstage
In recent years, Hollywood stars have been making their way to the stage. Recent A-listers who have jumped from the big screen to the Broadway stage include Denzel Washington ("A Raisin in the Sun"), Daniel Radcliff ("The Cripple of Inishmaan"), James Franco ("Of Mice and Men"), and Debra Messing ("Outside Mullingar"). Neil Patrick Harris won a Tony Award for "Hedwig and the Angry Inch, " as did "Breaking Bad" star Bryan Cranston for "All the Way." Even outside of New York, stars are lining up to perform in front of a live audience. Kathleen Turner recently played the title role in "Mother Courage and Her Children" at Arena Stage in Washington, D.C., and Donald Margulies' new play, "Country House," performed this summer with a cast full of stage and television stars including Blythe Danner, Scott Foley, Eric Lange, David Rasche, Sarah Steele, and Emily Swallow.
Why are all of these actors, who have achieved a large amount of notoriety and fame in Hollywood, returning to the stage?
When interviewed by James Lipton on "Inside the Actors Studio" in January 2012, George Clooney said, "Well, there's a reason for [theater training]…you'll do a film and you'll go, 'Well, this is a sad scene, so I'm gonna cry in it,' not understanding…that maybe where that should be placed is much later in the story… If you'd done theater, you understand that there's a method to this and there's a way to get there. And that's part of the thing that gets lost if you don't get that kind of background." And in an interview with Backstage, veteran film and television actor Freddy Rodriguez said, "I would absolutely recommend for actors to start in the theater because it establishes a foundation in your craft that you can build off of... Having that foundation gives you more depth as an actor."
Finding opportunities for such a theatrical foundation might seem a bit overwhelming at first. When searching through the large amount of casting notices posted by theaters, it may seem difficult to narrow down your options to the projects that may be the most valuable for you. According to the Actors' Equity Association website, as of May 7, 2014, 444 theaters across the U.S. had participated in the Equity Membership Candidate Program in the past six months, and this large number doesn't even include the enormous list of nonunion theaters, which may also be employing Equity actors under Guest Artist contracts.
The current issue of Call Sheet will help you narrow down which theaters to target, when and how to submit, and even what other promising opportunities may be available offstage. Click here to access the online version of this new theater database.
---
Subscribe to Call Sheet today. Check out the Call Sheet database online at Backstage.com/CallSheet. Or download the latest Digital Edition of Call Sheet and entertainment-industry mailing labels.