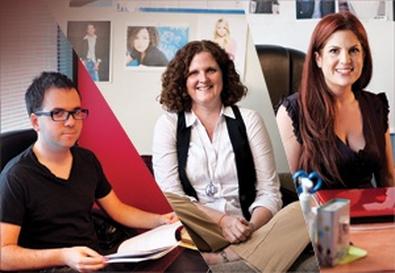 As I walked into casting director Jen Levy's office the other day for a photo and video shoot, she immediately stopped me and said, "I know you from somewhere." "Oh, I'm not an actor," I said. "I know," she replied. "But I definitely know you." A few minutes went by and she started asking me questions: "Did you grow up in Los Angeles?" (I did.) "Where did you go to school?" She quickly figured out that we went to high school together (she was a grade below me), something I never would have put together. Levy has a knack for remembering faces—an essential skill for a casting director. Other crucial factors in Levy's line of work: She's extremely passionate about her work and an advocate for actors.
Levy is not alone. All of the casting directors profiled in this issue are not only relatively new to their job titles but they also share the above-mentioned qualities with Levy. Dedicated, thorough, and enthused, these new casting directors often did not know that casting was the profession they were meant for—although there are exceptions—but once they stepped into the world of casting, things clicked for them.
As with actors, it's almost like they had no choice but to pursue their calling.
Although actors too often think casting directors are the obstacles that get in the way of their being seen by producers and directors, it's quite the contrary. CDs are actors' best hope to getting seen by the people who hire. And just because you don't get called back or get the job doesn't mean that casting director didn't like you. It just means you weren't what his or her bosses were looking for. And trust me--if a casting director sees some potential in you, they will bring you back again, and again, again, until they find something that you're just the right fit for.
Another thing to keep in mind is this: Be nice to those casting assistants you encounter. They are the next generation of casting associates and ultimately casting directors. Back Stage would like to thank all of the casting directors who participated in this issue, and we congratulate you on your promotions and, in some cases, your decision to start your own company. We appreciate you sharing how you became a casting director and shedding light on your process.
Sincerely,
Jamie Painter Young
National Editor-in-Chief


Debbie George
Junie Lowry-Johnson Casting, Universal City, Calif.
Originally, Debbie George thought she wanted to be a talent agent, so she interned at an agency in San Diego. But when a position in a casting office opened up, she decided to give casting a try. For about three years, George helped cast television, print ads, commercials, and reality shows in San Diego, and she realized that casting was where she belonged. "Now I'm in with two feet," she says.
In 2003, she moved to Los Angeles when Junie Lowry-Johnson hired her as a casting assistant on the TV series "Tremors." George has been with Johnson's office ever since, casting projects such as the series "Prison Break," the Lifetime movie "Fab Five: The Texas Cheerleader Scandal," and the features "Delta Farce" and "Witless Protection." "Debbie George has been a tremendous gift to our office for many years," says Johnson. "She has a wonderful eye for talent. Her kind nature and her joyful spirit are extra gifts to her unique talent for capturing the right actor for each role. She has a keen eye for young and new talent as well."
George is currently working with CD Scott Genkinger on "Desperate Housewives," "Ride-Along," and "Breakout Kings," and she recently wrapped casting the first season of the TeenNick series "Gigantic." "I really enjoy working with teens," she says. "I'd love to focus more on teen series and teen dramas."
George looks for actors who have a genuine quality to them. In auditions, she says, "I look for someone who moves me and makes me feel the character through his or her storytelling. A lot of our shows are not over-the-top. They're grounded. Show me a genuine read, but bring part of your personality to the character as well. That's refreshing to see."
With the new advancements in digital technology, actors now have a great advantage in auditions, George says: "Our office is rooting for the actor to do their best performance and feel good when they leave the room. We don't want anyone feeling like they bombed when they walk out. So if we're doing pre-reads, most of the time we don't have producers there and we just tape everything. We can usually work with the actor and give them multiple takes." Then they send only the best take.
George thinks actors should always be educating themselves. "Watch all the new series," she advises. "Before you go in to audition for a television show, watch it so you can get a good feel for the tone. Ask questions. Keep networking and going to workshops. Meet people. Keep the training going."
—Jessica Gardner
Lisa Soltau
Junie Lowry-Johnson Casting, Universal City, Calif.
Lisa Soltau was living in Seattle when her friend Bonnie Gillespie sent her a book she had written called "Casting Qs," a compilation of interviews with casting directors. "I read it and I absolutely loved all the aspects of the job," says Soltau. "I loved the entertainment industry and movies and television. The process of casting sounded wonderful."
She called one of the two casting offices in Seattle and ended up working as an intern there for about six months. But the CD told her she should move to New York or Los Angeles if she really wanted to pursue a career in casting. "I picked L.A. because I had lived there once for about three years and I thought it would be easier to acclimate there," Soltau says. "Plus I wanted to work on 'Six Feet Under,' which was airing at the time."
Soltau moved to Los Angeles, faxed her résumé to Breakdown Services and the Casting Society of America, but couldn't get a job in casting. After about six weeks, she made plans to move to Scottsdale, Ariz., to work for a property management company. A week before she was set to leave, she got a call from the casting office of "Six Feet Under" asking if she were still looking for a job in casting.
"They picked my résumé out of a stack," Soltau says. "They had no idea that I wanted to work on it. I interviewed on Thursday, was hired on Friday, I started on Monday on 'Six Feet Under,' and I've been working with Junie Lowry-Johnson and Libby Goldstein ever since." Soltau has also worked on such projects as "Star Trek: Enterprise"; "Deadwood"; the feature "Delta Farce," for which she got her first casting director credit; and "Dirty Sexy Money." She now serves as an associate on "True Blood" and as a casting director on "Big Love."
The best way for actors to get on Soltau's radar is through workshops. "When I can get to theater and see plays, I find people there," she says. "But I think workshops are the most successful way for me to find people, because then I can see what they can do and I can work with them as well." And she emphasizes how important it is for actors to be prepared: "If someone comes in and they're not prepared, then you question whether they want the job or not."
Soltau also urges actors to have more going on in their lives than just acting. "Have a well-rounded life," she advises. "Have hobbies. Be a well-rounded person. Be involved. It makes you more interesting. Don't just be obsessed with being an actor and that's all you can eat, breathe, and talk about. You can call on more experience if you're out there living life."
—Jessica Gardner
Jen Levy
Emily Schweber Casting, Venice, Calif.
Jen Levy says she got into casting completely by accident. She was living in New York with degrees in communications and fashion design/merchandising when a director friend asked her to come be a production assistant on a film in Los Angeles for two weeks. On the first day of shooting, Levy met casting director Karen Church.
"I was looking through all the submissions that were messengered over, and I kept saying, 'Oh, he was in that and she was in that,' " says Levy. "Karen looked at me and says, 'Who are you?' I couldn't believe casting was a job. Suddenly it was like the mother ship calling me home." Church recognized Levy's talent and hired her to be her assistant, and Levy found that casting was her true calling. "I have two degrees that I don't use, and my parents are thrilled," she jokes. She worked for Nancy Nayor's office on TV projects and Ronnie Yeskel's office on films, and in the office of Kathleen Letterie, head of talent for the WB, Levy got to see from the executive side how series like "Gilmore Girls" are cast.
In 2000, CDs Megan McConnell and Janet Gilmore introduced her to Emily Schweber, who had worked with Mali Finn for 14 years. Schweber hired Levy to be her associate, and they have been working together ever since. Levy has now become a full casting director, sharing an office and credits with Schweber on numerous films. "We have the same taste in actors, which is good taste, and the same taste in material, which is great taste," Levy says. "We lean toward the darker stories, like Southern Gothic scripts." The pair recently wrapped the horror film "Playback," with Christian Slater, and they're currently casting the dark comedy "Love, Gloria," to which Eliza Dushku is attached.
Schweber and Levy run their office with the philosophy that they are there for the actors. The only thing they ask in return is that actors read the script before coming in to audition. "Some actors think that they can come into an audition and wing it," Levy says. "Not for us. It's a waste of your time; it's a waste of our time. Don't think for a minute that we can't tell. It's okay to have your agent or manager call and ask for more time."
Levy prides herself on being a good reader, always listening and trying to give the actor what he or she needs. "If you let the actor have their process in the room and do what they need to do, everybody gets what they need," she says. "The job of the casting director is to give the actors what they need to come in the room and get the part."
Levy has additional advice for auditioning actors: "Remember, the space is yours. Use it how you want to. Feel free to move. Emily will follow you with the camera. Never slate; we take care of that because slating is horrible if you're doing a dramatic scene. I usually stand if you stand, or sit if you sit. It's good for eye line. I always ask, 'How do you feel?' after. I know that many times actors need a second take so they can spit the first one out and then relax into it. It's tape, not film, so you have that opportunity."
The main thing Levy wants actors to remember is to have confidence. "It's your audition," she says. "For whatever reason, whatever your level is, you've earned your seven and a half minutes in that room." What happens after the audition "is totally beyond your control, but those seven and a half minutes are yours. You have to own it."
—Jessica Gardner
Killian McHugh

Alyson Horn Casting, Los Angeles
When it comes to side jobs for actors, you could do a lot worse than working in a casting office. Not only do you gain insight into the audition process, but if your boss likes you, you can probably land a few extra auditions too. For those reasons, L.A. actor Killian McHugh sought out his first job behind the table.
"From 2000 to 2005, I probably worked for every major casting director in the city, first as an assistant and then as a session director," says McHugh. In 2005, he got a job running sessions for commercial casting director Alyson Horn, whose company has done major campaigns for such megaliths as McDonald's and Mercedes-Benz, including four ads that debuted during February's Super Bowl. McHugh has been there ever since, and last year Horn promoted him to casting director.
As someone who has experience with commercial auditions as both an actor and a CD, McHugh has plenty of good advice. "In a movie, you're the star," he says. "But we're looking for people who understand the client's needs." In a commercial, "the product is the star. We don't need you to be Tina Fey or Chris Rock. It's great if you are, but that's not necessarily what we're looking for…. Commercials are 30-second movies. We need people to understand that you don't have the time you have in a film. We do want actors to make choices, but not these grand choices you can make in a theatrical role." At a theatrical audition, "you have minutes to do a scene," he adds. "We deal in seconds."
McHugh offers one more piece of pragmatic advice for female actors: Never wear anything strapless. "You never know what we're going to have you do," he says, "if we're going to have you jump up and down or run around." Evidently, wardrobe malfunctions aren't just for Super Bowl halftime shows; they also happen in auditions for Super Bowl commercials.
Killian McHugh will teach a commercial workshop at
Back Stage's trade show, Actorfest LA, on Sat., Nov. 6. For more information, visit www.actorfest.com.
—Pete Keeley
Katherine Foronjy
Vitamin Enriched, New York
"Seeking flight attendants with sweaty underarms willing to talk about it (on camera)." No, you haven't skipped ahead to a casting notice. You've just gotten a taste of a typical day for Katherine Foronjy, a busy New York casting director in the increasingly popular niche field of "real people" casting. If her client roster and enthusiasm are any indication, the job is hardly the pits.
A native of the diverse Ozone Park neighborhood of Queens, N.Y., Foronjy credits her upbringing with giving her an edge in a field that requires the ability to notice the extra in the ordinary. "I kind of grew up with one of everyone," she says. Not that she's quick to judge, mind you: "It's more of an understanding of people."
Eschewing the flashier gigs of her classmates, Foronjy landed a college internship at a production company whose primary business was creating corporate profiles. "We had to produce six segments a week on no budget, with no stories; it was the most beneficial experience of my life," she says with a laugh. Foronjy soon rose to the job of producer, while producing and co-directing the documentary "Mathematically Alive," a chronicle of New York Mets fanaticism, in her off time. Midway through shooting the film, she began working at Strickman-Ripps, an established casting office that specializes in testimonials. In April, she set off on her own.
Foronjy describes her business as "a lot of digging, a lot of reaching out." When Verizon needed a skateboarder for a recent spot and SAG auditions weren't producing suitable actors, you can bet she hit the skate parks. And the skate shops. And the skate tournaments. Her secret to finding elusive talent? "For some reason, people like me and we keep in contact," she says. "I've kind of built up these outlets that I can reach out to to find different types of stories."
Just don't expect her to draw a hard line between documentarian and commercial CD. "Basically, all of these real-people commercials are minidocumentaries," she says. "I wish they could be longer. You get so many ideas, and you want to make a film about all of them."
—Jesse A. Landberg
Dorian Frankel
Dorian Frankel, Los Angeles
Dorian Frankel learned from the best. Her first boss in the casting world was comedy virtuoso Allison Jones, Judd Apatow's go-to CD, who has brought together ensembles for such shows as "The Office" and "Freaks and Geeks."
"I could not have lucked into anything better," Frankel says. "I definitely was a comedy aficionado, and it was something I had a real affection for. Hopefully, you soak in a little bit of the wisdom of people you're working with. I was just trying to pay attention. If you have half a brain in your head, that's what you do."
After working as an associate on series such as "Curb Your Enthusiasm" and "The Unit," Frankel was hired as the CD for the seventh season of "Curb." "Even just the opportunity to meet on it was a big deal for me," she says. "They gave me a chance and I jumped in."
Now she works on "Curb Your Enthusiasm" and the popular NBC sitcom "Parks and Recreation," which boast very distinctive comedic tones. "I do have a sense of whether people have a good feel for the tone of 'Parks and Recreation,' " Frankel says. "Sometimes people inherently get it, and sometimes their sensibility is a little bit different. It certainly makes it easier on everyone if the people who get hired don't have to be heavily directed to fit the tone of the show. I pay attention to that."
Frankel, who says she watches as much TV as humanly possible, often has many smaller roles to fill on "Parks and Recreation," which gives her the opportunity to bring in a wide range of actors. "Rather than just meeting people to meet them, I prefer to have them come in for something, so I can combine meeting people I don't know with seeing how they fit in and what their skills are," she says. "So whenever I audition people, I try to bring in some people I don't know."
—Sarah Kuhn

Angela Demo and Barbara McCarthy
Angela Demo and Barbara McCarthy, Los Angeles
Angela Demo and Barbara McCarthy come from wildly different casting backgrounds. Yet somehow it makes these newly partnered CDs a perfect fit. "We complement each other pretty well," says McCarthy, "and I think we both have the same casting philosophy: We're both committed to being advocates for the actors."
Demo cut her teeth as an associate to casting director Denise Chamian ("Saving Private Ryan," "The Pursuit of Happyness"), while McCarthy learned the ropes as a casting executive for Paramount Pictures under Gail Levin. The two are eager to take the lessons they learned from their various mentors to their new projects, including the upcoming indie film "The Spectacular Now" and the buzzy Cartoon Network pilot "KROG."
"We want to get in there and search for people and turn over every rock trying to find the best person that fits the role like a glove," says McCarthy. "If it calls for, say, somebody who knows some martial arts, we'll call martial arts schools all over the country." Adds Demo, "If they're open to new talent, which they often are in independent films, we start by doing a search, contact all of our agent contacts, and reach out directly to the acting community."
In the case of "KROG," which the pair worked on with casting director Alyssa Weisberg, they were thrilled to be able to cast relatively unknown comedic actors James Adomian and Josh Fadem, whom they've "known forever." "They're the kind of guys you see at UCB or in a webisode and you fall in love with them," says McCarthy, referring to Upright Citizens Brigade Theatre. "But you know you're not going to be able to get them in a big studio movie as one of the leads, so it was thrilling to finally work on a project where they end up as series regulars."
—Sarah Kuhn
Melanie Burgess
John Frank Levey/Melanie Burgess Casting, Burbank, Calif.
Melanie Burgess' journey from casting intern to employee was lightning-quick, but that doesn't mean she didn't work for it. "John Levey and his associate at the time, Sara Isaacson, gave me my first shot in casting," Burgess recalls of the "ER" casting director. "I started as an intern with them in February of 2004. They were so busy, and I was basically there full time, they made me their assistant within about two weeks. They threw me right in it, and I knew it was definitely what I wanted to do."
After time spent working with CD Debra Zane ("Away We Go"), Burgess returned to Levey's office and has been there ever since, eventually working her way up to full casting director status. "I couldn't have asked for a better mentor than John Levey," she says. "He has been so great to me, always taking the time to teach me the ins and outs of the business, always encouraging of my ideas. He is passionate about the craft, enthusiastic about the process, and really loves the business we're in."
Now Burgess is working on such high-profile shows as Showtime's upcoming "Shameless," the popular British series "Torchwood," and TNT's "Southland." And while she employs the usual CD methods for finding talent—heavy TV, movie, and theater consumption—she also finds herself searching for actors "just in everyday life." "Security guards on the lot, the FedEx delivery guy, people on the subway, the guy who waited on me at a restaurant once," she says. "I am always looking at people and thinking, 'Oh, they have a great face' or 'They could work on this.' "
—Sarah Kuhn
Jordan Bass
Bass Casting, West Hollywood, Calif.
When Jordan Bass decided to stop performing as a dancer and actor, he moved to Los Angeles to help his sister Lauren take over the late, great Mali Finn's casting office in West Hollywood, Calif. Finn had recently retired and passed on one big piece of advice to the twosome: Leave no stone unturned when searching for the right actor for the role.
His sister had worked in television casting with Ulrich/Dawson/Kritzer, "and the motto at UDK was basically 'The cameras are rolling; somebody will step in front of it,' " says Bass. "Mali was going through a lot of people for 'The Assassination of Jesse James' and she said, 'I'm just not finding the person.' And Lauren said, 'Well, Mali, the cameras are rolling; somebody will step in front of it,' and Mali turned around and said, 'Yeah, but it won't be the right person.' And that really defined what our philosophy is in casting. That was really quite inspiring. Mali was always searching for new people. She never got complacent. She was always looking in new places and looking for new people."
Bass says he and his sister will sit in their office 15 hours at a time going through submissions. "I remember during 'Spartacus,' we literally went through every male on Breakdown Services between the ages of 20 and 35, just to see if we could find people who hadn't been submitted," he says. "Lauren and I work very, very well together as a team. We have the same taste in actors." He says they prefer actors who'll play and who'll "go there," without desperation, because nerves can make actors "get in their own way."
"One of us is always reading and the other one is taping, depending on the project and the sides," Bass says. "We treat each project completely individually and come up with a plan of attack for it." Currently the two are casting a pilot for Cinemax called "Chemistry," which he compares to HBO's "Hung" and Showtime's "Californication." It's the story of a conservative lawyer whose world is turned upside down when he meets a rebellious, sexy cop. The Basses are also casting an indie drama called "Duke," about a vigilante.
—Cassie Carpenter
Kendra Castleberry
Donna Rosenstein Casting, Burbank, Calif.
The summer before Kendra Castleberry was a senior in college, a professor hooked her up with an internship in Janet Gilmore and Megan McConnell's casting office. "They were working on 'The Practice,' 'Boston Public,' and 'Felicity,' " Castleberry says. She didn't know that casting was what she wanted to do, "but it just sounded interesting. I loved it instantly. They had to kick me out at the end of the day. I thought it was fascinating how fast it all went and how all the different shows operated. Plus, I'm a girl from Kentucky, so being on the lot and seeing all the actors and famous people walking around was an amazing experience."
As soon as Castleberry finished college, Gilmore and McConnell hired her as a casting assistant on the 2003-04 series "L.A. Dragnet." She spent the next few years bouncing around, working for different CDs, including Megan Branman, Heidi Levitt, Nancy Klopper, and Patrick Rush. With Rush, Castleberry worked on "The O.C.," "Everwood," and the pilot for "Supernatural." Then she began casting with Donna Rosenstein and has been with her for five years. When Rosenstein got the series "Life on Mars," Castleberry became a full casting director.
Their office, which includes associate Angela Scaletta, is currently focused solely on the series "Castle," which keeps the CDs busy. "It shoots locally, so we are in charge of casting every role," Castleberry says. "And we get a new script every eight days. So I don't like to waste time. I'm polite and friendly, but I expect that the work has already been done, and I just want to get to it. I don't do a lot of redirection."
Castleberry considers herself a very accessible casting director: "I go to a lot of theater in L.A. I teach a lot of workshops in town. I sit on panels for different organizations. Plus, on 'Castle' we have so many roles that I just get to meet a lot of people, period. I would say we average 12 to 14 roles an episode. That's a lot of actors to see. And because of the nature of the show, they are always very different types."
She advises actors auditioning for her, "You have to believe that you can book the role. If you don't believe you can book it, certainly we're not going to believe it. Neither will the producers nor the studio and network. It reads so clearly when you don't. I'm shocked by the number of actors who come into my office and don't really believe they can book this today. I think that's really sad. I wish more believed that they can and they should."
—Jessica Gardner
Jeremy Rich
Roger Mussenden/Jeremy Rich Casting,
Los Angeles
Jeremy Rich majored in directing in college. After graduation, he realized that his favorite part of directing was holding auditions, so he thought he might try working in casting. He got a job casting extras for the series "Sex and the City." Then New York's Roundabout Theatre Company hired him as a casting associate. He spent the next four and a half years helping cast Broadway shows. But Rich grew tired of living in New York and wanted to move to Los Angeles. "I had no job lined up," he says. "But I had met Gary Zuckerbrod before I moved out. Four days after I arrived, he called to see if I'd want to work on a pilot for the WB."
After working with Zuckerbrod, Rich was approached by casting director Debra Zane, who knew his musical theater background and wanted him to help her cast the film "Dreamgirls." Rich was thrilled: "It was a musical movie, it combined all my history, and it was the first feature I ever worked on. Start at the top!"
After working on a few other films, he helped cast a project with Roger Mussenden. "We were a perfect match," Rich says. "We have very similar tastes." When the project ended, he stayed to work on Mussenden's next feature, "Get Smart," and they have been casting together ever since. Rich officially received the title casting director (and became Mussenden's partner) on the Adam Sandler film "Grown Ups," and the two are currently working on another Sandler comedy, "Jack and Jill," as well as Bryan Singer's "Jack the Giant Killer."
Rich is a big fan of postcards from actors, but he doesn't like it when they contact him through Facebook. "I'm much more old-fashioned," he says. When actors come to his office, they should expect their audition to be put on tape, with either Rich or Mussenden serving as reader and Rich probably redirecting. "A lot of actors are surprised that I may do four to 10 takes, even if it's just for one line, and give them minor adjustments," Rich says. "Be flexible. Don't just have one set way in your mind to do it. More than likely, I'm going to want to do it more than one time and give you notes each time to see your range of what you can bring to the part."
Rich thinks the most important thing an actor can do is enjoy auditioning: "You can't overthink going in, and you can't overthink once you leave, because it's out of your control. As long as you go in and do the work and are content with what happened in that room, that's a very good day."
—Jessica Gardner

Geralyn Flood
Geralyn Flood Casting, Los Angeles
Geralyn Flood was an assistant to an art dealer and a university administrator before finding her true calling as a casting director. In the last eight years, she has worked with such notable offices as Jeff Greenberg Casting, Marci Liroff Casting, and Zane/Pillsbury Casting, moving up the ranks from assistant to associate to full-fledged casting director and running her own company, Geralyn Flood Casting. She has cast projects for all the major television networks, as well as indie and feature films including "Just Like Heaven" (as Liroff's assistant) and "Ghosts of Girlfriends Past." She is currently the casting director for "Big Time Rush" on Nickelodeon.
Flood considers actors with or without representation, maintaining that if you don't have an agent, the best way to get her attention is by doing "terrific" showcases and Web series. Actors who take a workshop with her also have the chance to familiarize her with their talents. In addition, actors can send submissions to floodcast@gmail.com.
Headshots should capture an actor's "essence" and convey "what makes them independent and individual," Flood says. On the résumé, she loves to see that an actor is continuing to take a wide range of classes, with improv training heading her list. Background work shows you've been on a set and know how it works, but it shouldn't be referenced too heavily on the résumé, she notes. As for reels, she wants to see only professional work. An actor's website—which she may or may not check out—should be simple and clean. "Not too many bells and whistles," she says.
At the audition, Flood likes actors who have seen the show she's casting and can comment on it intelligently. "Even if it's not on the air yet," she points out, "you can go to the network website and see the show's promo." It's always in an actor's favor to have made choices about the character, she says, and a thank-you note after the audition is nice but not expected. Follow-up postcards should be sent "when you're working or have changed representation," she adds, "but not to say, 'Hey, I exist.' "
—Simi Horwitz
Sibby Kirchgessner
Ulrich/Dawson/Kritzer Casting,
Valley Village, Calif.
Sibby Kirchgessner never thought she'd be a casting director. Indeed, she already had a career in the corporate world, as a director of sales and marketing. It was only while recovering from back surgery that she started thinking about working in television. Fortunately, Kirchgessner had a producer friend, who introduced her to Eric Dawson of Ulrich/Dawson/Kritzer Casting, who invited her to come on board.
That was six and a half years ago, during which time she has helped cast such productions as "Nip/Tuck," "The Mentalist" (both the pilot and the series), "In Plain Sight," and "Missing." She has moved up the ranks, and a little more than a year ago she became the CD for the final season of "Saving Grace." She is currently working on the "Battlestar Galactica" prequel, "Caprica," and a pilot called "Against the Wall" for Lifetime and Universal Cable Productions.
Though there is a drop box for unsolicited submissions in the lobby, Kirchgessner admits that it's very difficult to be seen unless you have an agent or a manager submitting you through Breakdown Services. She likes clean, clear headshots. High up on the résumé, she wants to know the actor's union status. She says that if you don't have any credits of consequence, it's okay to mention background work; otherwise it's not necessary. Reels are fine to include as long as the clips represent professional work.
Generally, Kirchgessner does not look at actors' websites and is put off by actors contacting her via Facebook or Twitter. "I don't use Facebook for work," she says. "I don't like it. I also know that not everyone reacts the way I do." At the audition, she likes actors who are prepared and perform without fanfare. "If you have a question, ask it, but overtalking is a typical mistake," she says. "Don't come into the room saying you'd be better for another role or talk about the backstory you created for the character. Don't stop and start. Just plow through it."
—Simi Horwitz
Jason Kennedy
Susan Bluestein Casting, Los Angeles
Soon after Jason Kennedy graduated from high school, he knew he wanted to work in casting. Living in Florida, however, he had no idea where to start. He worked for five years at a talent agency in south Florida and had success as a theatrical agent, but his heart was in casting. "In 2001, I finally decided to move to L.A. and try to break into casting," he recalls. "But I had to start over."
He interned at Ulrich/Dawson/Kritzer Casting for several months, then got his first casting job working with Julie Ashton for pilot season. After that, Kennedy spent several years with CDs Greg Orson and Lesli Gelles, where he worked on pilots and series, including "Reba" and "Dawson's Creek." In 2005, Susan Bluestein hired him to be an associate before Season 3 of "NCIS" started casting.
"They had killed off a series regular in Season 2, and they hired me to help with the search for a new one," Kennedy says. "I've been with them ever since." Last year, when "NCIS: Los Angeles" was added to the office's roster, he was made a full-fledged casting director. Bluestein and Kennedy collaborate on casting both the original series and the spinoff; Julie Swistak is their associate.
The office tends to pre-read a lot of people, Kennedy says, and he almost always serves as reader for the pre-reads as well as the producer sessions. Actors coming into his office are often surprised by the number of people participating in those sessions. "We have a minimum of two producers, the writer, the director, myself, Susan, and someone running the camera," he says. "Sometimes more. It's a very large room."
Kennedy's best advice for actors auditioning for him is to be as prepared as possible: "In TV, we know we don't give you a lot of time to prepare. We don't give you a lot of information, and we definitely don't give you a script, so you've got to do the best you can. You've got to know your dialogue inside and out. We don't expect you to be completely off-book, but we need you to be able to perform. Do everything that you need to do to be able to do that."
—Jessica Gardner
Jennifer Cooper
Jennifer Cooper Casting, Studio City, Calif.
When Jennifer Cooper was attending Emerson College, she thought she wanted to be an actor. But after spending a semester interning in casting director Mali Finn's office in Los Angeles, she changed her mind. "Within a week of working for Mali, I knew I could never make it as an actor," Cooper says. "But I loved working on the other end."
She stayed in L.A. after the internship ended and was offered the job of casting assistant on the pilot for "Flavor of Love." "It was an insane move from Mali's office," she recalls. "I had to ask questions like 'Do you think that in under three days you might want to marry Flavor Flav?' I quickly learned reality television was not for me." Cooper began working at FMW Casting, where she was a casting assistant on "Cold Case" for one season; a casting associate on Seasons 3 and 4 of "CSI: NY."; and on Season 5 became a casting director on that show. During that program's sixth season, she branched off and started Jennifer Cooper Casting.
"Because I'm young, a lot of actors come in and think I'm the assistant," Cooper says. "That job actually belongs to Rachel Kronish." Lindsay Jameyson is her casting associate. Cooper reads with everyone who comes in, and may or may not tape the session, depending on the show. For "CSI: NY," the producers and writers like to meet the actors, she says, while on "Hawaii Five-0" almost everything is done on tape because the creative team is in Hawaii.
"It's a really exciting time," Cooper says. "We're doing a show that's in its seventh season that has its own challenges and doing a first-season show. It's like doing two totally different jobs. For 'CSI,' there's much more of an ability to bring new people in. We have a chance to branch out and take a chance. For 'Hawaii,' we only cast about five major roles per episode that we fly over there. Hawaiian local casting director Rachel Sutton casts the rest of the roles, which is great because it adds that authentic Hawaiian feel. Plus the show is about as far from a procedural as you can get. We've tried to make this something new, fresh, and different, with a lot of faces that aren't normally on TV."
Cooper is often told she's a very honest casting director. "I think, 'Well, why not?' " she says. "When did we grow into a culture where we're all supposed to lie about everything? Then nobody can ever get better and nobody knows." Her preferences are simple, she adds: "At the end of the day, I want to know if you're a good actor. If you can do the job and if you're talented, that can be enough."
—Jessica Gardner
Eric Souliere
Ulrich/Dawson/Kritzer Casting, Valley Village, Calif.
Casting is a calling for the Boston-raised Eric Souliere (pronounced sue-lee-air). "I've wanted to be a casting director since I was in sixth grade," he says, noting that his school yearbook contains proof. "My favorite hobby was to watch credits of TV shows and movies, and I kept a notebook, writing down names of actors I liked. I just thought it was so cool that there was actually a job to pick actors."
After film school at the City University of New York's Hunter College, Souliere moved to Los Angeles in February 2005 and set out to work in casting. He interned with Terri Taylor on Steven Spielberg's "Munich," then with Cathy Sandrich Gelfond. His first job was casting a pilot with Wendy O'Brien. He has been with Ulrich/Dawson/Kritzer Casting for four and a half years, where he works on CBS's "The Mentalist" with Eric Dawson.
Asked what he loves about actors, Souliere responds, "Everything," adding that he's inspired by their perseverance and enthusiasm. Pet peeves? "Unprofessionalism, if that's a word," he says with a laugh, then lists tardiness and lack of preparation as aspects of that. He finds new actors through pre-readings and workshops and by watching TV, films, plays, and showcases. Represented actors should be pitched through an agent or manager; unrepped actors can send postcards or submissions to the office.
Souliere describes the casting process for "The Mentalist" as "a well-oiled machine." Once the script comes in and the breakdowns go out, he and Dawson divvy up the roles. Souliere first sifts through his files, then through submissions. One day is dedicated to pre-reads of actors he's not already familiar with. Every role is presented to producers over two days of sessions.
What should actors coming in for Souliere know? "I trust my instincts, so I don't redirect a lot," he says. "But I'm very open to answering questions and guiding them through it. I want them to do well, and I want them to leave the room confident and comfortable."
—Janelle Tipton
Kacee Devoe

Devoe Casting, Los Angeles
"I love everything about my job," says Kacee Devoe. "I truly admire actors who transform right in front of your eyes to become someone else, and I've felt goose bumps from an actor's performance in the audition room. Once you cast a true talent and you see them on the big screen, you think, 'Wow, I really did a good job. I knew there was something special about them.' "
Devoe was born in Brooklyn, N.Y., but now lives and works in L.A. She has always loved film, she says, and as a young girl she was curious about how actors were cast and whether certain performers were really the best choices for their roles. She began her career as a production assistant on independent films and managed to parlay an internship on the 2007 movie "Blackout" into an opportunity to learn from casting director Lamese Williams. Devoe was later a casting associate for Leah Daniels-Butler, the sister of producer-director Lee Daniels ("Precious"), and says she considers Daniels-Butler a mentor.
"I learned there's no right way to do anything, just the way that works in the best interest of the picture," Devoe says of her experience with the siblings. "I learned a lot from them both, and I respect them as professionals in this business. I feel blessed to have Leah in my corner." Devoe still works closely with Daniels-Butler but says she always knew she wanted to start her own company after establishing herself in the industry. She founded Devoe Casting in early 2008, focusing on smaller indie projects and student films.
As for what she looks for in the audition room, Devoe says, "I have a respect for the work and the exploration of the craft, and it always shows when an actor is well-trained. There are those who have a natural talent, but training elevates talent to the next level."
Her casting credits include the Mandalay Television series "R.P.M." and the films "Boogie Town" and "The Spanish Harlem Project." Devoe is currently casting the feature "Praying Out Loud," written and directed by Gabriel Casseus ("Takers"), and "Sweet on You," a romantic comedy about a "big beautiful woman" in a Harlem candy store, written and directed by Miles Maker.
—Daniel Lehman

Paul Dinh-McCrillis
DMC Casting, Burbank, Calif.
It's the artistic dimension of entertainment—not the business side—that keeps Paul Dinh-McCrillis engaged in his work. He finds the political aspects of the industry to be migraine-inducing annoyances. "Nothing hurts me more than when someone gets the role for the wrong reason," he says.
Originally from New England, Dinh-McCrillis trained as an actor in New York and then headed to Los Angeles, where he eventually made the transition into casting. He began as an assistant for Nan Dutton in 1998, then worked for the Mark Taper Forum in the early 2000s, casting side projects on his own. Eventually he began working independently full time.
Dinh-McCrillis casts for television, film, commercials, and theater. One of his favorite projects was "I-Witness: A 4-D Time Travel Adventure," in which performers re-enact key moments in history. The film—which includes theater-jarring cannon shots, complete with the odor of sulfur—is shown at the Newseum in Washington, D.C. Dinh-McCrillis says he enjoyed casting it because it called for "a strong set of classically trained actors." Currently he's working on another film based on true events: "Moving Mountains," from director Bill Richardson. It's the story of Trish Bragg, an Appalachian housewife who became an activist in the fight for fair treatment of miners by coal companies.
On the other end of the casting spectrum, Dinh-McCrillis is also working on a spec commercial for Doritos and a Web series. In the meantime, he has begun producing Mono Slam!, a monologue competition at the Hollywood Fight Club Theater. He views the monologue as a "lost art form"—at least in Los Angeles—and hopes Mono Slam! will help revive it.
Dinh-McCrillis says he values actors who can express "the truth" on stage or screen or in the casting room: "They can have all the technique, but if it's not there in the eyes, it's not there in the soul."
—Mark Dundas Wood
Natasha Ward
Frazier/Ward Casting, Los Angeles
Natasha Ward's career as a casting director began almost seven years ago. While studying at a culinary school in Miami, she visited her sister—a talent agent in Los Angeles—over Christmas break. When Ward found herself fighting boredom, her sister suggested a brief internship at the office of a friend of hers, casting director Chemin Sylvia Bernard, who was casting the feature "Fat Albert" along with Monica Swann.
Ward, who knew next to nothing about the entertainment industry, swiftly became absorbed in the work. "I dived in, fell in love with it," she says. "I was there every day." She was asked to stay on through the end of shooting. Then a full-time assistantship opened up, and Ward left the whisks and double boilers in Miami and never looked back.
In the years that followed, she freelanced with 15 different casting offices. A particular highlight was the pilot for the TV series "October Road," on which Ward assisted CD Donna Rosenstein. "The director and producer were phenomenal, smart, inventive, innovative thinkers, and it definitely showed on tape," Ward says. Her first credit as a full casting director was on "Contradictions of the Heart," a short film starring Vanessa Williams and Malcolm-Jamal Warner.
"I like the young and I like the new," says Ward, who finds satisfaction in discovering multitalented young performers—kids who can act, sing, dance, and rap. She also enjoys finding rising stars on the comedy-club circuit.
In August, Nick Roses of Luber Roklin Entertainment signed Ward and fellow CD Pamela Frazier (with whom Ward had previously worked) as a casting team, and already the duo has cast a pilot and a commercial. Ward notes that some companies, such as Disney and Nickelodeon, are particularly keen on hiring casting teams these days. She and Frazier are interested in "hitting the teen market," Ward says, although their previous experiences are dissimilar: "Her background is more in TV, Web, and reality, and I'm more feature films and shorts. And so…it's a perfect mesh."
—Mark Dundas Wood
Jessica KellyChrystie Street Casting, New York
"I always wanted to be a casting director, since I was 13," says Jessica Kelly of Chrystie Street Casting in New York. While studying acting at Long Island's Gateway Playhouse, she discovered that the life of a CD fit her perfectly. Her acting teacher had been a casting director with Jane Jenkins and Janet Hirshenson, and "whenever she spoke about casting," Kelly says, "it sounded like something I wanted to do. The way she talked about directors and actors and putting together a film just sounded for me."
But there were no courses on how to become a casting director—there still aren't—so Kelly continued studying acting and worked as a casting associate at Gateway after graduating from college. She followed that with an internship at "As the World Turns" and stints at Carol Hanzel Casting, Nickelodeon, and Hopkins, Smith & Barden. She is now a full-fledged casting director at Chrystie Street Casting.
Her biggest challenge was casting "Precious: Based on the Novel 'Push' by Sapphire." Not only did the indie film call for numerous minority teenagers, but the title role required a 300-plus-pound African-American adolescent who was also a dynamic actor. But it has been Kelly's favorite work experience thus far. "It was so different from a regular day," she says. "Every day, I went to Harlem and I sat in school lunchrooms and McDonald's and subways and I walked around. I would sit there and just observe kids and think about the script and who would be right for the roles. After I watched them, I would talk to the drama teacher about the kids I liked, and she would contact them. Then I would audition them. I went to many schools." She and Billy Hopkins also held open calls. "It was like documentary casting, watching real kids who are like the characters. Ultimately we couldn't cast high-school age, so then we had to go to colleges. That's where we found Gaby. We had searched for about a year."
Gaby is Gabourey Sidibe, who was nominated for an Oscar for her sensitive performance as the beleaguered Precious. "One of the professors in the drama department at Lehman College knew Gaby," Kelly recalls. "He said, 'I have a friend who might be right for this.' I told him to have her come in, and she was the last person we saw that day. It was that moment where you go, 'There she is.' It makes sense that she was a psychology major, because so much of acting is thinking about other people and what they're like and what they're going through."
Sidibe's audition was exceptional, says Kelly, who finds that too many actors don't strive for that kind of high mark at their auditions: "I find that most auditions I see are fine, just okay. It's rare that I get to see auditions that are remarkable. That's a common mistake, to think you can just come in and wing it somehow, instead of really delving into the character and the circumstances and raising the stakes. When those actors come in, they have no questions about the role. It always confuses me why an actor would come in and just 'be real' but not do anything with the material. I welcome questions; it shows that they're interested, that they care. A lot of auditions lack care and joy. It shows they haven't asked themselves about the material."
Kelly also suggests doing as much research as possible before every audition. She recommends "reading every play, watching every movie, learning about history—every time period…. The more you know, the easier it's going to be to understand a character's perspective. Also, before they come into the room, they should definitely find out everything they can about the director they're meeting. Watch the movies he or she has done, because it will help them understand the style and the type of actor that those directors are drawn to. They should do a ton of research. Also, some of the best auditions are when the actors are working on other things, because they're acting every day, so their work is fresh. Even if you're not in something, get together with a group of friends and read a play out loud. Just doing that every day is beneficial."
Her final piece of advice: "Make sure you're in it for the love of it and not the fame."
—David Sheward
Erica Silverman
April Webster & Associates, Burbank, Calif.
Erica Silverman fell in love with casting while interning at a commercial casting office in New York before moving to Los Angeles to attend USC film school. "For two hours I answered phones, took Polaroids—back when people were taking Polaroids—and just sat in the lobby" with the actors, she says, "and it was so much fun; it was so exciting. I loved being around the actors, seeing who got the job at the end of the day."
Continuing to intern while in college, Silverman worked at a voiceover talent agency, New Line Cinema, and NBC Universal casting, and for the late casting director Mali Finn, whom she credits for giving her a lot of good advice. Upon graduating, she worked as an assistant for casting director Ronnie Yeskel on the TV series "Threshold" and "Blade" and for CBS casting, before landing at April Webster & Associates. Silverman worked her way up to associate on the CBS series "Criminal Minds" and was recently promoted to full casting director on the spinoff series "Criminal Minds: Suspect Behavior."
Working on such an intense drama has its ups and downs. Silverman loves being around actors and watching them perform—making great choices in their auditions, exploring their characters and taking them to places she never expected—but some actors tend to get too close, invading her personal space and even touching her. "They're much better not bringing me into it," she says, "because I am not an actor and I get nervous. I want to giggle my little nervous giggle when they get right up in my face. It's completely unnecessary."
Silverman's other pet peeves include actors not knowing the tone of the show they're auditioning for and mispronouncing words. "It's just like they didn't do the research," she says. "It takes us out of the scene so fast because, generally speaking, a lot of people will get the same word wrong, and so at a certain point we just start bracing ourselves to see if they're going to make it past that word. We miss a huge chunk of the performance because we're all just braced…. It's such a huge difference when they do the research, and you can tell."
Silverman prefers actors to be off-book as much as possible during an audition, because she feels it gives them freedom and more confidence in their performances: "There's such a huge difference between an actor who may mess up a line or two but still has the confidence to get through it versus an actor who is doubting whether or not they know the lines and has to keep referencing the sides. There's a huge difference between knowing it and reading it."
—Thom Klohn