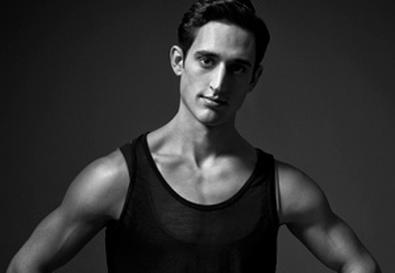 From ballet to musical theater, five fresh NYC choreographers are inspiring audiences and performers alike. They speak to Back Stage about what they look for in an audition and in the rehearsal studio.
Justin Peck
(Paul Kolnik)

Justin Peck, a New York City Ballet corps de ballet member, is known for his fluid lines and charming stage presence. Now his choreography, which spans the concert dance world, fashion, and video, is garnering equal attention for its chic edge with classical underpinnings. "I try to think like a composer," he says. "I look to choose the right moments to create a counterpoint between the dancing and music."
See It: New York City Ballet will premiere Peck's "In Creases" on July 14 in Saratoga Springs; it will perform Peck's new, large company work, with music by Sufjan Stevens, on Oct. 5, 6, 7, and 9.
Audition Info: "I look for strong technique, musicality, and a genuine thirst to work on new choreography."
Rehearsal Room: "Creating is solving a puzzle; I need the dancers' help with that through an openness to experiment."
Emery LeCrone
(Rosalie O'Conner)

A freelance contemporary dancer, Emery LeCrone combines serious training with expansive expression. She's choreographed for Colorado Ballet and Oregon Ballet, among others, and is excited to continue creating. "As a dancer, I've always moved my own way," she says. "Now, as a choreographer, I'm able to embrace that. It manifests as a duality between upright classicism and modern, grounded movement."
See It: New Chamber Ballet at New York City Center on June 15 and 16. In the fall, LeCrone will choreograph a piece for a Juilliard student show.
Audition Info: "Digest what I show and then be true to yourself in interpreting my movement."
Rehearsal Room: "Connect to material and interpret it individually while still being flexible to change."
Lorin Latarro
With 14 Broadway shows under her belt, Lorin Latarro is one of today's most respected musical theater veterans. Juilliard training and work with the Martha Graham Company are evident in her powerful dynamism as a dancer; her style and sensuality have earned her gigs working with Kathleen Marshall and Twyla Tharp. Her choreography, the offspring of these influences, is a unique blend -- sometimes sexy, specific, and complicated, sometimes expansive and earthy. Regardless, the story remains her priority. "I move between classic modernism, postmodernism, and musical theater," she says. "I always choose the tool that's most appropriate to characters and narrative."
See It: "The City Club" (choreographer; Minetta Lane Theatre, NYC).
Audition Info: "Be authentic and take intelligent risks."
Rehearsal Room: "I'm clear about what I want to see, but I welcome collaboration and fun. Creativity flows when we're happy."
Kyle Mullins
Kansas native Kyle Mullins has charmed both the concert dance and musical theater worlds with a buoyant personality, swooping movement quality, and a contemporary edge. A freelance dancer (and a member of the Steps Ensemble), Mullins nabbed the job of choreographing the Fringe production of kooky "Triassic Parq" after an industry friend recommended him. "It's exciting that all the exploration and research I do as a dancer can be utilized as a dance maker," he says. "Marrying the text, choreography, and music, and the collaboration of the team, are so fulfilling."
See It: "Triassic Parq," June 12–Aug. 7 at SoHo Playhouse.
Audition Info: "Give us yourself. That's the body that's the best to work on, not a talented robot."
Rehearsal Room: "Try new things, push out of your comfort zone, and appreciate that it's a shared experience."

Valerie Salgado
As Joshua Bergasse's assistant choreographer on TV's "Smash," spitfire Valerie Salgado has taken a huge leap as a dance maker -- and she's ready to take full advantage of the doors opening to her. The La Cañada Flintridge, Calif., native started choreographing musicals in high school and moved to NYC to dance for concert companies and in musicals. Bergasse and Salgado's mutual appreciation resulted in a now-four-year collaboration. Salgado's athletic, intricate work is showcased in some of Bergasse's "Smash" work and in her own concert dance pieces.
See It: "Smash," Mondays at 10 p.m. on NBC.
Audition Info: "Go there immediately. Dance to your fullest, and give me something interesting to work with."
Rehearsal Room: "Be willing to go on a journey; my ideas might change along the way."