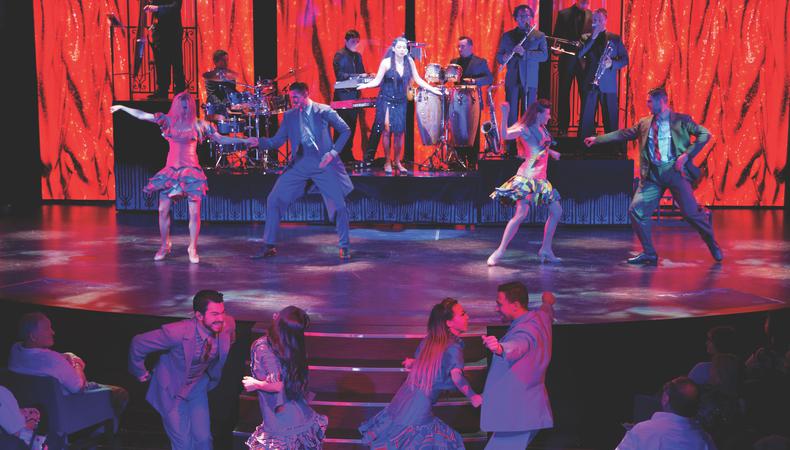 Cruises offer actors and other entertainers the once-in-a-lifetime opportunity of seeing the world while performing and doing what they love. This year has seen an impressive number of new vessels hit the high seas—which means more work for working actors! We've got the details on six of them below.
CARNIVAL CRUISE LINE
Carnival Vista (Launched May 2016)
Carnival Cruise Line's newest vessel offers three live shows from Playlist Productions: "Amor Cubano: A Caribbean Dance Romance," "America Rocks!," and "Flick: The Power of Motion Pictures." Featuring the music of Gloria Estefan, Santana, Marc Anthony, and others, "Amor Cubano" calls for eight singers, four dancers, and a seven-piece live band; "America Rocks!" is a narrative rock concert molded from the likes of Pat Benatar and Aerosmith; and "Flick" is a live musical montage of iconic movie anthems. "The music, staging, and choreography are brilliant and stretch our casts to new heights," says Chris Nelson, Carnival Cruise Line's director of entertainment. "We have been developing our newest entertainment offerings for Carnival Vista since early last year and are excited by the overwhelming positive feedback our guests have given us."
APPLY: "Cruise Line Auditions"
HOLLAND AMERICA LINE
MS Koningsdam (Launched April 2016)
"Entertainment has always been the heart and soul of evenings aboard Holland America Line, and on MS Koningsdam, that promise continues with Music Walk, three stages presenting a variety of live music nightly," says Holland America Line's Veronica Nett. This includes a partnership with Lincoln Center for the Performing Arts; B.B. King's Blues Club/Queen's Lounge; Billboard Onboard; and the massive, state-of-the-art World Stage: An Extraordinary Theater at Sea. "The World Stage on Koningsdam will enable us to debut new entertainment concepts to delight our guests with shows they've never seen before," says Orlando Ashford, president of Holland America Line. "Having the flexibility to configure the room into many different and vibrant settings enables us to set new heights for cruise entertainment in this extraordinary theater at sea."
REGENT SEVEN SEAS CRUISES
Regent Seven Seas Explorer (Launched July 2016)
"We have been raising the bar in the cruise ship industry regarding entertainment," says Robert Hertenstein, director of entertainment production at Norwegian Creative Studios. Responsible for producing live entertainment across Regent of the Seas Cruises, Norwegian Cruise Line, and Oceania Cruises, Hertenstein brings four new shows to Explorer: "I Love Being Here With You," inspired by the songbook of Peggy Lee; "A Day in Hollywood," the first act of Broadway musical "A Day in Hollywood/A Night in the Ukraine"; "My Revolution," from creator Peta Roby; and "Paradis," from "Motown the Musical" choreographer and Backstage Readers' Choice Award winner Patricia Wilcox. For an audition calendar, visit norwegiancreativestudios.com.
READ: "How to Find Cruise Ship Jobs"
ROYAL CARIBBEAN CRUISES
Ovation of the Seas (Launched April 2016) and Harmony of the Seas (Launched June 2016)
Royal Caribbean is known for its Broadway at Sea productions, and it adds its latest showstopper with "Grease" on Harmony of the Seas. That's in addition to Harmony's AquaTheater shows, ice shows, and other live theater offerings. Comparatively, Ovation of the Seas' live entertainment is limited but just as thrilling with its nighttime aerial entertainment. Want to join the Royal Caribbean family? Auditions are coming up! "Live auditions are preferred; however, performers can audition through video links," explains Christi Coachman-Orengo, Royal Caribbean Productions' director of entertainment. Auditions for "Saturday Night Fever" and the rest of the fleet are coming up Sept. 7 in New York City.
SEABOURN CRUISE LINE
Seabourn Encore (Launching December 2016)
Seabourn Encore provides an intimate experience for performers and patrons alike. The fleet's newest ship has a select cast of six performers—four vocalists and two dancers—for its 300-seat theater. After getting cast, performers rehearse for six weeks in the U.K. before fulfilling their seven- to eight-month contracts at the world's most exclusive ports. "Because we are small, we're able to go to some really wonderful, exotic ports of call that some of the bigger ships can't get into, so that's a real plus," says Chris Jurasas, manager of cruise programming. So whereas the cruises' high-end patrons may pay $25,000 for a cruise through Antarctica, performers get paid to experience it!
Are you ready to work on the high seas? Check out our cruise lines listings!