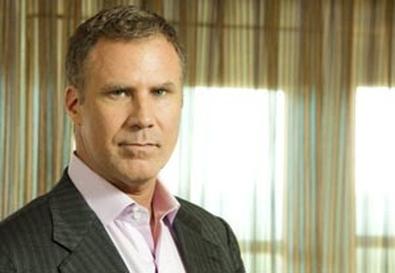 The first thing you notice about Will Ferrell—perhaps the most successful "Saturday Night Live" alumnus ever and widely regarded as one of the funniest men alive—is how unassuming he is. One might expect him to burst into a room naked, à la his "Frank the Tank" alter ego in "Old School," or yelling at the top of his lungs, a specialty of Ferrell characters. But in person, Ferrell quietly enters a room in a dapper tailored suit. He is soft-spoken and thoughtful, taking time to consider his responses before he speaks.
One quality Ferrell characters have never possessed is a filter. In his first appearance on "Saturday Night Live," Ferrell debuted a man known simply as the "Get Off the Shed Guy," a seemingly mild-mannered fellow whose warnings to his children to get off the shed become increasingly threatening. (Sample line: "I will take you into a dark alley and fight you if you do not get off the shed!") Iconic roles followed, each more quotable than the next. From arrogant "Anchorman" Ron Burgundy ("Why don't you go back to your home on Whore Island?") to dim racecar champ Ricky Bobby in "Talladega Nights" ("I wake up in the morning and I piss excellence!"), Ferrell became the pre-eminent actor for man-child roles. He even parlayed his impression of the ultimate man-child, President George W. Bush, into a Broadway show last year titled "You're Welcome America: A Final Night With George W. Bush."
But there has always been something vaguely tragic about many of Ferrell's characters: a neediness for love and acceptance that makes their awful behavior somewhat excusable. His recent arc on the NBC comedy "The Office" as a boss prone to meltdowns reminded audiences that nobody is better at playing characters completely clueless about their own insanity. So it's no surprise that Ferrell can segue effortlessly into drama, as first evidenced by his turn as a depressed musician in 2005's "Winter Passing." But 2006's "Stranger Than Fiction" marked Ferrell's crossover as a serious actor, starring alongside the likes of Dustin Hoffman and Emma Thompson as a dull tax auditor who discovers his entire life is being narrated.
Now, for the first time in five years, Ferrell is returning to more somber territory in the small independent "Everything Must Go." Based on a Raymond Carver short story, the debut feature from writer-director
Dan Rush
stars Ferrell as Nick Halsey, an alcoholic salesman who loses his job and comes home to find his wife has locked up the house and left all his belongings in the front yard. Defeated yet defiant, Nick takes up residence on his lawn and drinks away his days while befriending neighborhood residents. It's a daring performance free of any mannerisms audiences have come to expect of Ferrell, who delivers a subdued, intimate portrayal of a broken man unsure he wants to reconnect with life.
Back Stage: Legend has it you were only at the L.A. comedy theater The Groundlings for a year before you were asked to join "Saturday Night Live." Is that true?
Will Ferrell: Well, their school program, combined with my performance time on stage, was three years. But once I got through the school, I was in the Sunday show for a year and the main stage for just six months. And then I was just in the right place at the right time; producers from "SNL" came and saw our show. I felt really guilty when I got that job, because there were people at The Groundlings who were so funny and had been there for 10 years. They'd say, "How's the show going?" "Oh, it's okay. It's not that great." I would actually downplay how much fun it was. [Laughs.]
Back Stage: What did your audition for "Saturday Night Live" consist of?
Ferrell: There were two waves, and both were very vague, as is the case with everything at "SNL." The first one was five to eight minutes of a political impersonation if you had one, a celebrity impersonation if you had one, and a character of your choice. So I think I did Ted Kennedy doing standup comedy and then
Harry Caray
, the Chicago Cubs baseball announcer, and then I did what I would call the "Get Off the Shed Guy," which I did on the first show I was on—it was just a guy at a barbecue yelling at kids to get off the shed. Those were my three things.
Then there was a callback two weeks later, and it was supposed to be five to eight minutes of what you'd want to do on the first show. I wasn't even sure what that meant. But you had to meet with Lorne Michaels the day before your audition. So I sat down with him, and he said, "So what are you planning on doing?" As is the rule in television, if you have a callback or you're going in front of a network, you're supposed to just keep doing what got you there; don't change too much.
So I was telling him what I was going to do and he said, "No, don't do that." In hindsight, he was really helping me, but at the time it didn't feel like it. He made me throw out my whole audition, so I sat up all night rethinking what I was going to do. And I did it and I didn't feel great. I left going, "Ah, I didn't get it." But I guess I was okay.
Back Stage: You started working in movies while still on "SNL," films like "Austin Powers" and "Zoolander." Were these audition situations, or were you already getting offers?
Ferrell: With "Austin Powers" and "Zoolander," I think I was just asked. I got offered a lot, which was nice. "Zoolander" was originally supposed to be Andy Dick, and he couldn't get out of his TV thing, so they called me at the last second. But I did audition for things; I remember reading for Alexander Payne for "About Schmidt."
Back Stage: For which part? The Dermot Mulroney role?
Ferrell: Yes. I was working on the Kevin Smith movie ["Jay and Silent Bob Strike Back"], and the only time I could read for it was on my lunch break. And by the time I got there, they called me and I had to go back to the set. When I came back, I just read for the casting person. I wasn't totally sure what to make of the character. Then I saw the movie and was like, "Oh! You wanted it played like that!"
Back Stage: Are you good at auditioning, in general?
Ferrell: I don't know if I would consider myself good at auditioning. I think "SNL" was such a unique thing because it was material you created and you're very comfortable with it, even though the setting was pressure-packed. But I've been spared having to do traditional auditions with sides in my hands. In the casting we've done for our movies, a lot of the time in that final audition I'll come and read with people. And I'm always telling the other actors, "That was a great audition! Look at me: I've got the part and I'm terrible!"
Back Stage: Do you recall any audition situations that were particularly bad?
Ferrell: I remember going to one of those casting workshops, where you pay 50 bucks and go off and work on scenes. I came back and they evaluated me, and the guy was like, "Conservatively speaking, you need three more years of work, probably working at our workshops." I was like, "Uh-huh, okay." Not to say that he was wrong and I was really good, but it just felt creepy and weird. Also, in the limited amount of commercial auditions I used to do, I swear every time I went in, the person in front of me would come out laughing with the casting director. They'd be hugging each other: "Bye, Bob! Great to see you! Say hi to the wife!" Then they'd be like: "Next! Phil Ferrell!" "Uh, it's Will, actually." "Whatever."
Back Stage: Last year, you made your Broadway debut playing George W. Bush in "You're Welcome America." A lot of people thought you wouldn't be able to sustain the joke for a full-length show, but it ended up being a really funny, terrific show.
Ferrell: I don't know if we believed we could sustain it, either. I think our ignorance of how hard it would be was literally bliss, and somehow it worked. It all came together, with the blending of the storytelling with the real facts of what he had done, and we somehow pulled it off. Adam McKay did a great job directing and going over the script. He'd give me these great ideas, and I'd go and write them, and we'd reshape them. There was also the perfect storm of people really thirsting to see some sort of commentary on this guy. You really felt it: They wanted to have a dialogue with the president because he didn't really ever speak that much to people. But I understand the skepticism. After it aired on HBO, Megan Mullally left me a message and said, "It was, like, really good! It wasn't just thrown together! I'm sorry I didn't see it sooner!"
Back Stage: You were already on "SNL" when Bush took office, so who first had the idea for you to imitate him?
Ferrell: In the previous year, prior to the election, I had played Gov. Bush a couple times on "Weekend Update" and things. I think it was Lorne who just said, "Darrell Hammond is going to do Gore. Do you want to do Bush? Because he's tall and you're tall." So I was like, "Okay, I'll try it." But I really didn't think he'd get close to winning. And as I watched the campaign through the summer and we started gearing back up to go back for the next season, I was like, "I gotta study this guy; it looks like he's going to be the candidate." Lo and behold, it became a whole thing.
Back Stage: So did much thought go into that initial impersonation?
Ferrell: No. At first, it was just kind of a Southern accent. Then we came back and were going to start doing the debates, and I really had to start looking at him. I watched a lot of video on him and tried to piece together whatever I could. I got down the physical posturing of him, in terms of him squinting all the time. And Darrell really helped me, actually. He had some great notes. And it slowly just came along. I'm sure if I went back and watched those early bits, I would see just how far it's come.
Back Stage: How do you know if someone's going to be worth imitating? For example, did you have any idea Alex Trebek would become such a popular fixture?
Ferrell: I don't think you do know. I think it was more that I was watching "Jeopardy!" one night and thought, "Oh, I can kind of do him." So I said, "If anyone wants to write a 'Jeopardy'! thing, I can kind of do an Alex Trebek." That's how it started; it wasn't any sort of confidence that it could be popular. They suggested "Celebrity Jeopardy!" and asked Darrell who he'd like to do, and he said, "I've always wanted to do Sean Connery." And it became this total thing.
Back Stage: As early as 2001, you were doing dramatic roles, such as "Winter Passing." Did you encounter much resistance pursuing dramatic roles?
Ferrell: "Winter Passing" was so early on; I was still on "SNL," and I think it was in one city when it finally got released. It's a really nice film. Then there was a long gap and "Stranger Than Fiction" came along. That was one of those scripts that everyone was going after and I got lucky that the director, Marc Forster, wanted to go with a comedian who could hopefully play the drama, as opposed to the other way around.
Back Stage: Did you have to audition?
Ferrell: I didn't. I just met with him, and it went from there. And then there was a long period of time before "Everything Must Go" came along. It kind of found me, in a way. And Dan was willing to wait for me to do this movie because when he was ready to go, I had the Broadway show and "The Other Guys" lined up. It was such a good script, I told him, "I understand that if you have to go make it, go make it." But he wanted to wait.
Back Stage: It doesn't seem as if you encountered the kind of backlash some comedians, like Jim Carrey, did at first when they wanted to do dramatic roles.
Ferrell: Really? I have to be honest: I kind of purposely stayed away from reading or hearing anything, because I just assumed I would. I do think people get shook up in a way by comedians wanting to do drama that doesn't happen in the opposite regard. When a dramatic actor does a funny film, people are like, "Wonderful! I didn't know he was funny!" But when it flips, people can get really thrown by it. But I just couldn't worry about it. When something like this comes along and it's different and a way to stretch as an actor, I have to leap. It's human nature to want to try to do different things.
Back Stage: Aside from The Groundlings, have you had any kind of formal acting training?
Ferrell: I studied down at South Coast Repertory [in Orange County, Calif.] in the summer of 1991; I took a bunch of scene study classes, and then I did their summer professional conservatory program, which is like a 10-week intensive. It was great; it was kind of my mini–graduate school MFA in a way. It was 9-to-5 every day for 10 weeks. You'd go from voice to script analysis to movement class to all these different things. And it ended in performances: scenes from plays and one-act plays. I loved it. Then there was an acting coach here in Hollywood near The Groundlings—Ian Tucker. He did a scene study class on cold reads, and he would literally take scripts from dramas or sitcoms and be like, "You're Kathy, you're Bob. Go." You'd have to read it and listen and react in the moment, and it was so freeing and so interesting, because dramatic scenes would read as comedy all of a sudden, and sometimes comedy scenes would read so dramatic. It was all about being in the moment. And he gave me great advice when I got my "SNL" audition. He said, "Just don't view it as trying to get the job. View it as an experience: a fun trip to New York, a great audition experience. Don't even think beyond that." Which is still hard to do, because you're thinking about the ultimate prize. But I tried to be true to that and not worry about the rest and stay focused on just having it be a cool experience. It took the pressure off, in a weird way.
Back Stage: What's been the toughest role you've ever had to play?
Ferrell: Toughest physically was the stage show because of just doing it night after night. I thought that after two weeks of doing previews, I wouldn't be nervous anymore. Then I thought after a month of doing it, I wouldn't be nervous anymore. Then I thought after 64 shows, I wouldn't be nervous anymore. And I was still nervous, every single night. It never went away. And yet that's why people do it, that's the tightrope of it all. Also, the isolation of just sitting alone and memorizing a one-man show was tough. But in terms of acting for film, it was "Everything Must Go," because so much of it is me, alone on that lawn. And I had to do some things emotionally that I hadn't done before. But that's why I loved it and why the experience was so meaningful.
OUTTAKES
– Co-founder (with frequent collaborator Adam McKay) of the website www.funnyordie.com
– Other films include "Step Brothers," "Elf," "Blades of Glory," and "The Producers," for which he received a Golden Globe nomination
– Met George W. Bush before he was president and before Ferrell began impersonating him. Has met several of the people he has done impressions of, including Alex Trebek, Janet Reno, and Neil Diamond. "They've all been really nice; there's never been a backlash."